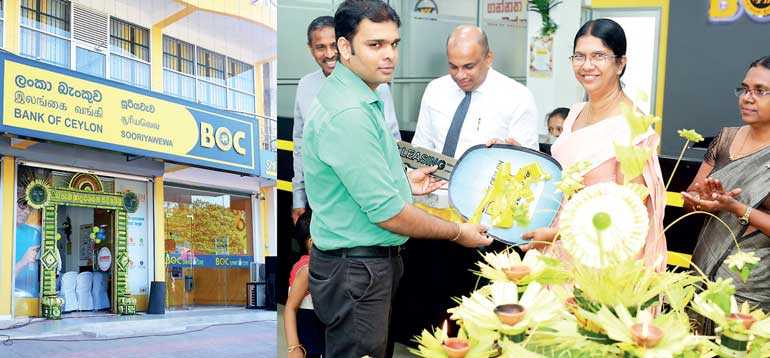 The Bank of Ceylon's Sooriyawewa branch in the Southern Province was relocated recently to add convenience together with novel digital banking technology to customers in the area. BOC Sooriyawewa was ceremoniously opened at the Rathne Building, opposite Children's Park Sooriyawewa.
The bank's DGM Sales and Channel Management C. Amarasinghe, DGM Support Services W.I. Hettihewa, AGM Sabaragamuwa Province Udaya Kumari, AGM Southern Province A. Karunarathne, the Operations Manager and all other province staff were also present on the occasion. BOC Sooriyawewa Manager Jayamith I. Jayasena together with staff members officiated the event and customers and well-wishers of the branch too attended.

Bringing in the digital aspect of banking to every nook and corner in the country the Bank has strategically spread its technology to all its branches. The Sooriyawewa branch is connected to the rest of the 638 branches through a centralised network thus allowing customers to transact real-time with any of the branches in the network spread across the country.

Customers of Bank of Ceylon are digitally empowered to transact anytime of the day with its interconnected 24 x 7 operative ATM/CDM and CRM network which consists of over 1,071 customer service points spread across the country.

BOC Sooriyawewa will offer a wide array of banking services to its customers such as current and local or foreign currency savings/Fixed Deposit accounts, children's and senior citizen's savings accounts and saving plans, housing and personal loans, special loans schemes such as Thurunu Diriya, Enterprise Sri Lanka loans, education loans, leasing and pawning facilities.

Customers can also avail themselves of debit or credit cards, micro and SME financing facilities and international money transfer/remittances services. This branch has the 24 hour self-serving ATM so customers have the freedom to transact at their convenience anytime of the day. The bank invites all residents of the area to experience superior banking services at this branch.