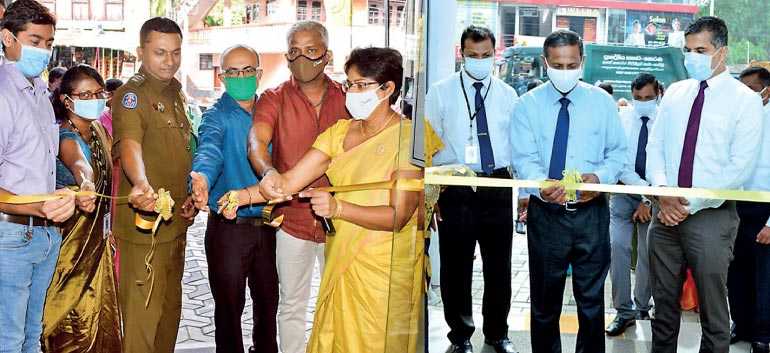 The Bank of Ceylon relocated its Gonapola and Manikhinna branches to strategically placed, more upgraded locations to add more convenience to customer of the respective areas.

The opening of Gonapola branch took place with the patronage of the Deputy General Manager Sales and Channel Management C. Amarasinghe and with the participation of the Assistant General Manager Western Province South Sampath Perera.

The opening of Manikhinna branch took place with the patronage of Assistant General Manager Central Province H.M.M.D. Herath. The two openings were officiated by respective managers and staff members of Gonapola and Mannikhina branches. The Gonapola branch is situated in No. 100/1, Gonapola Junction, Gonapola and the new Manikhinna branch has now been located at No/66/2 Kandy Road, Manikhinna. Bringing in the digital aspect of banking to every nook and corner in the country the bank is in the process of strategically spreading its technology to all its branches.

Preparing for post COVID situation, these two newly relocated branches offers a wide array of digital banking services apart from traditional branch banking transactions to its customers. The Bank of Ceylon pioneered to bring digital technology, altering Sri Lankan banking with its significant capacity to reach every part of the country.

BOC customers can conveniently conduct their regular banking transactions without having to visit a branch physically through digital platforms such as B-App (mobile application), Smart Online Banking, SmartPay (QR based mobile payment app), SmartPass book (account inquiry application) and Smart FD, enabling them to save time, energy and resources to engage in things that matter the most. Bank of Ceylon will continue to add value through digitisation, empowering customers to achieve their aspirations in life whilst energizing the country's

economy.

These branches are also connected to the rest of the 643 branches through a centralized network thus allowing customers to transact real-time with any of the branches in the network spread across the country.

With the COVID 19 outbreak that has crippled the normal way of living, customers of Bank of Ceylon are digitally empowered to transact anytime of the day with its online banking, Mobile banking, mobile branch bank mechanism, interconnected 24x7 operative ATM/CDM and CRM network which consist of over 1,100 customer service points spread across the country.