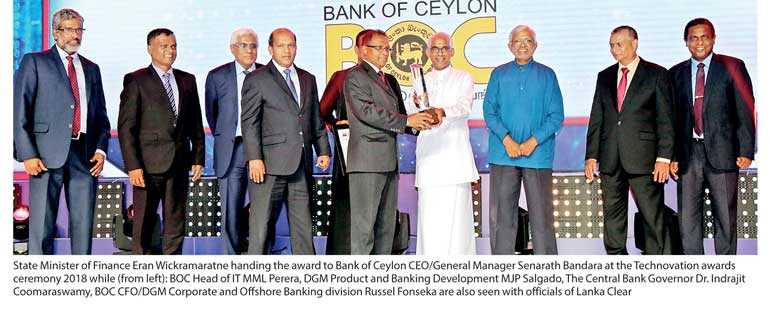 Bank of Ceylon bagged six awards including the overall Winner Gold Award for 'Excellence in Interbank Payments' at the Sri Lanka's second successful payment technology innovation awards ceremony organised by LankaPay's Technovation Awards 2018. It was the second consecutive year that the Bank of Ceylon was selected as the overall winner of this award ceremony.

Bank of Ceylon was also the most awarded winner at the event with five winner awards and one Runner-up award; namely Most Popular Electronic Payment Product (Banking and Financial Institutions) – Winner B-APP, Best Common ATM acquirer of the year – Category A Winner, Best Acquirer for US Dollar Online Payments – Winner, Best of the Year for Financial Inclusivity – Category A winner and Best Bank for Retail Payments (Runner-up). The previous year BOC won three awards altogether with the overall winner award.

The event was organised by LankaClear Ltd., the operator of LankaPay national payment network, to recognise banks and non-banking financial institutions that have been steadfast to the cause of using innovating technology to promote digital transactions and that have excelled in this endeavour. The initial short listing will be carried out based on the performance of individual banks, non-banking financial institutions and FinTech service providers against a set criteria defined and communicated at the beginning of the period, which will also be subjected to an independent audit. During the second phase of judging, the shortlisted winners need to present how they achieved that performance to an independent and eminent panel of judges.

Digitally transforming the Sri Lankan Banking and Finance landscape, BOC has been in the forefront of providing agile, technologically advanced banking solutions to facilitate customers of all walks of life, wherever they maybe, within Sri Lanka. With its capacity to handle massive volumes of transactions digital banking is made to be mainstream banking for majority of rural people by the Bank of Ceylon.

"In recognition of essence of its mission and vision, BOC's effort to offer wider banking benefits to majority of Sri Lankan's has been a fruitful one, through adaptation of digital technology. Apart from the Bank's branch network consisting over 629 branches operating as brick and mortar service option, it has 1000 CDM/ATM network and nearly 200 SmartZones, POS machines and the state-of- the-art BOC-digi self-servicing banking outlets across the country. The newly developed web based 'SmartOnline' banking system, Mobile Banking App- B App, 'Apply Online' loan request system, Smart FD and Smart Passbook App allows customers to interact and manage their finances through secured portals," stated CEO/General Manager Senarath Bandara.

These awards evidence the embracing of the innovation implemented for customers by the bank and that they are ready for new changes in the industry. "These digital products have proven their worth among customers as most convenient and responsive interfaces. This multi-channel approach has helped the Bank to penetrate into every economic and social segment in the Sri Lankan society through promoting financial inclusion, enriching the lives and assisting the National economic growth in the bigger picture. In terms of operational capacity and efficiency in handling massive volumes, what the bank has achieved today is unmatchable," he further added. BOC is currently the owner of the biggest market share in 'foreign currency account' and in Inward Remittances.