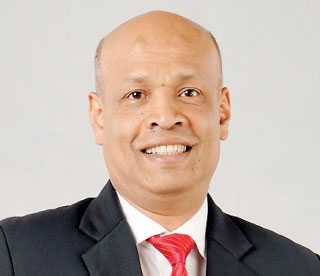 BOC SDGM (HR) K.E.D. Sumanasiri
---
Persisting with the purpose-designed HR plans BOC implemented at the height of the COVID-19 pandemic in 2020, the bank has managed to ensure a safe and dynamic environment for the successful mobilisation of staff plus continuous provision of services, despite ongoing restrictions and safety concerns.

In managing the early part of the pandemic, BOC's HR function proactively engaged all employees, drawing on a novel method of delegation, seeing that it would be the most effective and efficient way forward in handling an unprecedented situation posing similarly unseen challenges. This draws from BOC's culture of smart delegation, a core component of its HRM and operational philosophy.

To mobilise a team exceeding 8,000 staff members in the initial months of the global pandemic, required the bank's HR department to give trust and confidence, to all employees across the organisation in their capabilities and decision-making power. The system of delegation adopted was driven by this empowering of staff, where managers and employees at every level were instructed to take decisions in their respective positions, using their discretion to act and delegate as necessary.

BOC adopted a two-tiered strategy, where the primary objective included the protection of all employees, and secondly ensuring business would go on as normal even with the restrictions. Therein, employee adherence to all Health Department enforced regulations and orders remained a key HR goal, complemented by its own initiatives to drive employee safety and continuity of operations.

The bank continues to bear all costs for quarantine procedures and PCR tests to be performed by employees. Apart from essentials such as providing PPE for all employees, BOC also adopted a roster system and offered free transport, to ensure its 8,000 strong staff have been able to progressively resume work.

Accounting for the many impacts of COVID-19 on the bank's HRM function, BOC has adopted numerous changes in its delivery of HR services including digitalisation. From unique methods of showing appreciation to employees in overcoming challenges to meeting in person, remote hiring and recruitment with video platform-based interviews to save time and ensure safety, to restructuring of time-off policies and leave to reflect government provided guidelines, the bank's HRM department has been keen to create an environment conducive to high-impact work and growth.

Towards this end, BOC has afforded much focus to ensuring a strong work-life balance for employees, in line with the increased need for work-from-home and flexible work arrangements organization-wide.

While affording employees numerous freedoms and demonstrating to them that the organization truly cares for their safety and wellbeing, which has led to many staff members volunteering to work at their respective branches and offices, the bank has given continuous importance to its unique HR culture and history.

With the HRM outlook the bank has carefully tailored over several decades, the core focus has been keeping employees happy and nurturing an environment for them to prosper, parallelly implementing safeguards for proper discipline, while continuously tending to their future security.

BOC's HR culture of closely understanding people and their problems, plus offering continuous skill, career and life development opportunities, is closely complemented by their attention to place-appropriate HRM.

The notion that HR and HRM differ widely based on the institution where it is being applied, has been a key component of the human resources approach of BOC from very early in their progression. Staying true to HR fundamentals, the bank, operating as a State bank first and foremost, understood that they had to align their HR principles with their primary objectives.

With a focus on eradicating financial issues at the ground level and uplifting the economy therein, the bank though liberal in their approach to HR, recognised that certain HR freedoms could not be afforded to their employees, as issues of resource misuse may occur otherwise.

A major part of their unique HR outlook therefore involves recruiting and nurturing employees who understand these principles strongly. The bank actively attempts to develop value-added employees who progress in their careers while serving the bank and its overall vision.

Towards this end, BOC affords greater importance to discipline and behaviour, which services primarily as a protective mechanism to ensure continued employee betterment and safety, while also protecting the bank's image and offering confidence to customers in our trustworthiness and dedication to them.

BOC's HR function's emphasis on tending to and improving employee health across six aspects, from physical, mental, social, emotional, and spiritual, to economic health, represents a novel approach to employee wellbeing and career motivation, driven by numerous dedicated programs.

In a unique stance, despite the growing trend of digitalisation to streamline repeat HR processes and tasks, even within the BOC setup, the bank emphasises on the need for the human touch in HR. It is what lends the all-essential organisational component of human capital, now being actively pushed worldwide as a quantifiable contributor to business success, humanness. This actively reflects BOC's HR outlook, which has allowed it to successfully manage the ongoing pandemic and continue its human plus employee-first approach.