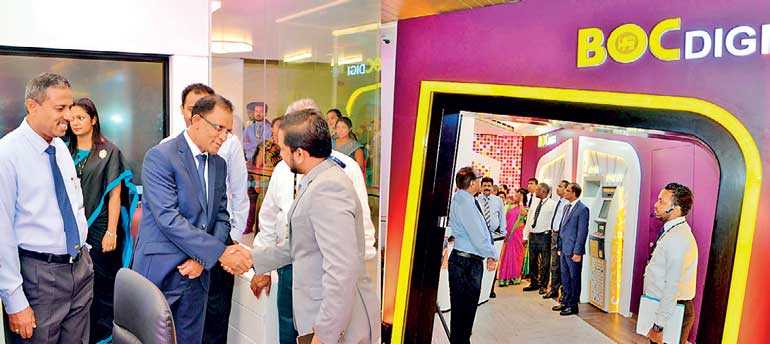 No. 1 Bank in Sri Lanka, Bank of Ceylon's state-of-the-art self-banking centre 'BOC Digi' opens its third branch at the premium built-to-specification commercial and infrastructure complex, Orion City that houses high-tech companies in the country. This one-stop-hub for innovation and collaboration is occupied by thousands including IT professionals, entrepreneurs and investors of high-tech companies.

The Bank's General Manager/CEO Senarath Bandara, Deputy General Manager Sales and Channel Management C. Amarasinghe, members of the executive management, other bank officials and customers attended the event. This is the third of its kind, a self-serving 'BOC Digi' – since the ones at the Kandy City Centre and the WTC Colombo were opened. Presenting a novel experience in digital banking BOC Digi led the innovation space in the Sri Lankan banking industry to carry out a 24 x 7 service.

"Having expanded the one of a kind state-of-the-art self-banking centre, to the country's Tech City shows the compatibility of the Bank's digital strength to collaborate with segments, considering those who demand sophisticated high-technology to add convenience and confidence to their lives," stated Senarath Bandara.

"'BOC Digi' concept will advance to many more strategic locations in the country to provide an ultra-modern banking experience that empowers customers to conduct account opening, cheque depositing, obtaining information, self-serving through Kiosk – to apply for SmartGen accounts, Smart FD – Fixed Deposits, personal loans, and home loans – and utility bill payment through kiosk at any time of the day throughout the year," he added.

This ultra-modern facility aims to serve the next generation of customers whose needs are sophisticated and convenience driven. Apart from providing fully equipped self-banking centres that assists customer's need for physical cash requirements or in the absence of secured access for internet, BOC's secured digital platform assists customers to carry-on banking at anytime from anywhere at the comfort of the customer's own schedule.

Intuitive and personalised interiors with vibrant hues and accomplished with upholstered seating. Location of equipment, lighting and ceiling interfaces at 'BOC Digi' are also designed with care and thought to infuse a unique look and ambience within, transforming the daily banking transaction experience for the digitally-savvy customer to a pleasant and a memorable one in terms of self-banking.