SHANGHAI (Reuters): Asian shares rose on Monday, taking heart from comments by the Federal Reserve chairman that drove Wall Street to record highs on Friday, and as a tweak to the way China's central bank manages its currency boosted the yuan and stocks.

MSCI's broadest index of Asia-Pacific shares outside Japan was up 1.1%, while Japan's Nikkei stock index closed 0.9% higher.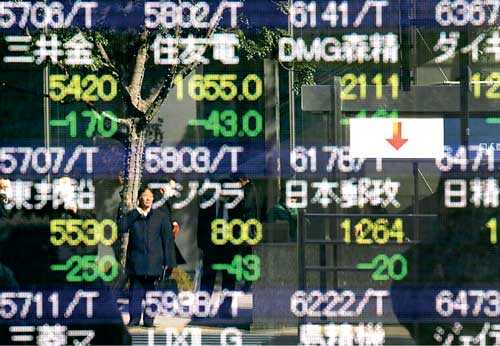 European share markets were set to follow Asia higher, with European spreadbetters expecting Germany's DAX to gain 45 points to 12,439 and France's CAC 40 expected to open 22 points higher at 5,454.

Adding to the positive mood, U.S. and Mexican trade negotiators appeared close to reaching a common position on the North American Free Trade Agreement (NAFTA), with Mexican Economy Minister Ildefonso Guajardo saying on Sunday that talks have "continued to make progress".

In China, shares rose to their highest levels in two weeks.

The Shanghai Composite index added 1.7% and the blue-chip CSI300 index surged 2.2%, after the People's Bank of China late on Friday revived a "counter-cyclical factor" used to set the midpoint of the daily trading band of the yuan, in a bid to support it.

The move raised hopes that a yuan recovery could boost companies with significant dollar-denominated costs, such as airlines. China Southern Airlines gained 4.4% and Air China rose 3.7%. The yuan hit a two-and-a-half-week high against the U.S. dollar in early trade on Monday as the PBOC set the day's midpoint at a stronger-than-expected level.

At 0554 GMT, the yuan was trading at 6.8137 per dollar, 53 pips stronger than Friday's onshore close of 6.8190.

Among other Asian markets, Seoul's KOSPI index ended up 0.3%.

On Friday, the S&P500 index and Nasdaq Composite hit record highs, following comments from the chairman of the U.S. Federal Reserve, Jerome Powell, who said a gradual approach to raising rates was best to protect the U.S. economy and job growth.

The gains cemented the S&P's longest-running bull market, as defined by some investors. S&P500 E-mini futures touched a record high of 2,885 on Monday morning in Asia, and were last 0.2% higher at 2,883.

The yield on benchmark 10-year Treasury notes was at 2.8152%, compared with its U.S. close of 2.826% on Friday. The two-year yield, which rises with traders' expectations of higher Fed fund rates, touched 2.6286% compared with a U.S. close of 2.629%.

Australian shares closed 0.3% higher on Monday, after a week of political tumult that installed Scott Morrison as the country's sixth prime minister in less than 10 years.

The dollar fell 0.2% against the yen to 111.03, while the euro was flat on the day at $1.1618.

The dollar index, which tracks the greenback against a basket of six major rivals, was flat at 95.143.

Gold edged higher, with spot gold trading at $1,206.51 per ounce.