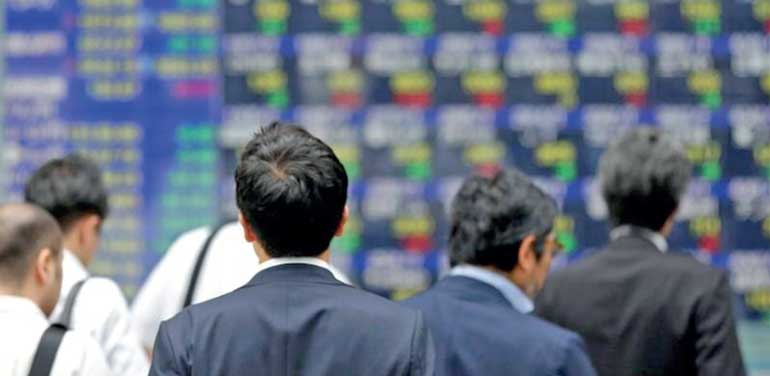 SYDNEY (Reuters): Asian shares stepped back from decade highs on Tuesday as Chinese stocks stumbled for a second straight session, while the US dollar trod water ahead of a crucial Senate vote on tax reform.

Investor confidence in China has been dented by rising bond yields as Beijing steps up its crackdown on shadow banking and other risky forms of financing. Higher borrowing costs threaten to squeeze corporate profits.

Mainland stocks have jumped 22% in 2017, with the gains concentrated in a handful of large index-weighted stocks. The index was down 0.3% while Shanghai's SSE Composite index slipped 0.2% at 0221 GMT.

"The aspect of poor breadth and participation was actually the point for Chinese authorities who have been concerned with the equity market continually heading higher on very low participation," said Chris Weston, Melbourne-based chief strategist at IG Markets.

"The question is whether further downside in Chinese mainland equities continues in the session ahead and will there be a spillover into Hong Kong and potentially even Japan, Korea and Australia?"

MSCI's broadest index of Asia-Pacific shares outside Japan slipped 0.3% from last week's high of 570.21 points. It was on track to end November in the black.

The index has been on an uptrend most of this year, posting a monthly loss only once in 2017.

Australian shares were flat while Japan's Nikkei rose 0.2%. Wall Street had been mixed on Monday, with the S&P 500 off a touch, the Nasdaq losing 0.1% and the Dow up 0.1%.

The dollar was a touch softer on the yen at 111.27, and within spitting distance of a recent 2-1/2-month low, as bulls fret about potential delays in US tax cuts.

The euro was steady at $1.1898, within reach of a two-month high.

The dollar got a brief boost overnight when President Donald Trump tweeted that the tax cut bill was "coming along very well".

The tweet came after a meeting with Senate Republican tax-writers on Monday ahead of a crucial vote on the Senate floor that could come as early as Thursday.

Separately, the US Senate Banking Committee holds a hearing on Tuesday to confirm the nomination of Jerome Powell at the helm of the Federal Reserve. If confirmed, Powell will have to balance tightening policy against still sluggish wages and inflation.

The bond market is concerned the Fed will hike rates too far, keeping inflation too low and ultimately slowing the economy.

That has been a major force in the remarkable pace of curve flattening in recent weeks. The 2s/10s yield curve is only 58 basis points from inverting – a classic signal that recession is just around the corner.

Spot gold inched lower to $1,293.30.
Pound slips as Brexit border worries weigh
London (Reuters): The pound slipped from a two-month high on Tuesday, having failed to push above $ 1.34 against the dollar as Brexit-related doubts began to re-exert their grip on the UK currency.

Sterling was back below $ 1.33 and flat against the euro and the yen at 0.8989 pence per euro and 148 yen respectively, as markets headed towards mid-morning.

There had been a brief flurry of interest as the Bank of England said UK banks could handle a bad Brexit in its annual health check on lenders, though there were more than enough difficult questions to offset any enthusiasm.

A deal on the Northern Ireland-Irish border - a key part of Brexit talks which were hoping to see a breakthrough next month - has become trickier as the Irish government has been pushed to the brink of collapse.

The country's opposition party propping up the minority government has said the deputy prime minister's refusal to quit over handling of problems in the police force would force the country to the polls next month.

A motion of no confidence in the minister in question, Frances Fitzgerald, is due at 2000 GMT on Tuesday unless she quits. But Irish national broadcaster RTE cited a minister as saying Fitzgerald had decided to step down.

Whatever happens with Fitzgerald, if the deadlock between London, Dublin and Brussels over the already complex and politically sensitive border issue does keep Brexit negotiations stalled, that could spell trouble for the pound.

Sterling was buying $ 1.3295 as midday approached, down 0.2% on day. It is just about clinging on to a monthly rise against the greenback though it has seen is nearly 2% drop against the euro in November.