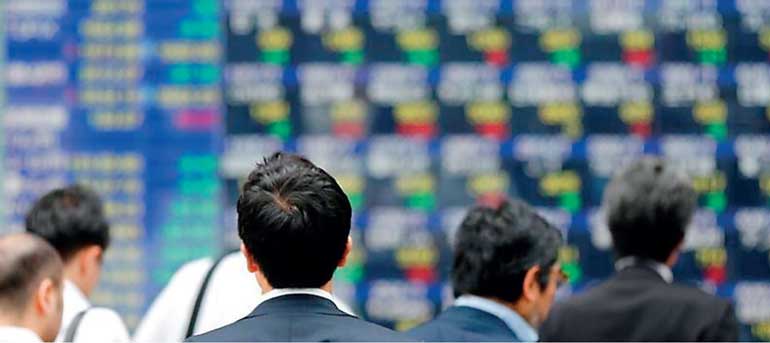 Spreadbetters expect European stocks to open mostly higher
MSCI Asia-Pacific index up 0.4%, Nikkei dips 0.15%
Asia lifted after Wall St hits record highs on tax bill hopes
Dollar treads water, currencies less sanguine about tax impact
Tokyo (Reuters): Asian stocks advanced on Tuesday after a record-setting session on Wall Street on bets that US lawmakers would pass sweeping tax legislation, while the dollar was tentative as traders were circumspect about the bill's economic impact.

Spreadbetters expected Britain's FTSE to open 0.05% higher, Germany's DAX to gain 0.26% and France's CAC to start little changed.

MSCI's broadest index of Asia-Pacific shares outside Japan rose 0.4%.

Australian shares added 0.55%, Hong Kong's Hang Seng rose 0.8% and Shanghai climbed 0.6%.

Japan's Nikkei bucked the trend and slipped 0.15%.

Wall Street hit record highs on Monday on growing optimism about lower corporate tax rates as the Republican tax bill moved closer to passage.

"We expect the bill to pass, as do many market participants, and it seems to make the equity investors happy," said Masashi Murata, currency strategist for Brown Brothers Harriman in Tokyo.

Global markets have been buffeted in recent weeks by shifting expectations about President Donald Trump's ability to push through his signature policy.

The bill would cut US corporate tax rates to 21% from 35%, which investors are betting will boost profits as well as trigger share buybacks and higher dividend payouts.

"While the markets have already priced in the corporate tax cut for the most part, it does provide an advantage for US corporations," said Masahiro Ichikawa, senior strategist at Sumitomo Mitsui Asset Management in Tokyo.

"The rising trend in broader equities led by the US markets looks to continue for a while."

The dollar index against a basket of six major currencies was effectively flat at 93.656 after losing 0.25% overnight, as some traders questioned the overall economic impact of the tax overhaul.

The dollar was also capped by doubts the tax reforms will be able to drive sizable repatriation of funds back into the United States as expected.

"The bill's plan to cut tax rates on repatriation of foreign profits would be a permanent measure, rather than temporary one. Corporations would therefore not feel rushed to repatriate funds home, meaning less support for the dollar," Ichikawa at Sumitomo Mitsui Asset Management said.

Moreover, while Federal Reserve policymakers expect the US economy to get a short-term lift from the tax reform, they project growth will then ease back to about 2% by 2020 and not rise to around 3% as Trump and his administration predict.

The euro nudged up 0.1% to $ 1.1793. The dollar was little changed at 112.600 yen having pulled back from a high of 112.840 overnight.

South Africa's rand retained a bulk of its gains after rallying on South African Deputy President Cyril Ramaphosa's election as the new leader of the ruling African National Congress (ANC) party.

The currency soared to a nine-month high of 12.52 rand per dollar overnight on hopes Ramaphosa's appointment would pave the way for crucial structural reforms. It last traded at 12.75 .

In commodities, oil prices were modestly higher following a North Sea pipeline outage but losing a bit of support after a nationwide oil worker strike was called off in Nigeria.

Brent crude futures rose 7 cents to $ 63.48 per barrel, while US crude futures were 17 cents higher at $ 57.33.

Spot gold rose 0.2% to $1,263.66 per ounce.

Bitcoin was 0.2% lower at $18,872 on the Bitstamp exchange.