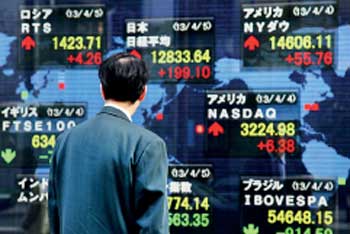 Reuters: Southeast Asian stock markets were tepid on Monday, in line with broader Asia, as investors shied away from taking any big bets ahead of economic data from major countries.

India is expected to release its quarterly economic growth data on Thursday, while Thailand's August inflation data is scheduled to be released on Friday.

"Regional investors are taking a wait-and-see stance ahead of a slew of macro data releases from China, India, Japan and Korea," said Taye Shim, head of research at Jakarta-based Mirae Asset Sekuritas.

"Given the fact that (stock) prices have reached historical highs across the region, I think investors are a little bit more risk-sensitive rather than opportunity-sensitive."

Globally, gasoline prices hit two-year highs on Monday as massive floods caused by Hurricane Harvey forced refineries across the US Gulf Coast to shut down. Brent futures were pushed up by pipeline blockades in Libya.

MSCI's broadest index of Asia-Pacific shares outside Japan rose 0.1% as investors waited to see how much damage the storm had inflicted.

In Southeast Asia, energy shares were up in all markets except Malaysia.

Malaysian shares were up 0.1%, fuelled by gains in industrial stocks. Conglomerate Sime Darby rose as much as 2.1%, while port operations manager Westports Holdings climbed up to 4.2% to its highest in more than a month.

Thai shares climbed 0.3% with packaging company Berli Jucker rising as much as 2.8% to its highest in nearly four weeks, while Airports of Thailand gained nearly 1%.

Singapore shares climbed 0.1% with financials accounting for almost half the gains.

Bucking the trend, Indonesian shares were down 0.2%, hurt mostly by information technology and financial stocks. Indoritel Makmur Internasional Tbk fell 5.7%, while Bank Central Asia Tbk fell more than 1%.

The Philippine market was closed on Monday for a local holiday.