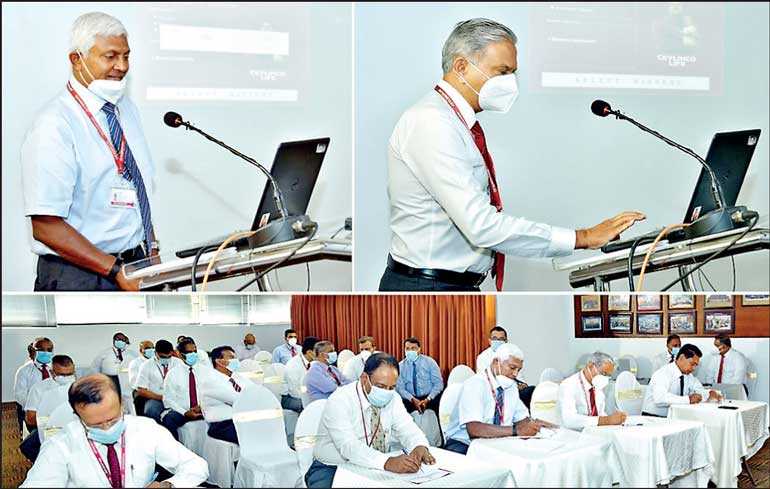 Ceylinco Life Chairman R. Renganathan (top left) and Managing Director Thushara Ranasinghe (top right) conducting the draw and (below) along with fellow directors approving the list of winners
---
Fortune once again favoured a group of Ceylinco Life policyholders with a bonanza of Rs. 5 million in gold when the life insurance leader conducted the second of six draws under the 2021 edition of the company's 'Family Savari' mega promotion.

This second set of 103 winners to strike gold included policyholders from Monaragala, Kekirawa, Manippai, Nattandiya, Anuradhapura, Ampara and Horana, highlighting the fact that Ceylinco Life's rewards to policyholders reach geographically far flung and economically diverse parts of the country.

In December 2020, the inaugural batch of winners comprising 103 policyholders won the first tranche Rs. 5 million in gold. Four more draws are to be conducted this year, culminating in a total of 618 Ceylinco Life policyholders winning Rs. 30 million in gold via the Family Savari promotion. The decision to present policyholders with gold instead of the customary overseas holidays and local excursions was on account of the travel restrictions and safety precautions necessitated by the COVID-19 pandemic.

In each batch of winners, one receives the equivalent of Rs. 1 million, two win Rs. 250,000 each, five receive Rs. 100,000 each, 25 get Rs. 50,000 each and another 70 receive Rs. 25,000 each.

To be eligible to participate in the six bi-monthly Family Savari draws, Ceylinco Life customers are required to keep their life insurance or retirement plans active between September 2020 and August 2021.