Deposits and assets grow by 12% and 10%
---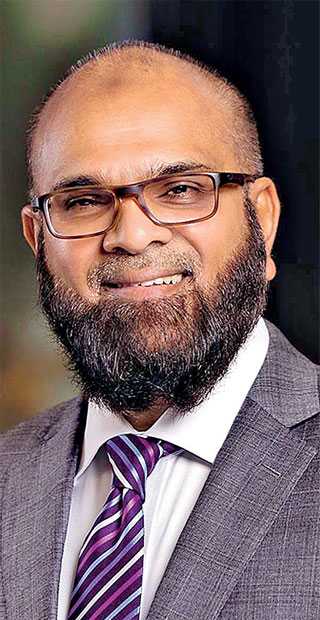 Amana Bank Chief Executive Officer Mohamed Azmeer
---
Amana Bank, through its resilient core banking performance, recorded a Profit Before Tax (PBT) of Rs. 389 million and a Profit After Tax (PAT) of Rs. 250 million for the nine months ending 30 September. In comparison to the previous quarter which was impacted by the first wave of the pandemic, Amãna Bank has been able to bounce back by virtually doubling its profits in Q3, where PBT grew to Rs. 139 million from Rs. 70 million recorded in Q2 while PAT in Q3 went up to Rs. 80 million from Rs. 41 million in Q2.

Demonstrating strength, stability and resilience the bank continued to maintain a strong momentum in customer deposits during the nine months closing with a portfolio of Rs. 80 billion reflecting a growth of 12% whilst also improving its CASA ratio to 43% which is one of the highest CASA ratios in the industry. The bank's total assets stood at Rs. 95 billion, 10% higher than the 2019 closing figure. As a result of conscious strengthening of credit risk parameters in the backdrop of challenging market conditions, advances grew modestly by 3% to close at Rs. 60 billion.

The bank continued to maintain a healthy asset portfolio with non performing ratios being well below industry averages where Net NPA and Gross NPA closed at 1.7% and 4.1% respectively. The bank's Q3 2020 comprehensive income grew to Rs. 191 million recording a 37% increase against the Q3 2019 performance of Rs. 140 million.

During the quarter the bank continued its annual dividend journey by declaring its third consecutive dividend, which was in the form of a scrip dividend this year. This increased the bank's number of shares to 2.6 billion resulting in the bank's Net Asset Value standing at Rs. 4.70 per share. Strengthening the bank's position as a growing and stable franchise, Fitch Ratings Sri Lanka in its October 2020 review affirmed the bank's National Long Term Rating at BB+(lka) with a Stable Outlook.

Commenting on the bank's Q3 financial performance Chief Executive Officer Mohamed Azmeer said, "While we are happy to see progress in performance primarily driven by core banking activities, the effects of the pandemic still continues to have an impact across all segments and industries. We are however confident that we can see it through by focusing on embracing the opportunities that emerge within this adversity."

During the pandemic, in facilitating CBSL's stimulus to support the economic turnaround, especially focusing on SMEs, Amana Bank set up a dedicated unit to enable the channelling of relief and offering facilities under the Saubagya Scheme. In this process, the bank accommodated over 5,000 relief requests in addition to processing over 180 Saubagya applications and disbursing over Rs. 1.8 billion to SME customers who requested for working capital assistance.

Amana Bank PLC is a stand-alone institution licensed by the Central Bank of Sri Lanka and listed on the Colombo Stock Exchange with Jeddah based IsDB Group being the principal shareholder having a 29.97% shareholding of the bank. The IsDB Group is a 'AAA' rated (S&P, Moody's & Fitch) multilateral development financial institution with a membership of 57 countries. Amãna Bank does not have any subsidiaries, associates or affiliated institutions, other than the bank's flagship CSR project 'OrphanCare' Trust which is managed by an independent Board of Trustees consisting of eminent personalities.

Amidst the economic challenges, the 'OrphanCare' continued to benefit over 2,800 orphan children around the country as it paid its fifth disbursement in November.