CEO Award recipients Nishath Nawaz of Operations Department, Chandana Dissanayake of Central Processing Unit and Zakir Hisham of Prestige Banking Unit along with Amãna Bank Chairman Osman Kassim, Deputy Chairman Tyeab Akbrally and CEO Mohamed Azmeer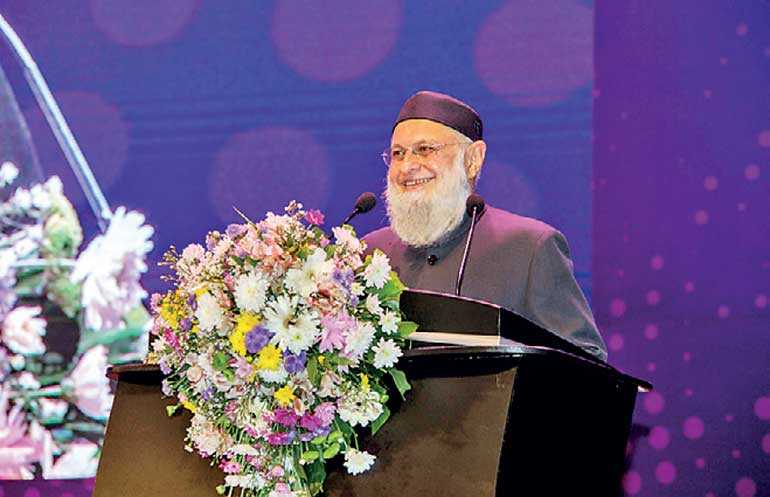 Held under the theme of Rewarding Excellence, Amana Bank Awards 2018 took centre stage recently at the Bandaranaike Memorial International Conference Hall (BMICH). The august event took place under the patronage of the Bank's Chairman Osman Kassim, along with the participation of the Board of Directors, Management Committee and the Bank's entire staff cadre.

The Bank's Akurana Branch walked away with the Gold Award for Best Overall Branch for the second consecutive year while Puttalam Branch was bestowed the Silver.

Recognising and appreciating staff members who have rendered over 10 years of service during Amãna's journey, the Bank presented 55 long standing employees with the 10 Years of Service Award.

The highlight of the ceremony was the presentation of the CEO Award, given to the most outstanding employees of the Bank for their unwavering display of dedication, passion and going beyond the call of duty. The recipients of the prestigious CEO Award at Amãna Bank Awards 2018 were Zakir Hisham of Prestige Banking, Nishath Nawaz of Operations and Chandana Dissanayake of Central Processing Unit

Commenting on the event Amana Bank's Chief Executive Officer Mohamed Azmeer said, "This event is all about being grateful to the staff of Amana Bank for their hard work and dedication put forward over the years to make Amana Bank Sri Lanka's true leader in Islamic Banking and I am truly honoured to lead this wonderful team towards greater achievements."

Sharing his views, the Bank's Chairman Osman Kassim said, "Amãna Bank Awards 2018 is a celebration of the achievement of our people, whose relentless dedication has helped us reach great milestones. While congratulating all the award winners, my sincere and humble appreciation goes out to the entire Amãna Bank family."

Amãna Bank is the country's first and only Licensed Commercial Bank to operate in complete harmony with the globally growing non-interest based banking model. With the mission of Enabling Growth and Enriching Lives, the Bank reaches out to its customers through a growing network of 28 branches and 4000+ ATM access points and has introduced an array of customer conveniences such as Internet & Mobile Banking, Debit Card with SMS alerts, Online Account Opening, 365 Day Banking, Saturday Banking, Extended Banking Hours, 24x7 Cash Deposit Machines and Banking Units Exclusively for Ladies.

Amãna Bank PLC is a stand-alone institution licensed by the Central Bank of Sri Lanka and listed on the Colombo Stock Exchange with Jeddah based IDB Group being the principal shareholder having a 29.97% stake of the Bank. The IDB Group is a 'AAA' rated multilateral development financial institution with an authorised capital base of over $ 150 billion which has a membership of 57 countries. Fitch Ratings, in June 2018, affirmed Amãna Bank's National Long Term Rating of BB(lka) while upgrading its outlook to Positive from Stable. Amãna Bank does not have any subsidiaries, associates or affiliated institutions representing the Bank.