The Alliance Finance Co PLC (AFC) has just announced the appointment of Ramani Ponnambalam as Chairperson, replacing Sunil Karunanayake, who passed away recently. Ponnambalam was appointed to the Board of Alliance Finance Co in 2011 as a Non-Executive Director, and has served as a Member of The Remuneration Committee & Related Party Transaction Review Committee. She is therefore well-acquainted with the evolution and practices of AFC.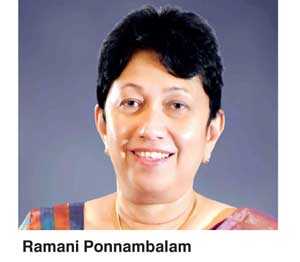 She has previously served as Director of McLarens Holdings Ltd., GAC Shipping Ltd. and GAC Logistics Limited. She is currently Managing Director of Macbertan Ltd., is a Director of Macbertan Holdings Limited, and overlooks the HR & Admin functions of Macbertan. She is also a Non-Executive Independent Director and Audit Committee Member of The Kingsbury PLC & Amaya Leisure PLC. In addition to these Board appointments, she also currently serves on the Board of Pidilite Lanka Ltd., a BOI Approved JV Company, as its local Director.

Ponnambalam functions as Board Member & Joint Secretary of the Women's Chamber of Industry & Commerce (WCIC), and is passionately involved in the development of women entrepreneurs through WCIC.

Most of her leisure activity is spent as the President of The Classic Car Club of Ceylon, which is the Country Representative of FIVA (Federation Internationale Vehicules Anciens). Ponnambalam has held several senior management positions in large private sector entities, and has undertaken key roles in the local and international negotiations for securing and developing business opportunities in Sri Lanka's industries.

She is a past student of Bishop's College Colombo, and graduated from the Singapore Management University, obtaining an Executive Diploma in Directorship.