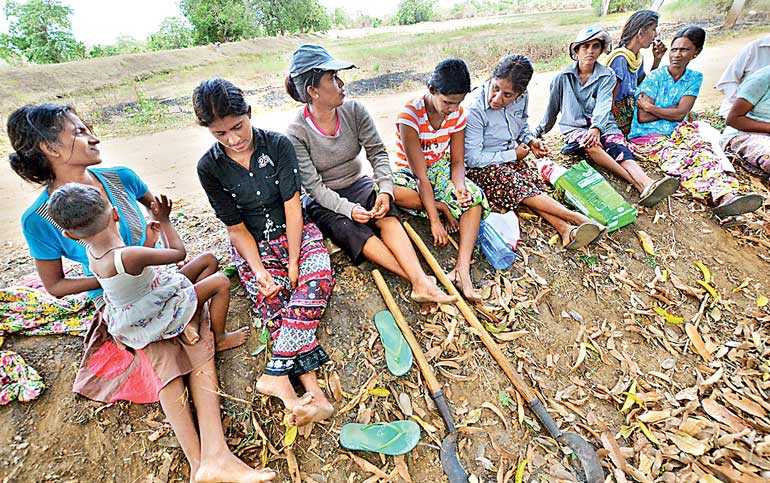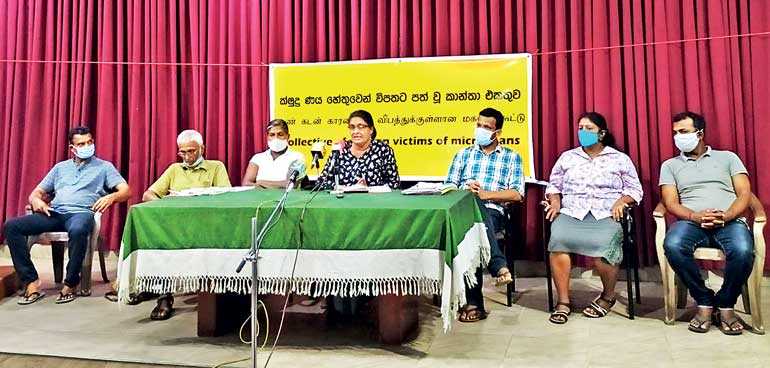 Predatory micro loans have pushed more than 2.4 million women across the country into a debt trap – Pic by Shehan Gunasekara
By Collective of Women Victimised by Microfinance

The assassination of Sunil Jayawardena, the President of the Self-Employed Professionals' National Three-Wheeler Association, who had been mobilising against the leasing mafia, speaks to widespread malpractices and illegal activities by finance companies.

These things are not limited to leasing services. Economically vulnerable communities have been victimised by the micro-loan mafia for a long time. Odious debt and numerous forms of illegal, anti-social and physical oppressions that debt collectors are executing on women have driven many to take their lives during the last couple of years. However, these incidents did not receive adequate reporting in the media to raise public awareness.

Predatory micro loans have pushed more than 2.4 million women across the country into a debt trap. These women who are not in a position to pay back debt accumulated due to excessive interests have to undergo shaming, name-calling and other kinds of violence at the hands of finance companies and their officers.

Many women are trapped in a web of debt as they have borrowed from multiple sources to pay back micro loans. Unable to pay, many women have sold their gold, household goods and some have even mortgaged their land. Trying to meet debt payments with all of the household income has led to domestic disputes and subjected women to domestic violence. By 2020, about 200 people had die by suicide due to micro loan related issues.

We women victimised by micro loans have been explaining our predicament and presenting our demands to the Government since 2017. The Central Bank of Sri Lanka, understanding the gravity of our situation, executed a partial regulation on microfinance by imposing an interest rate cap at 35%. The Government in 2018 also waived off the debt of 45,139 people within a limit of Rs. 100,000 in 12 districts which were affected by the drought. However, these actions were not adequate to address the magnitude of the microfinance debt problem or to enable microfinance borrowers some relief to resume repayments on their own.

By now many women who are powerless to pay back their debt are excluded from formal banking and finance sector as they are listed in the Credit Information Bureau (CRIB). Finance companies have assumed legal action to recover money from many women who defaulted. A dangerous moment is in creation at the grassroots as we are getting further entrenched in debt in our struggle to sustain our lives while going through court

proceedings.

Our livelihoods: farming, plantation work, small business and daily wage jobs are constantly battered by the frequent droughts, floods and Easter attacks as well as by COVID-19 related disruptions. Unfortunately, micro loans causing us problems are excluded from the Central Bank directed six months debt moratorium announced

on 31 March.

Why does the Government observe silence in the face of our problems? Most of the victims of microfinance loans who are listed in the CRIB are unable to access 'Aswenna' low-interest concessionary loans disbursed by the Government to support those who contribute to post-COVID

economic revival.

All promises to cancel micro loans during the last Presidential Elections also did not materialise. It is the responsibility of the Government to ensure that cancelling microfinance debt is not going to be limited to another election slogan in the upcoming General Election.

We also point out that the Government is reluctant to take action against abuses and illegal activities by the finance sector which is under political patronage and sustained through political power and investments by the politicians. We emphasise that the Government does not have any right to face us without cancelling

our debt.

Our microfinance debt has reached unsustainable levels. Vacating the Government's space to alleviate poverty and enhance economic activities at the grassroots to be occupied by pro-profit finance companies is the principal cause behind micro loan crisis. We demand immediate Government intervention to cancel our debt and relieve our burden. We also demand that necessary regulations on banks and finance sector be enacted, particularly to safeguard the finance consumers.

The Government should also mediate to create more conducive credit mechanisms to suit the needs of small producers like us. We think co-operatives are more suitable than pro-profit microfinance companies to address our development interests.

We have the strength to contribute to economic revival and food sovereignty in Sri Lanka. We call for Government intervention to eliminate the obstacle set by micro loans which will enhance our capacity to become equal partners in developing the Sri Lankan economy.