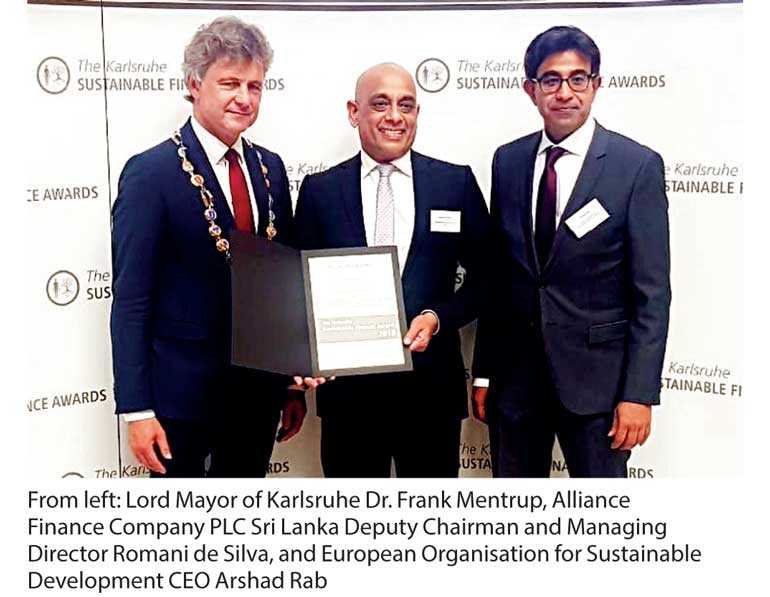 Alliance Finance Company PLC (AFC), Sri Lanka's third oldest finance company with a pioneering focus on triple bottom line principles – people, planet and profit – has earned international recognition for its contribution towards sustainable value creation in business practices by being accepted into the Sustainable Standards and Certificate Initiative (SSCI), which is a global initiative that is promoted by the European Organisation for Sustainable Development founded through an European Union initiative (EOSD) and supported by the Association of Development Financing Institutions in Asia and the Pacific (ADFIAP) and the Association of African Development Finance Institutions (AIAFD/AADFI).

AFC becomes one of just three companies in the world to receive this honour and the first from the Sri Lanka Banking and Non-Banking Sector. AFC will now serve as a member of this pioneering initiative and help draft the first global standard for Sustainable Banking and Finance. Selection to the prestigious initiative was done on evaluation of AFC's business practices that have contributed towards sustainable value creation over the last several years.

In 2017, AFC became the first financial institution in Sri Lanka's Non Bank Finance Institutions (NBFI) sector to commit to the UN's Sustainable Development Goals and Paris Agreement on Climate Change by signing the Karlsruhe resolution on 13th July 2017.

The company has over the years committed itself to achieving sustainable development goals in line with its triple bottom line principles. AFC is the only financial institution in the South Asian region to be accepted into the SSCI.

Under the leadership of Managing Director Romani de Silva, the company has integrated sustainability into its business model successfully. This year the company launched two projects to promote biodiversity conservation and ecosystem restoration. Three percent of AFC's profits go towards environmental and social sustainability.

In recognition of his unwavering commitment towards these principles and his visionary leadership in driving the company's sustainability mandate, de Silva won the Merit award as a Sustainability Leader of the Year at the Karlsruhe Sustainable Finance Awards 2018 held in Germany on 13 July.

"I am honoured to receive this award," de Silva said. "However, I dedicate this award to all our dedicated employees. It is their commitment towards the sustainable development goals which was recognised and I am really proud to have had the privilege to lead it. To be part of this initiative is a great achievement for the company and I congratulate my staff for their commitment and dedication towards the creation of value for the environment and society whilst doing business."

"I would also like to convey my sincere gratitude to the European Organisation for Sustainable Development for this award as well as their efforts in promoting sustainable value creation across the globe," he said.

Speaking of Romani De Silva's achievement, European Organisation for Sustainable Development, Germany CEO Arshad Rab said, "Romani De Silva is a prime example of a visionary who is committed to values and driving Alliance Finance towards sustainability. He is thereby making significant contributions in creating sustainable economy in Sri Lanka. I congratulate him for the well-deserved Certificate of Merit in the category 'Sustainability Leader of the Year 2018', and on behalf of all our partners, including the Lord Mayor of Karlsruhe Dr. Frank Mentrup, I wish him every success in his sustainability journey."

The Global Sustainable Finance Awards are presented by the City of Karlsruhe in Germany to honour financial institutions, related organisations and Presidents/CEOs with significant contributions to the field of sustainable banking and finance. Over 30 organisations from Asia, Africa and Europe comprising more than 100 delegates participated at the prestigious event this year.

With the involvement of schoolchildren, AFC recently planted over 175,000 trees across Sri Lanka in a single day to offset the carbon footprint of its motor leasing customers through its unique 'Thuru Mithuru' program to mark World Environment Day. It also pledged its contribution towards biodiversity and ecosystem restoration by joining hands with Wilderness and Wildlife Conservation Trust (WWCT), founded by renowned ecologist and conservationist Anjali Watson and her husband, Dr. Andrew Kittle, to foster co-existence among people and leopards in Sri Lanka's Central Highlands.