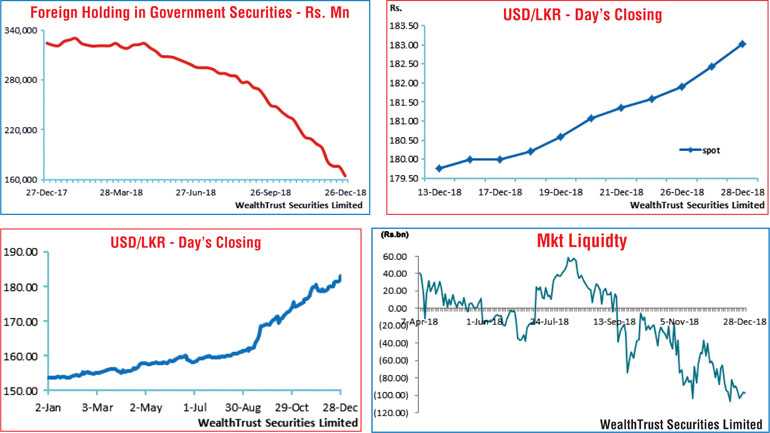 Parallel shift upwards of the yield curve
Foreign selling continues during the week
Rupee dips to Rs. 183
By Wealth Trust Securities

The year 2018 was significant for its volatility as interest rates and the exchange rate faced turbulent periods due to external and internal developments.

The secondary bond market remained active during the week ending 28 December 2018 as yields increased on the back of profit taking and foreign selling interest, recording a parallel shift upwards of the yield curve week on week. Yields on the 2021's (01.08.21 and 15.12.21), 2023's (15.05.23 and 15.07.23), 01.08.24, 15.03.25, 01.08.26 and 15.06.27 were seen increasing to intraweek highs of 11.45%, 11.60%, 11.70%, 11.75%, 11.80%, 11.87%, 11.80% and 11.85% respectively against its lows of 11.40%, 11.48, 11.55%, 11.53%, 11.72%, 11.65%, 11.65% and 11.68%. In addition, on the short end of the curve, December 2019 bills were seen changing hands at levels of 11.00% during the week while the 01.05.20 changed hands at levels of 11.15% to 11.25%.
A seventeenth consecutive week of foreign outflows from the secondary bond market saw the foreign holing reduce by a further amount of Rs. 10.93 billion for the period ending 26 December 2018 while recording an total outflow of Rs. 159.80 billion for the year 2018.
The daily secondary market Treasury bond/bill transacted volume for the first three days of the week averaged Rs. 11.67 billion. In the money market, the OMO (Open Market Operation) Department of Central Bank injected liquidity throughout the week on an overnight and seven day basis at weighted averages ranging from 8.94% to 8.98% and 8.99% to 9.00% as the average net liquidity shortfall in the system stood at Rs. 99.68 billion for the week.

Furthermore, liquidity was also infused by way of auctions for outright purchase of Treasury bills, where an amount of Rs. 2.5 billion was injected in total at weighted average yields ranging from 9.50% to 9.67% for periods of 32 to 85 days. The overnight call money and repo rates averaged 8.99% during the week.


Rupee dips to Rs. 183.00

In the Forex market, the downward trend on the rupee continued throughout the week as the USD/LKR rate on spot contracts were seen closing the week at Rs. 182.85/20 against its previous weeks closing level of Rs. 181.30/40 on the back of continued demand by banks and importers.

The daily USD/LKR average traded volume for the first three days of the week stood at $ 100.77 million. Some of the forward dollar rates that prevailed in the market were one month – 183.65/90; three months – 185.65/90 and six months – 188.80/00.