Foreign outflows continue for third consecutive week
By Wealth Trust Securities
The upward momentum in secondary market bond yields witnessed during the previous week continued during the early part of the week ending 23 February 2018 as well.

The outcome of the weekly Treasury bills auction, where weighted averages were seen continuing their steep increase, was seen as the main reasons behind the upward momentum along with foreign selling interest.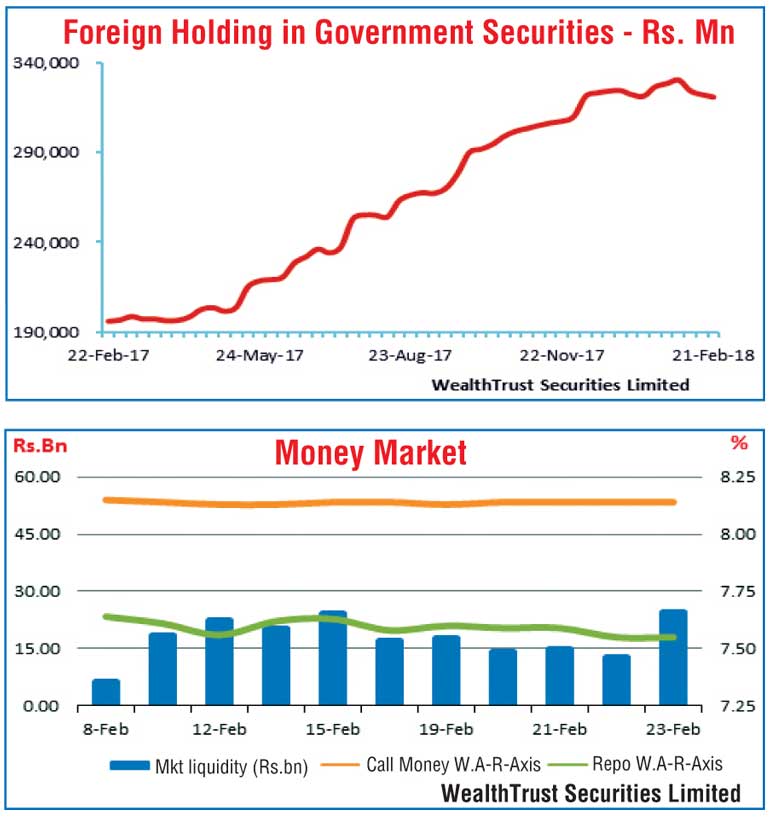 Selling interest in the liquid maturities of the three 2021's (i.e. 01.03.21, 01.08.21 & 15.12.21), the two 2026's (i.e. 01.06.26 and 01.08.26) and the 15.05.30 saw its yields edge up to intraweek highs of 9.85%, 10.05%, 10.00%, 10.38%, 10.40% and 10.62% respectively against its previous weeks closing levels of 9.75/80, 9.80/90, 9.80/95, 10.27/37, 10.25/35 and 10.35/45. However, yields decreased once again towards the latter part of the week to hit lows of 9.70%, 9.85%, 9.95%, 10.31%, 10.27% and 10.40% respectively on the back of buying interest to close the week broadly steady against its previous week's closings.

This was ahead of today's bond auctions, where Rs. 40 billion in total will be on offer consisting of Rs. 25 billion on a 3.00 year maturity of 01.03.21 and Rs. 15 billion on a 7.05 year maturity of 01.08.2025.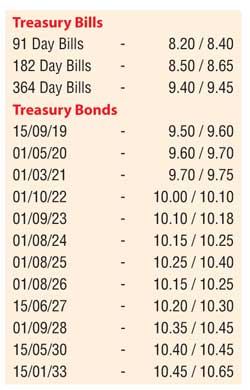 The foreign component in rupee bonds was seen declining for a third consecutive week to record an outflow of Rs. 1.3 billion for the week ending 21 February.

The daily secondary market Treasury bond/bill transacted volumes for the first four days of the week averaged Rs. 4.28 billion.

In money markets, the overnight call money and repo rates averaged at 8.14% and 7.58% respectively for the week as the average net surplus liquidity in the system stood at Rs. 16.90 billion. The OMO Department of the Central Bank continuously drained out liquidity by way of overnight repo auctions at a weighted average of 7.25%.

In addition, it drained out in total an amount of Rs. 11.30 billion on a permanent basis by way of seven-day term repo auctions at a weighted average rate of 7.35%.


Rupee fluctuates during the week


The USD/LKR rate on spot contracts depreciated during the early part of the week to a low of Rs. 155.55 against its previous week's closing of Rs. 155.10/15 on the back of importer demand. However, it was seen bouncing back from this point onwards to close the week at levels of Rs. 155.15/25 driven by selling interest by banks and export conversions.

The daily USD/LKR average traded volume for the four days of the week stood at $ 79.98 million.

Some of the forward dollar rates that prevailed in the market were one month - 155.90/20; three months - 157.65/75 and six months - 159.95/25.