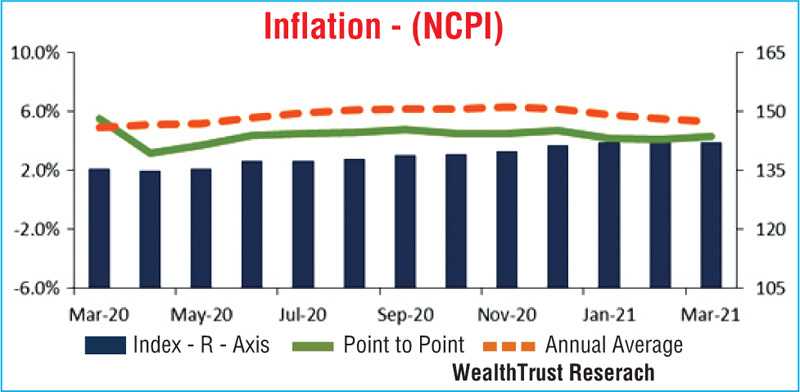 ---
By Wealth Trust Securities
---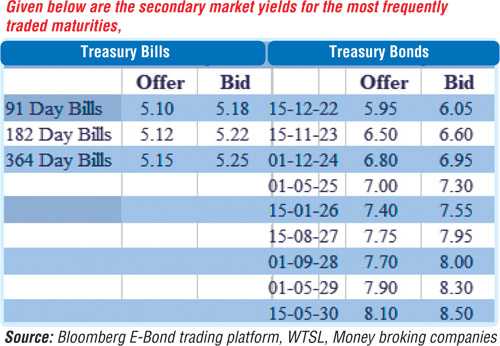 The weekly Treasury bill auction conducted yesterday saw a healthy volume of Rs. 36.57 billion accepted in total against its total offered amount of Rs. 45 billion, dominated by the 91-day bill maturity as it represented 95.48% of the total accepted amount. The weighted average rates on the 91-day and 182-day maturities increased by one basis point each to 5.10% and 5.13% respectively, while the 364-day maturity weighted average increased by three basis points and was recorded at its stipulated cut-off rate of 5.18%. The bids-to-offer ratio increased to a seven-week high of 1.91:1.

Activity in the secondary bond market remained at a standstill yesterday with only the 15.11.23 maturity changing hands at a level of 6.50%, while on the short end of the curve, the 01.05.21 maturity changed hands within the range of 5.00%-5.30%.

The total secondary market Treasury bond/bill transacted volume for 20 April was Rs. 1.05 billion.

In money markets, the liquidity surplus stood at Rs. 118.01 billion yesterday as CBSL's SLFR of 5.50% was not accessed for a second consecutive day. The weighted average rates on call money and repo remained mostly unchanged at 4.64% and 4.67% respectively.

Furthermore, the National Consumer Price Index (NCPI) for the month of March saw its point-to-point increase to 5.1% against its previous month of 4.2%, while its annual average decreased to 5.3% from 5.5%.


USD/LKR

The Forex market yesterday saw the USD/LKR rate on its one-month forward contract close the day at Rs. 200/202 against its previous day's closing of Rs. 204/206 and in the absence of spot contract quotes.

The total USD/LKR traded volume for 20 April was $ 68.52 million.

(References: Central Bank of Sri Lanka, Bloomberg E-Bond trading platform, Money broking companies)