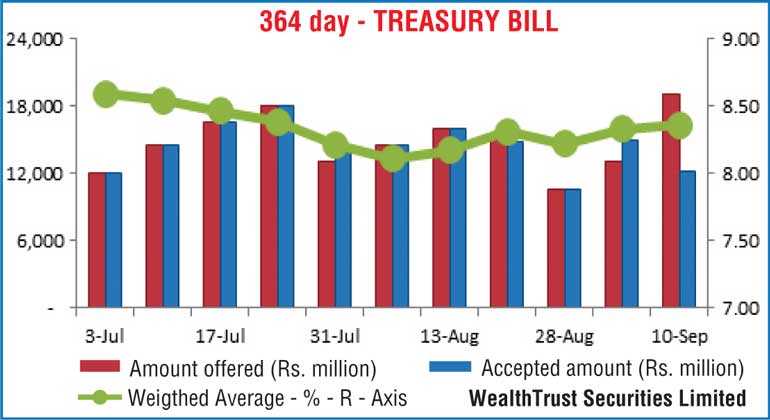 ---
Bond yields increase marginally ahead of primary bond auctions
By Wealth Trust Securities

The 364 day bill weighted average was seen increasing for a second consecutive week at its weekly Treasury bill auction held yesterday, recording an increase of 03 basis points to 8.36% as only Rs.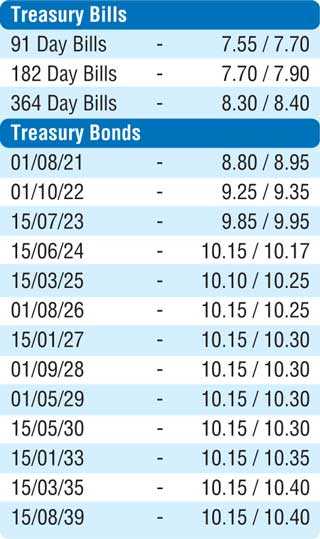 12.11 billion was accepted against its offered amount of Rs. 19 billion. The 91 day and 182 day maturities which were accepted after a lapse of one week reflected mixed results, with the 91 day bill weighted average decreasing by 02 basis points to 7.61%, while the 182 day bill weighted average increased by 05 basis points to 7.75%. The accepted amounts on the 91 day and 182 day stood at Rs. 2.59 billion and Rs. 7.30 billion respectively, against its offered amounts of Rs. 1.00 billion and Rs. 2.00 billion, which intern saw the total offered amount of Rs. 22 billion been met successfully. The bids to offer ratio increased to 2.23:1.

In the secondary bond market, yields increased marginally in moderate trading with the liquid maturities of 2023's (i.e. 15.03.23, 15.07.23 & 15.12.23) and 2024's (i.e. 15.03.24 & 15.06.24) changing hands at highs of 9.82%, 9.85%, 9.92% and 10.15% each respectively against its previous day's closing levels of 9.70/80, 9.75/85, 9.85/95 and 10.05/10 each.

Today's Treasury bond auctions, in lieu of a Treasury bond maturity of Rs. 115.5 billion, will have in total an amount of Rs. 115 billion on offer, consisting of Rs. 70 billion on a new 5 year maturity of 15.09.2024 and Rs. 45 billion on a new 15 year maturity of 15.09.2034. The weighted average yields at the auctions conducted on 9 August for the maturities of 01.05.2028 and 15.08.2039 were recorded at 10.00% and 10.29% respectively.

The total secondary market Treasury bond/bill transacted volumes for 9 September was Rs. 0.80 billion.

In money markets yesterday, the Open Market Operations (OMO) Department of the Central Bank of Sri Lanka injected amounts of Rs. 15.00 billion and Rs. 10.00 billion respectively on an overnight basis and 07 day basis by way of Reverse Repo auctions, at a weighted average rate of 7.40% each, as the net overnight liquidity in the system remained at a deficit of Rs. 12.66 billion. It further injected an amount of Rs. 5.5 billion by way of a 14 day term reverse repo auction at a weighted average rate of 7.45%, valued today. The overnight call money and repo rates averaged 7.41% and 7.51% respectively.
Rupee trades within narrow range
In Forex markets, the Interbank USD/LKR rate on spot contracts were seen trading within a narrow range of Rs. 180.30 to Rs. 180.50 before closing the day at Rs. 180.35/45 against its previous day's closing levels of Rs. 180.50/60.

The total USD/LKR traded volume for 9 September was $ 58.94 million.

Some forward USD/LKR rates that prevailed in the market: 1 month - 180.85/00; 3 months - 181.75/00; 6 months - 183.40/70.