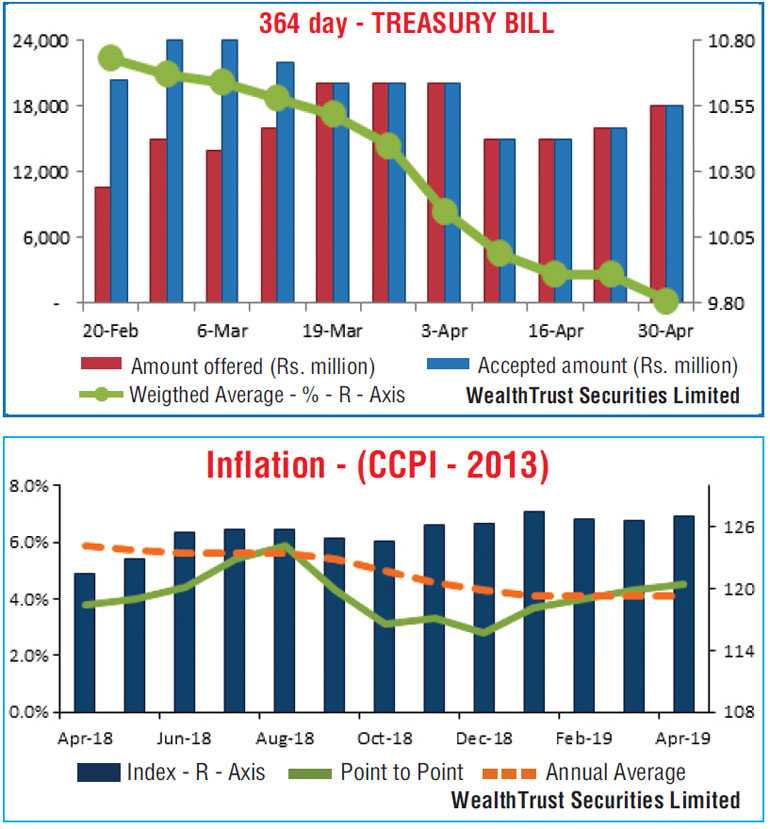 Secondary market bond yields continue to decline
By Wealth Trust Securities

The market favourite 364 day bill weighted average was seen resuming its downward slope once again at its weekly Treasury bill auction, conducted on Tuesday after a lapse of one week. The benchmark maturity recorded a drop of 10 basis points to 9.81% followed by the 91 day and 182 day maturities by 05 basis points each to 8.89% and 9.09% respectively. The total offered amount of Rs. 27 billion on all three maturities was successfully met with the bid to offer ratio increasing to a four week high of 3.24:1.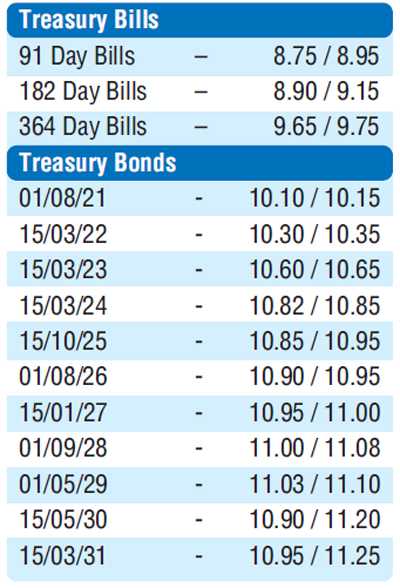 In the secondary bond market on Tuesday, activity was seen increasing considerably across the yield curve with yields continuing to retreat. The yields on the liquid shorter end maturities of 2021's (i.e. 01.08.21, 15.10.21 and 15.12.21), 15.03.22 and two 2023's (15.05.23 & 15.12.23) were seen dipping to intraday lows of 10.15%, 10.20% each, 10.35%, 10.74% and 10.76% respectively against its previous day's closing levels of 10.30/40, 10.45/50, 10.75/85, 10.80/90. The mid-term maturities of 15.03.24, 01.08.26, two 2027's (15.01.27 & 15.06.27) and 01.09.28 were seen dipping to intraday lows of 10.84%, 10.95%, 11.00%, 11.02% and 11.05% respectively against its previous days closings of 10.87/92, 10.98/02, 11.00/05, 11.05/10 and 11.05/15. On the long end of the yield curve, the 01.05.29 maturity was seen dipping to a low of 11.09% against its previous day's closing of 11.10/17.
Meanwhile, inflation for the month of April was seen increasing to 4.5% on the basis of its point to point against its previous month of 4.3% while its annualised average stood steady at 4.1%.

The total secondary market Treasury bond/bill transacted volumes for 29 April was Rs. 11.34 billion.

In money markets, the overnight call money and repo rates averaged at 8.49% and 8.59% respectively as the net liquidity surplus stood at high of Rs.54.01 billion on Tuesday. The OMO department of Central Bank did not conduct any cash value reverse repo auction on Tuesday for the first time since the 13th of September 2018.
Rupee losses marginally

The USD/LKR rate on the one week forward contract was seen depreciating marginally to close the day at Rs. 176.50/70 against its previous weeks closing of Rs. 176.10/40 on the back of buying interest by banks.
The total USD/LKR traded volume for 29 April was $ 81.14 million.

Some forward USD/LKR rates that prevailed in the market were: 1 month - 177.53/63; 3 months - 179.50/65; 6 months - 182.40/55.