Singer Sri Lanka has come forth to unveil the Needle Painting Exhibition at the J. D. A. Perera Gallery on 4 May in Colombo. The exhibition is conducted by the Singer Fashion Academy by bringing together the works of the best students, following the Needle Painting course at Fashion Academies spread island wide.

Needle painting which is also known as thread painting using a needle, is a hand embroidery technique blending long and short stitches to create realistic pictures. The main objective of an event of this calibre is to uplift their student's prospects of not only helping them to exhibit their creations but to also entice the public to recognise their efforts and purchase their work.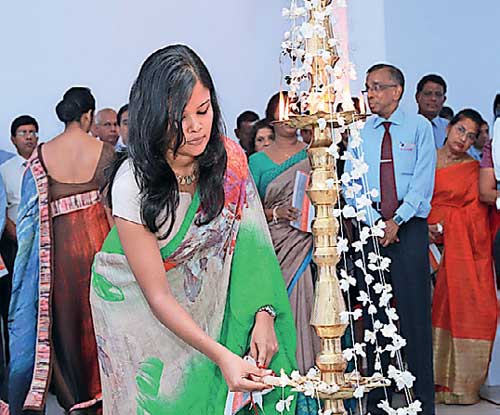 Commenting on the stance the Singer Business School has taken with this year's exhibition, the Head of Singer Business School, Koshitha Peramunugamage said, "We are delighted to have embarked on a sustainability endeavour in the form of an exhibition that would not only help create awareness about this segment of art but also help our students to develop new skills combined with latest technologies and leverage on their achievements. This mission will also pave way for entrepreneurial opportunities and open up prospects to reach wider global audiences through various mediums that will made available through exhibitions such as this."

Singer has been instrumental in terms of introducing the Singer Sewing Machine in 1877 at a small scale retail outlet. Without limiting the retail business towards selling units, Singer endeavoured to educate their customers about the products and appliances they bought. This concept went further ahead to form the Fashion Academy in turn, empowering youth to fulfill their educational backgrounds and skills in the area of design and fashion and assist them with establishing their own businesses in the process.

Nearly 200 paintings focusing on themes related to nature, wildlife and portraits for example will be showcased at the exhibition. A number of sewing demonstrations including those of needle painting will be conducted by Singer Sewing Instructors during the course of the exhibition. On accessing the Singer Business School Facebook page, new customers would be steered to the Singer Business School website where new registrations would receive a 5% discount when it comes to purchasing of the artwork during the event.

Singer Business School currently operates with 70 Fashion Academies that conduct a variety of courses and programmes. Other than needle painting, there are other facets of design courses that are being taught at the fashion academy and include programmes and courses related to embroidery, tailoring, saree blouse making and kidswear to name a few. The educational arm of SINGER Business School comprises of Singer Fashion Academy, Singer Computer Academy and Singer Vocational Academy set to nourish the education of youth and many other needed segments in the society.

Singer Fashion Academy holds over 58 years of experience in skills development. The Academy has enabled large number of individuals to turn their talents into entrepreneurships and professions. The Fashion Academy offers 18 programs through 70 fashion academies spread across different parts of the country and intends to strengthen the journey of nurturing the Educational sector of the country.