Anyone who steps into the atrium at Crescat Boulevard is sure to be amazed by the latest installation that is both innovative and stylish. Titled 'Erosion', the pedicure station, which is an extension of Foot Rub, has been conceptualised by Kanishka Perera and brought to life by his team from The Pollen Studio.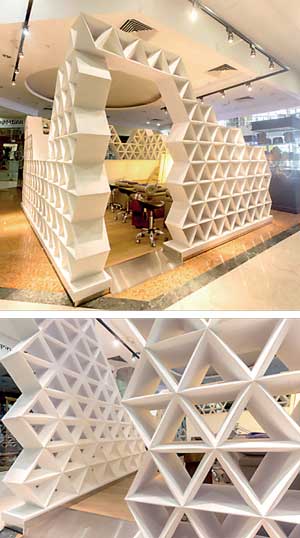 Launched last year, this design company has been reinventing spaces, most notably at the Ramada Hotel with their re-working of various areas as well as the Trunk retail store which is situated in the premises.

Kanishka, having spent 15 years in London following his passion for architecture, has been privileged to have worked on a diverse range of projects and being recognised for his work. In 2012 he made the bold move to return to Sri Lanka and set up The Pollen Studio, a design studio that is focused on developing local talent with like-mindedness for creativity and change. He believes that this is just the start for the possibility of design and architecture in Sri Lanka, "I'd like to make a contribution to educating students and graduates whom I believe have considerable talent that should be nurtured and focused with more intent," he said.

Modern, unique and private, the Erosion, aptly titled to coincide with the nature of the pedicures which slough of dead cells in order to stimulate new ones, is a four walled enclosure that had to include two wildly opposing requirements.

"We needed a space that gave clients a sense of privacy," said Ruwan Weerawardana of Foot Rub, "but at the same time it had to be transparent so as not to block the other shops in the area, which are quite contradictory. The concept had to be visually interesting, provide the correct ambience for our clients and offer the necessary functionality for our practitioners to carry out wellness pedicures."

Kanishka therefore formulated the concept of erosion as there is enough transparency through the eroded walls to view one's surroundings but able to maintain privacy by limiting the vision of bystanders.

This optical trickery was achieved through the cutting and folding of paper, an algorithm which dictates just how much the eye is allowed and not allowed to see. Therefore the openings erode inwards reminiscent of the dimples on a piece of coral and depending on where one stands, their view is either limited or clear.

If one was to quantify the sheer time and effort that went into creating this installation, Kanishka says it took a massive 126 hours of assembly, 490 triangles, 3.5 litres of glue, approx. 36 m of temporary masking tape, 19 paper cuts and a whopping 80 kg of paper. Quite a lot of work for what is described as '6 fractal elements of paper' but there is nothing simple about this installation that is sure to revolutionise the public perception of space and design.