DIMO powers international platform celebrating Sri Lankan fashion industry innovation premiering this November as part of Sri Lanka Design Festival
Winners of this year's Mercedes-Benz fashion and apparel awards at Sri Lanka Design Festival get unique opportunity to visit the Mercedes-Benz Istanbul Fashion Week 2016
Sri Lanka's fashion industry is growing rapidly; with a powerful apparel manufacturing industry that contributes a mega portion of the national GDP and booming fashion businesses driven by local design talent, it is now one of the most influential sectors in the country. Today, after decades of sustainable practices, providing employment for millions and integrating design with cutting-edge innovation into their product offer, Sri Lankan fashion has arrived at a strategic point in its journey.

Taking the next big leap, this giant industry is now about to make a global appearance powered by one of the most beloved icons for style and glamour all over the world – Mercedes-Benz. Spearheaded by Sri Lanka Design Festival and DIMO – official custodians for Mercedes-Benz in Sri Lanka, a new platform of international calibre has been announced; Mercedes-Benz Fashion Runways Sri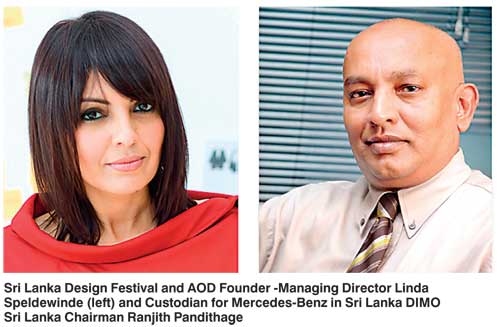 Lanka is scheduled to take place for the first time in the country enveloping the national apparel industry, the growing fashion retail businesses and special cross-industry integrations between fashion and craft.

Discussing the ideology behind Mercedes-Benz Fashion Runways Sri Lanka, its pivotal role for the country and the international opportunities that it will offer, are the two leading figures behind this immense undertaking: Ranjith Pandithage – Chairman of DIMO Sri Lanka/Custodian for Mercedes-Benz in Sri Lanka and Linda Speldewinde – Founder, Managing Director of Sri Lanka Design Festival and AOD.
Q: Why Mercedes-Benz Fashion Runways for Sri Lanka?

Linda: I have always been proud of our apparel industry and the work they do. So when it came to playing a role in building a fashion industry in Sri Lanka, my vision was to do that with them. The journey we took with Sri Lanka Design Festival started together with the Joint Apparel Association forum representing the industry. We are now in our seventh year and ready to take this to a whole different level with the Mercedes Benz fashion runways. What we're presenting together are not only a series of fashion runways, but a deeper story where our industries from high-tech apparel to low-tech craft are doing extraordinary things that the world needs to pay attention to. We thank DIMO, their Chairman Ranjith Pandithage and Rajiv Pandithage General Manager of Sales and Parts for buying into this vision, believing in the unique strength of local fashion and helping us to move this industry into the future.

Mercedes Benz is a giant pillar in global fashion and this is the first time it is making a big statement for Sri Lankan fashion. What prompted this partnership at this time?

Ranjith: We felt it was the right time; Sri Lankan fashion backed by its technology, sustainability and innovation has reached a critical point where it truly deserves a mega-scale international platform to get the world's attention. So, we were responding to that need for a global stage here in Sri Lanka and we're proud to provide the platform for it and support an industry that connects with millions of Sri Lankans. So it is not only the glamorous outlook of the event that resonates with Mercedes-Benz, but also the impact we make in Sri Lanka, and its key export industries is something very close to our hearts here at DIMO.
Q: What do you hope to achieve through this venture?

Linda: Firstly, an international platform, the relevance of which Ranjith mentioned. Through this platform, we are celebrating Sri Lanka's fashion industry capabilities and the new innovation coming from it involving other industries like craft. With runways dedicated to showcase each of the unique facets, we're creating a wholesome picture of Sri Lankan fashion and its unique nature for the world to see. Not only that, we will showcase our drive towards the higher end of the value pyramid, ability to supply niche markets and luxury brands. This would deliver a fresh, global interest in Sri Lanka as a fashion design and manufacturing destination with a great infrastructure to keep things sustainable and innovative. With this fresh interest, we hope to drive bigger business and investment to the country.
Q: How is the Mercedes-Benz involvement benefitting this vision?

Ranjith: Mercedes-Benz is a household name across the globe and is known as an icon of style. As part of the international brand philosophy, Mercedes-Benz supports fashion innovation all over the world. This is what we're extending to Sri Lanka too. With Mercedes-Benz involvement, local fashion becomes part of a global network that brings about recognition and opportunities that were inaccessible before. The objectives that Linda mentioned are complemented by Mercedes-Benz brand and its massive, international fashion network.

So, with Mercedes-Benz Fashion Runways Sri Lanka, it is from this trusted global network that we're presenting the country's unique fashion product proposition to the world.

Linda: Adding to what Ranjith said, this initiative goes beyond what people normally perceive as fashion. I have always been a strong advocate that Sri Lanka is not limited to Colombo and have worked with the entire island at grassroot level from the North to the South reviving traditional craft. Part of the vision I saw was the ability and the potential of this craft cottage industry and the massive apparel industry to work together; this has come into life today with the first key European brand purchasing textiles woven by our artisans and finished by our apparel factories. So, Mercedes-Benz fashion runways are a platform for all these revolutions taking place in Sri Lankan fashion, involving industries that are both big and small.
Q: How are the runways showcasing Sri Lanka's fashion capabilities to the world?

Linda: Mercedes-Benz Fashion Runways Sri Lanka is structured around three main pillars that make up the local fashion sphere; industry innovation, sustainable and low-tech craft integration as well as young emerging talent. The pinnacle night of the runways which is Mercedes-Benz Fashion and Apparel Awards Sri Lanka further reflects the individual strengths of our industry from manufacturing, finishing to design and sustainability as well as the ability to combine low-tech craft with high tech industry.

Like Ranjith mentioned, all this is presented as part of a trusted global network from Mercedes-Benz and received by a prestigious international audience of buyers, retailers and media whom we're getting down for the runways. So, we're sending out a clear message from Sri Lanka – if you are looking to engage in the business of fashion with an industry composed of fresh talent, best in class sustainable practices and an innovation mind-set that, come to Sri Lanka.
Q: What are the new opportunities that this partnership will bring about for Sri Lankan Fashion?

Ranjith: With Mercedes-Benz Fashion Runways, we're giving the talent in the local industry a chance to put forward their best works out there for the world to see. Going further, we're presenting even bigger opportunities for the winners of this year's Mercedes-Benz fashion and apparel awards at Sri Lanka Design Festival. Firstly, the awards saw a team of high calibre international judges giving feedback to all participants, which I think is a once-in-a-lifetime opportunity for young designers or upcoming fashion brands.

And, the final winners selected at the grand finalé in November will be hosted to visit the Mercedes-Benz Istanbul fashion week 2016 – this again, is a remarkable opportunity to learn from a fashion industry that has made a big difference. All this is only in our first year of the event and going further we have future plans to invite renowned international judges and extend bigger opportunities to educate themselves and return to Sri Lanka with new knowledge for the fashion industry.
Q: Who is behind Sri Lanka Design Festival, and how can someone become part of this event?

Linda: Driving Sri Lanka Design Festival is AOD and the amazing team at AOD led by Ranmal, Karen and the SLDF core team led by our festival director Mihiri and Nilmini. I must mention the amazing year on year support we get from the apparel industry led by JAAF's Azeem Ismail and Tuli Cooray and the rest of the industry led by two great leaders Mahesh Amalean, Chairman of MAS and Ashroff Omar, CEO of Brandix; they have been behind me in this endeavour since inception and continue to do so to this day.

The Mercedes-Benz Fashion Runways are open to the public and the tickets will be out soon allowing any fashion enthusiast to become part of the event. More importantly, I think our presence online also allows one to follow the journey of this giant event. As an event that impacts the future of the most powerful industry of the country, we invite everyone to join us and take special interest in what we deliver for Sri Lanka.
Q: In the grand scale of things, what does Mercedes Benz Fashion Runways deliver for Sri Lanka?

Ranjith: We're bringing in a global validation for the country's most powerful industry and its capabilities in designing, innovating and manufacturing truly unique fashion. With the Mercedes-Benz fashion runways, we're strengthening an industry that has the potential to transform Sri Lanka. Already, Sri Lankan fashion is gaining reputation as a more sustainably sound, innovation and design driven industry which is great to do business with. We're building further on its potential by opening up the powerful platform of Mercedes-Benz runways, its network and opportunities. The recognition, new business and opportunities that come through this will impact the entire country.

Linda: What we're essentially driving here is the philosophy of 'designed and made in Sri Lanka' which has the potential to transform our country into a regional superpower, if we position it and develop it correctly. This is exactly what we're doing here by really taking our vision to a new, international level with Mercedes-Benz. We are fortunate to have giants like DIMO who understand this vision and are pushing our fashion industry forward by leveraging on an icon like Mercedes-Benz. This is a challenge that we have undertaken together to drive Sri Lanka to shine in the fashion world.

Mercedes-Benz Fashion Runways will be held as part of Sri Lanka Design Festival from 27 to 29 November at SLECC supported by the print media partners – Wijeya Group's Daily FT, Daily Mirror and Sunday Times. For more information, contact the SLDF secretariat on 0115867772/3.