Aarti Viyaj Gupta is often called the Print Princess, but there's little else known about her. Not many know about how she went from being an 'average' student at NIFT, Mumbai, to becoming one of India's hottest selling designers. The thing about the Aartivijay's collection is that it's not the one you flip through from the pages of a glossy magazine or scroll over on the computer screen. It stays in the mind, having a magical effect on you. What makes you stop and stare at her rack of clothes is the fact that they're aspirational but they also connect instantly. The core concept of her collections is comfort-driven and that's probably why they sell like vegetables in a market. To this, she declares, "I get to see the real success of a collection only when I book trunk shows and get out there to sell." Her favourite client has been a 65-year-old Sri Lankan chef who simply couldn't resist wearing her tomato-print designs while her youngest has been a 16-year-old who wore the signature Aartivijay Gupta 'shirt-kurta' like a dress. She caters to everyone.
Sonam and Paras Modi


SVA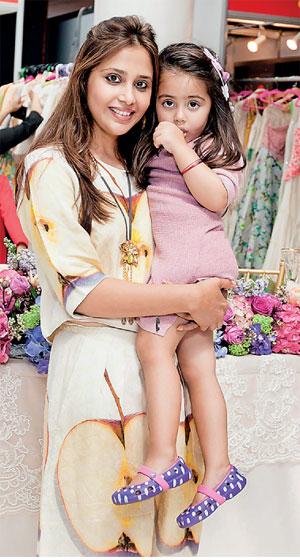 SVA meaning 'soul' in Sanskrit is the labour of love by Sonam & Paras Modi. SVA was borne out of a passion for heritage that beautifully showcases the signature styles of SVA: intricate detailing, elaborate handcrafting, luxurious fabrics and exceptional styling. Sonam's expertise as a creative designer and Paras Modi's previous background in International Business and most importantly their willingness to start something together led to SVA. SVA is synonymous with head-turning traditional fashion and bridal looks. SVA is a niche label for those that appreciate craftsmanship, vibrancy and a strong Indian aesthetic. Another LAKME and DIVAlicious fashion week Designer and Exhibitor.

With the irresistible invitation to shop like a Diva - Divalicious - the exhibition that has been held in Singapore, Dubai, Mumbai and Nairobi now comes to Colombo. High Commissioner of India Yashwant Sinha and Girija Sinha will inaugurate the LAKMÉ Sri Lanka Fashion Week by Divalicious. This lifestyle exhibition will showcase festive apparel, western dresses, fashion accessories, stylish jewellery on 9 and 10 October in the Winchester Hall at the Kingsbury Hotel, Colombo from 11 a.m. to 7 p.m. The two-day exhibition is a part of the LAKMÉ Sri Lanka Fashion Week by DIVAlicious that will start with an invitee-only fashion show on the 8 October.

The woman behind the scenes is Vanitaa Bhatia, founder and director of DIVAlcious International. She is a woman on a mission to bring fashion to your door step, a woman who wants to create a fashion week and exhibition like no other in the world; one that travels from country to country with premier designers and exhibitors. The ground handling partner in Sri Lanka is Colombo Fashion Council headed by Prassanna Pathmanathan and Sahan Hewadewa.
Aarti Vijay Gupta