Coats – the world's leading industrial thread manufacturer and second largest global zip manufacturer in the world under the Opti brand, is one of the leading innovators of the fashion value chain. Coats is a long-standing supporter of the local apparel industry through the annual Sri Lanka Design Festival as the Official Thread and Zip Partner.

Coats global CEO Paul Forman and Sri Lanka Managing Director Douglas


This partnership supports the development of the local fashion industry through the innovation and knowledge sharing by Coats during the festival. It contributed to the success of the recent seventh Sri Lanka Design Festival and played a key role in many of the festival's initiatives including forums, exhibitions and runways. Coats' contributions included a thread and zip innovation exhibition showcase that presented the future of the fashion value chain, an insightfulpresentation by Coats Group Chief Executive Paul Forman at SLDF's prestigious South Asian Apparel Leadership Forum and cutting-edge fashion collections on the festival's runways.

Coats Group Chief Executive Paul Forman's presentation was among the best received at the annual South Asian Apparel Leadership Forum. Forman, a renowned industry expert with decades of experience all over the world, spoke on the topic of 'The Big Picture – driving innovation from B2B to B2C'. Forman spoke to a large audience of local apparel industry leaders, executives and international fashion representatives and explained the culture and process of thinking holistically and the importance of this in order to put growth back into the organisation.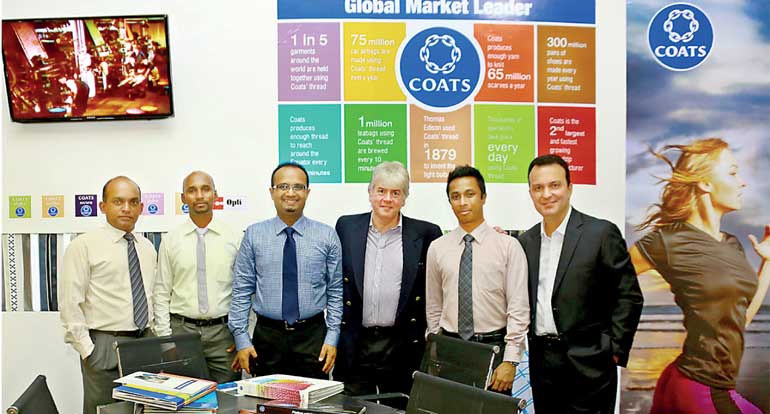 Coats fashion value chain exhibition at SLDF


Forman touched on the challenge for some companies to balance historic corporate longevity with responding to new demands, describing how Coats has expandedits product offering from threads to zips, trims and now into services, although the company could have remained within its traditional thread manufacturing sector. Forman described the successful method used by the company to initiate positive change such as increasing R&D, cross fertilising innovation, focusingon underlying strengths, pushing pockets of developmentacross the world through Coats intermediaries, customers, suppliers etc.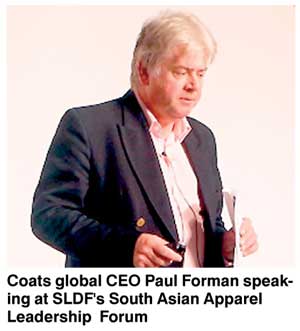 He also discussed approaches like leveraging on high brand equity and inclusive innovation – across multiple segments and geographies – and leadership abilities. Forman went on to describe how to change company culture, borrow ideas appropriately and push cultural innovation. He also outlined the most important dynamics for the future of fashion business: speed, productivity (do more with less), innovation, quality and compliance (always dothe right thing not just because it makes business sense but because it is the right thing to do).

Coats is a firm believer in design, knowledge-led development and innovation and works closely with the country's young design talent. Coats' thread and zip accessories were part of an imaginative collaboration of young AOD designers which presented a state-of-the-art denim collection on SLDF's Mercedes-Benz Fashion Runways. The collection highlighted innovative methods using fashion staples such as zips together with specialty fabrics and impressed a large audience of international and local fashion leaders present at the runways.

Coats Opti has been closely involved in the manufacture of zips since their invention and also presented a second collection on the runways of the fashion industry's key night – Mercedes-Benz Fashion & Apparel Awards. This collection was in collaboration with the expert fashion manufacturer Penguin Garments. Karen MacLeod, Principal of AOD plays a significant role in the creative direction of the fashion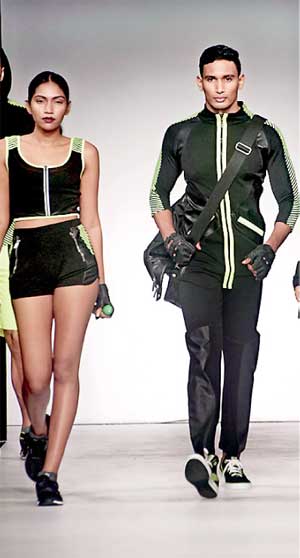 shows of SLDF which are organised annually by AOD along with the entire event.

MacLeod, an experienced fashion designer originallyfrom the UK, stated that the collection for Coats Opti highlighted the importance of fashion details and accessories; "I think the performance-wear collection and the casual denim collection we did in collaboration with Coats for SLDF 2015 were bothvery futuristicand really demonstrated the significance of the fashion value chain and accessories in the cycle of fashion manufacturing. It showed the quality that is brought to fashion with specialty details like zippers and I think the audience understood its significance."

Coats also gave the many visitors to SLDF an understanding of the depth and process of the fashion value chain's involvement in Sri Lanka's powerful fashion industry in a specially curated exhibition of Coats innovations. Here, many of Coats' ground-breaking initiatives such as Coats eCom, which conveniently and quickly connects customers with thread order information, played a key role in communicating an informative story to the visitors.

Coats Sri Lanka Managing Director Douglas Aceiro said, "We were very proud to have partnered with Sri Lanka Design Festival for the fifth time and also to have worked closely with AOD for a fantastic collection with Opti Zips. Coats is the second largest global zip manufacturer and the Sri Lankan garment sector can benefit from our newly expanded supply chain and innovative capabilities."