Aviraté is a fashion label pioneered by the leading apparel manufacturer Timex Garments Ltd. It has enjoyed immense success since its inception with the opening of several stores in both Sri Lanka and India within the span of five years.

Aviraté has expanded its empire once again as this time it set up shop at one of Sri Lanka's most popular venues – ODEL at Alexandra place. This store marks the fifth local outlet for Aviraté.

The store carries the Summer 2015 collection which is based on the theme of 'mood traveller' with four drops. 'Solaris Calling' is a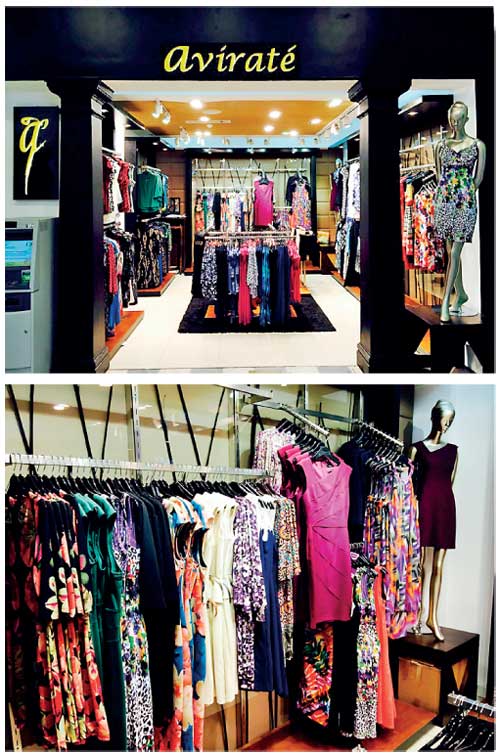 collection set up under the backdrop of 'exoticism' with an ambience connected to summer staples of cocktails, sun, sand and sea. Ranging from soft dresses and easy tops for the day to elegant cocktail pieces, 'Melrose Avenue' was created with the dual purpose of comfort and luxury.

The 'Mona Lisa' line consists of masterful brush stroke prints and digitally worked lace effects. Rich jacquard dresses, draped maxis as well as brush strokes tunic pieces all feature to celebrate the soft beauty that comes to mind when thinking of masterpieces of feminine art. 'Casadana' celebrates island life and exotic elements. Loose fitted palm printed blouses, full volume maxis dresses, jersey kaftans and relaxed oversized tops make this collection perfect for summer getaways and strolls along the beach.

The latest blue label collection consists of simple yet elegant designs of tunic dresses which is a comfortable and versatile piece of clothing which can be doubled as a blouse or a dress making it a wardrobe staple for all year round. 'Tunic collection' consists of bright summer hues and prints making it ideal for any summer occasion. Tunic dresses are priced at Rs. 3,500. Blue label collection also consists of a vibrant blouse range in chic summer prints starting from Rs. 2,800.

Follow them on Facebook/avirate for updates on latest collections and styling tips and shop online through www.aviratefashion.lk.