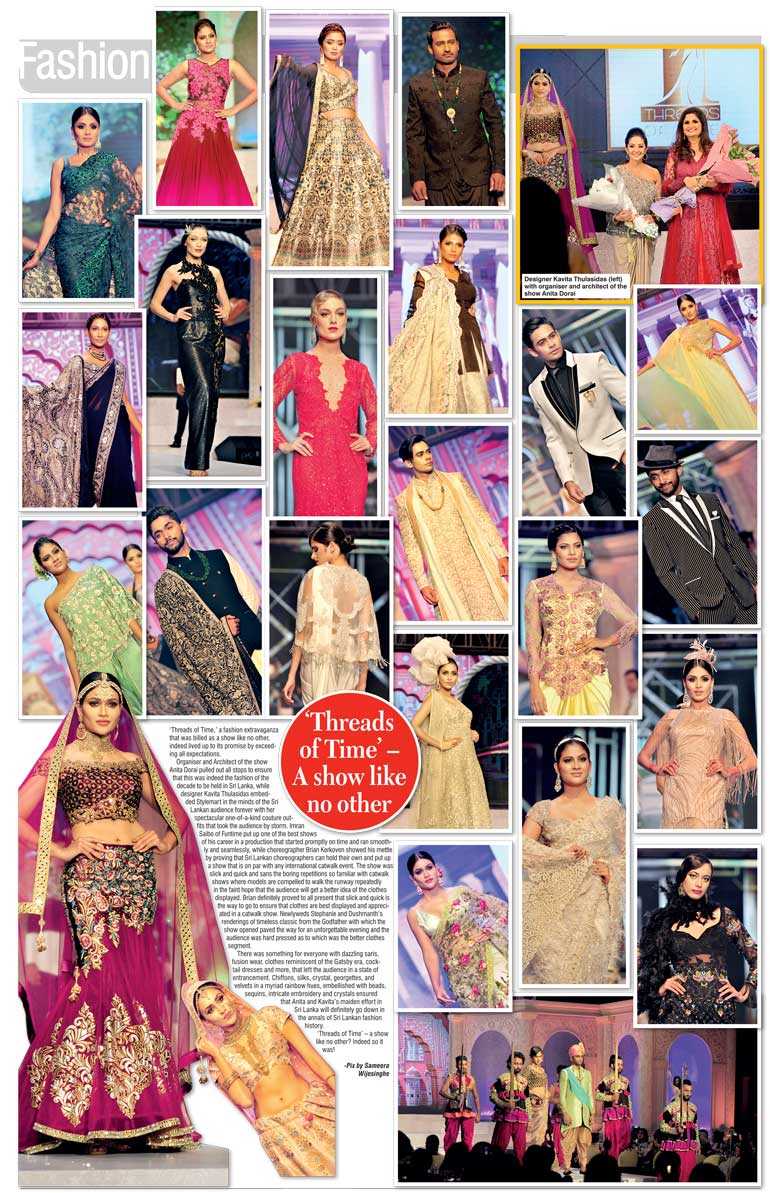 'Threads of Time,' a fashion extravaganza that was billed as a show like no other, indeed lived up to its promise by exceeding all expectations.

Organiser and Architect of the show Anita Dorai pulled out all stops to ensure that this was indeed the fashion of the decade to be held in Sri Lanka, while designer Kavita Thulasidas embedded Stylemart in the minds of the Sri Lankan audience forever with her spectacular one-of-a-kind couture outfits that took the audience by storm. Imran Saibo of Funtime put up one of the best shows of his career in a production that started promptly on time and ran smoothly and seamlessly, while choreographer Brian Kerkoven showed his mettle by proving that Sri Lankan choreographers can hold their own and put up a show that is on par with any international catwalk event. The show was slick and quick and sans the boring repetitions so familiar with catwalk shows where models are compelled to walk the runway repeatedly in the faint hope that the audience will get a better idea of the clothes displayed. Brian definitely proved to all present that slick and quick is the way to go to ensure that clothes are best displayed and appreciated in a catwalk show. Newlyweds Stephanie and Dushmanth's renderings of timeless classic from the Godfather with which the show opened paved the way for an unforgettable evening and the audience was hard pressed as to which was the better clothes segment.

There was something for everyone with dazzling saris, fusion wear, clothes reminiscent of the Gatsby era, cocktail dresses and more, that left the audience in a state of entrancement. Chiffons, silks, crystal, georgettes, and velvets in a myriad rainbow hues, embellished with beads, sequins, intricate embroidery and crystals ensured that Anita and Kavita's maiden effort in Sri Lanka will definitely go down in the annals of Sri Lankan fashion history.

'Threads of Time' – a show like no other? Indeed so it was!
-Pix by Sameera Wijesinghe