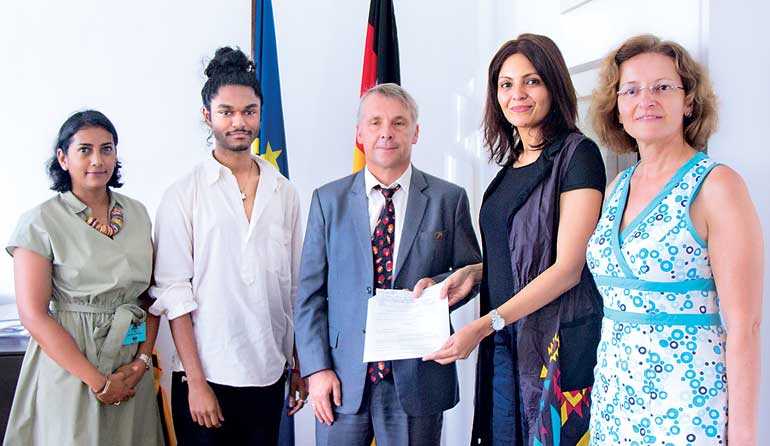 From left: AOD External Relations Manager Michele Mirchandani, AOD Alumni, Fashion Designer Amesh Wijesekera, Ambassador of the Embassy of the Federal Republic of Germany Joern Rohde, AOD Founder Linda Speldewinde, and Embassy of the Federal Republic of Germany Head of Cultural Affairs Claudia Tietze
---
Amesh Wijesekera represents Sri Lanka at Mercedes-Benz, Berlin Fashion Week 2019, strengthening German-Sri Lankan design collaboration spearheaded by AOD and DIMO
A powerful international collaboration between Sri Lanka and Germany was initiated by AOD in the recent past through creatively fuelled ventures backed by the German Embassy of Sri Lanka.
As a part of this international relation and its potential to collaborate and share new opportunities with local businesses and talent, AOD's international award-winning alumni Amesh Wijesekera has been nominated to showcase at Berlin Fashion Week in January 2019. AOD, a dynamic nucleus for design and innovation, has spearheaded many fruitful international relations based on using creativity for cultural diplomacy; Among these are the many projects and design education links it has set up with the world's creative hub Britain, plus its work with other highly innovative nations like the Netherlands and those with a rich creative heritage like Italy. Its strong links with Germany explores the potential to collaborate with yet another influential fashion and design industry in Europe to present new opportunities to Sri Lankan designers, mainly in the Fashion and Apparel Industry.

The plans to collaborate with German fashion and design industries have been mapped out by AOD including its longstanding industry partners at DIMO who are the custodians of the iconic German brand Mercedes-Benz that has a long legacy linked to innovation, fashion and style. The much talked about Mercedes-Benz Fashion Week held in Sri Lanka for the past three years was a joint initiative between AOD and DIMO which will expand with the oncoming links with the German fashion industry and will provide incredible new opportunities to fashion brands, designers and most importantly the apparel industry in Sri Lanka which is set to take its all inspired journey to a new, design innovation led progressive dimension this year.

Amesh's international debut in 2015 earned him the winning place at the international runway of the prestigious Graduate Fashion Week in London, followed by an invitation to show at Fashion Scout at London Fashion Week 2017 and he will also be showcasing at London Fashion Week's International Fashion Showcase in February 2019. Amesh, who is a graduate of AOD and S. Thomas' College Mount Lavinia, has been noted by the global fashion leaders such as the legendary Zandra Rhodes and Edeline Lee as promising talent out of South Asia, and is well deserved to be linked up with further opportunities to represent the kind of fresh creative energy that Sri Lanka can produce.

His collection for Berlin Fashion Week is a juxtaposition of the worlds and energies that surround him. Inspired by the culture, smells and sounds of his life in both Sri Lanka and London; heritage and craftsmanship play a key aspect which involve indigenous artisans of Sri Lanka.

Amesh and his work will become powerful indicators of how Sri Lanka is a progressive fashion business destination for the world, contributing to the local creative industries' development and reputation building. With Berlin Fashion Week being one of the most iconic fashion events of the world, the opportunity to create a viewpoint into Sri Lanka's talent, infrastructures and manufacturing methods is a remarkable opportunity for the local creative industries' development.

The Ambassador of the Embassy of the Federal Republic of Germany Joern Rohde shared thoughts on supporting the next phase of the development of Sri Lanka's fashion and apparel agenda, "We are delighted to support Amesh's showcase in Berlin and believe that this would be of great significance to him to gain first-hand experience and understanding about Fashion Designing in Germany and most importantly to make contacts with many influential designers in the industry. We hope that through the vast knowledge and information he will gather during the tour, he together with AOD could give birth to many creative collaborations, infusing the various modern aspects of Fashion in Germany. We look forward to extending our support and guidance in collaborating with AOD and its designers to intensify its contacts with the German fashion industry and respective events."

AOD's founder Linda Speldewinde who is behind many visionary initiatives that have significantly developed the course of Sri Lankan fashion, stated that it is crucial for Sri Lanka in the next phase of its journey to establish key diplomatic links and that Sri Lanka sees Germany as an important partner in this new journey, to capitalise on its GSP Plus and alongside to develop its creative talent and make it contribute to the national economy by propelling our industries with design innovation.

"AOD was founded with the vision to use design for economic growth. With the kind of talent we have nurtured and educated within the past decade, 'Sri Lankan creativity' has the potential to become a top export for our nation and position us as the hub for South Asia. By collaborating with nations like Germany where there is not only the availability of massive platforms that help us reach global markets plus international know how, we also get to learn many lessons in capitalising on our creative talent and culture. Amesh, who is one of the best ambassadors of Lankan creative talent, showcasing at Berlin Fashion Week is a great example of the power of this collaboration. We're quite excited to be working with Germany with the fantastic support of the German Embassy here; it will definitely be a big one for Sri Lanka," she said.