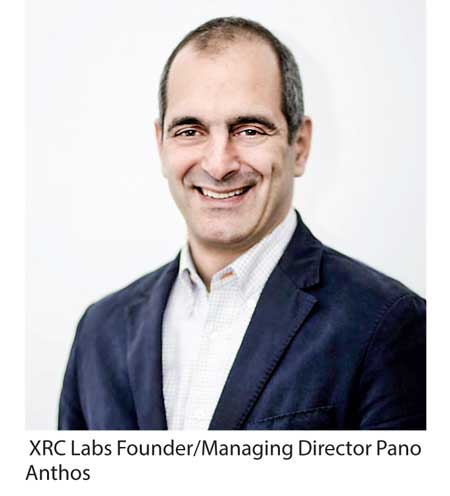 Inspiring take on design and what it brings to selling and manufacturing fashion products – by XRC Labs Innovation Accelerator Director Pano Anthos
Design is often looked at as the icing on the manufacturing cake – something that most manufacturers leave to marketing and selling, and of course, early stage ideation. The making of a product is seldom seen as something that requires creativity or artistry in any sense: It is seen only as a matter of skill and technology. However, design is probably what describes the most intelligent kind of product manufacturing process today. Design is the process by which, the manufacturing of a product is streamlined considering what the market is looking for.

The market today is no longer only interested in the aesthetic aspect or a product, nor is it only interested in its function; it is also interested in its origins, consequences and in how it can enrich lives. Making a product using ideas, processes, material, technology and energy attributes that complement these consumer preferences is what 'design led manufacturing' does. How do manufacturers do this? The South Asian Apparel Leadership Forum – the annual meeting-of-minds dedicated to furthering Sri Lanka's apparel industry to global forefronts – is preparing to answer the very same question.

Presenting the most up-to-date philosophies, studies, insights and methods on combining manufacturing with design thinking, the South Asian Apparel Leadership Forum presents XRC Labs with their session titled 'Design Thinking Matters' delivered by their Founder and Managing Director Pano Anthos. XRC Labs is a unique entity that works as an innovation accelerator for the next generation of disruptors in the retail and consumer goods manufacturing industries, such as apparel and fashion. The session is expected to shed light on how design thinking connects apparel manufacturers to the fashion consumers' demands, giving them the ability to create increasingly sellable products and making them better preferred by clothing brands to make those products. The talk will be held as part of the South Asian Apparel Leadership Forum on 28 October at the Mercedes-Benz Centre for Excellence, parallel to the Mercedes-Benz Fashion Runways Sri Lanka.

XRC Labs – which stands for 'accelerating retail and consumer goods innovation' – was formed by the Parsons School of Design and global management consulting firm Kurt Salmon. By combining Parsons' research and education strengths with the constant access that it gives to fresh graduate talent, along with Kurt Salmon's excellent consultancy on managing businesses, XRC Labs has created a fantastic ecosystem of entrepreneurs and investors. This allows them to rapidly design, launch and iterate retail and consumer technologies, products and services, supported by partners and advisors in the retail and consumer goods industry.

It's an excellent model for combining academia, young talent and consultancy based mentorship with the energy of startups or established companies looking to reinvent themselves. Their learnings in using such entities to build working ecosystems that fuel disrupting old systems, innovation and design thinking will be valuable lessons for Sri Lankan apparel makers, design academia and leading business brains who have the potential to come together to reinvent the apparel industry to meet fashion's next decade.

The XRC Labs session at the South Asian Apparel Leadership Forum will start the conversation from where design thinking is increasingly becoming a means to attain competitive advantage in today's manufacturing industry, where physical products and software experiences are converging more than ever before. Ambient information collected by connected devices, telematics, social media, mobile, analytics and cloud, are accelerating this change, allowing design to bridge manufacturing with the consumer at the end.

However, it's not only about bridging the gap between consumers and manufacturers, but also about optimising manufacturing processes across the supply chain, helping manufacturers achieve higher operational efficiencies to obtain massive time and cost savings through new innovation. Design thinking also gives manufacturers the ability to recognise unviable ideas or products earlier in the process before they drain funds or time. However, most apparel manufacturers in Sri Lanka are unaware of just how enormous the effect of design can be. As the XRC Labs session will dive deeper, it will capture how design thinking succeeds where traditional product development techniques fall short of true innovation.

XRC Labs is a venture sponsored by world-class retailers and brands, as well as founding sponsor organisations Kurt Salmon and Parsons New School of Design. It is the first of its kind design centric innovation ecosystem for manufacturers of consumer goods like fashion, and retailers. Their discussion on design thinking and its merits for fashion manufacturing will help Lankan apparel makers in the journey to establish the country as the regional design and innovation hub. Within this internationally relevant context, the South Asian Apparel Leadership Forum will provide an informed transformative strategy to help propel the industry into the future.

Whether you are an apparel industry professional in management, production, sourcing, design, tech or merchandising, an independent fashion designer, fashion entrepreneur or investor, the China Market Research Group's session at the South Asian Apparel Leadership Forum will present a completely new paradigm on fashion consumer markets.

South Asian Apparel Leadership Forum is held as part of Mercedes Benz Fashion Week on the 28 October at Mercedes Benz Center – DIMO 800 and the Official South Asian Apparel Leadership Forum Partners are Hellmann Worldwide Logistics, APS Logistics and Inter air and Sea. Mercedes Benz Fashion Week is conceptualised by – AOD along with the DIMO Mercedes-Benz as Fashion Runways Partner, Endorsement Partners – EDB & JAAF, Industry Patrons – MAS Holdings, Brandix and Hirdramani, Thread & Zip Partner – COATS, Fashion Retail Partner – Fashionmarket.lk, Hair & Makeup – Salon KESS, Official Host – Mount Lavinia Hotel, Official, Airline Partner – Etihad Airways, Technology Partner – GT Nexus, Cultural Partners – German Embassy of Sri Lanka and Brazillian Embassy – Sri Lanka, Print Media Partners – Wijeya, Online Media Partner – Life Online, Beverage Partner – Freelanka, Official Telecommunications Partner – Dialog Print Partner – Softwave, Paper Partner – Papyrus, Official Florist – Midula. For partnerships, participation and more information on South Asian Apparel Leadership Forum contact: 0115867772/3, 0763427772/www.saalf.com/[email protected] AOD: 29, Lauries Road, Colombo 4.