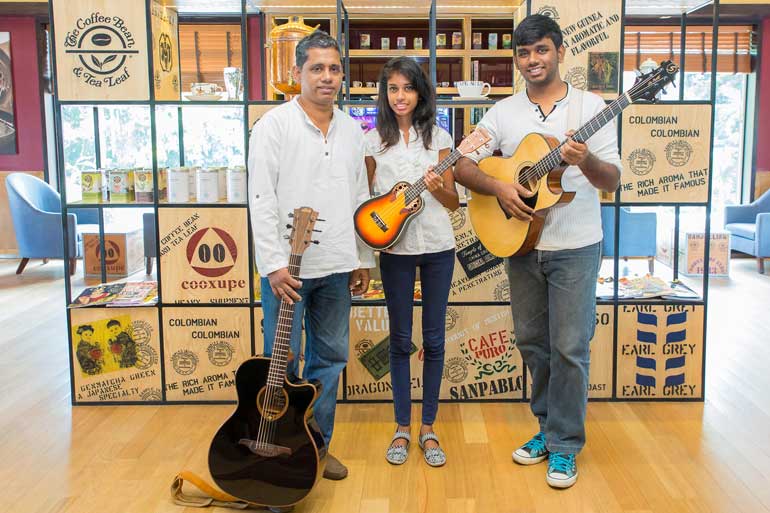 V3 @ The Coffee Bean & Tea Leaf Maitland Crescent
A distinct musical identity and persona are treasured attributes in the entertainment industry and that's what the fabulous trio V3 have in spades.

V3 or we three or the three Vs call them what you will, the three Vittachis, Lenny, Joshua and Shaenali are a family. The passion for music runs deep in every one of them and as V3, not just any old music. Such is their ability that they'll take almost any material in their stride and arrange and adapt it according to the very unique V3 identity and that is the ideal recipe for brilliant entertainment of the discerning.

Lenny has been in the 'scene' for quite a while. His musical pedigree shows excellent taste. He was a member of the top folk rock group Flame, then he moved on to form the much sought after Elixir and is now 'senior partner' in V3. Lenny sings, plays guitar and can lay a very passable bass groove to most music.

Joshua is blessed with a great voice that does more than ample justice to the work of Ed Sheeran, Sam Smith and others from the modern genre. He is a multi-instrumentalist handling electric and acoustic guitar, bass and ukulele. When Josh 'moonlights' from V3, you'll find him gigging with Melissa Perera (daughter of the famed duo Yohan and Honorine) and also with 'beat boxer extraordinaire' Julius Mitchell.

Shaenali sings almost anything. Yet her personal favourites are to be found within the jazz idiom – Norah Jones and Eva Cassidy are her idols. Shenny plays piano, guitar and ukulele. Of great value too is her ability to sing close and tight harmonies – a huge plus given the very unique musical arrangements that V3 bring to their product.

So, what does V3 'really' bring to the table?

This is a group that can take any song from any genre and perform it brilliantly. In doing so, they make sure that the music is respected yet presented in a uniquely 'fresh' manner.

Their success and the demand for their brand of music is testified to by a very impressive portfolio of gigs they have performed for a wide cross section of people and institutions. From an intimate soiree in the diplomatic circuit to a wedding in a five-star, to a 'rave up' at a private party, V3 has proven that 'V can' provide a great entertainment experience.

This Christmas season V3 has been signed up by the upscale coffee chain, The Coffee Bean and Tea Leaf. They will be performing a mix of Christmas carols, contemporary classics laced with some of the popular modern songs. Check them out from 12 December onwards, daily at The Coffee Bean and Tea Leaf, Flagship Store at Cinnamon Gardens, Maitland Crescent, Colombo 07. You can also catch Joshua's live solo performances at the Liberty Plaza branch every Thursday from 5:30 p.m. to 7:30 p.m.