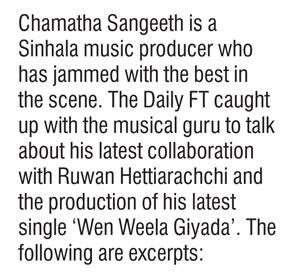 Q: Have you worked with Ruwan before and do you have any plans to collaborate again in future?

A: The first project we started together was 'Wen Weela Giyada'. However, we happened to release a few tracks before that in 2014. We launched a Christmas track in 2014 called 'Samide'. Then we also released a cricket song for the 2014 World Cup called 'Siha Nade'. There are others works we have done that are yet to be released, including a new album.

Q: What was it like working with Ruwan Hettiarachchi?

A: It was extremely easy working with Ruwan. He is very professional, as an experienced and highly-sought-after artist in the country. It was an almost effortless journey with great chemistry to deliver a popular hit song like this one. Ruwan was very involved in this process. In fact, he was very supportive and offered much help to get the video going, to launch the song, and promote it. The teamwork has been excellent throughout. Let's just say he is a great team player. Another person vital to our team was our mutual friend and Sri Lanka's top lyricist Sajith V. Chathuranga.

Q: What is the song about?

A: This is the sequel of a previous release titled 'Duka Wedi Nethe'. This continues the story of a couple forced to split and part ways under tragic circumstances orchestrated by the girl's father. On this, the boy is deeply hurt, moves out of his business and leaves the country, not being able to go through his normal life without her. He misses her every day while they are apart. Sometime later, the girl's father passes away and she returns to the country for the funeral at which point she happens to find out the scheming plans carried out by her own father to stop her affair. Then in an instant, the memories from her ended relationship come back to her in a flash, and she goes on a desperate quest to find her one true love in the hope of being reunited. Unfortunately by this time she also discovers that her boyfriend had left to a different country too. But by a twist of fate, the two lovers accidentally cross paths again, at which point, they embrace and acknowledge each other's pain. They then live happily ever after.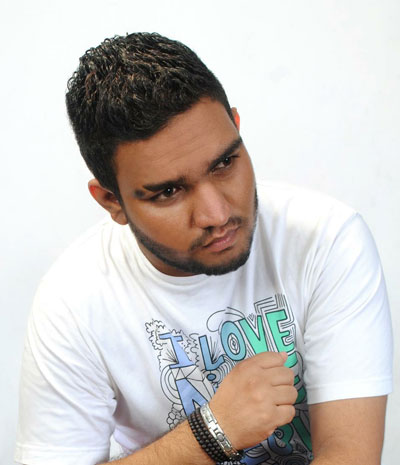 Q: What inspired you when writing the music for 'Wen Weela Giyada'?

A: Ruwan is a very inspiring singer so I wanted to make sure I did justice to his reputation as a highly-admired artist whose vocal ability can really touch and move a listening audience. So the music is something I developed from scratch. I think the key for anyone making music is to remember to be true to the lyrics and not just get carried away with a beat. The music to a song plays a big role in delivering true emotion.

Q: Did you learn any lessons while writing the music for this song?

A: Working alongside Ruwan was in itself a meaningful learning experience. Working with a leading artist who is admired for his passion, ensured that I was focused on producing the best mix maintaining the highest quality of production at every corner. All key instruments such as flute and guitar pieces were played live. It was also quite an achievement to turn around a final mastered track within a reasonable timeframe. This particular track went through a few series of mixes to ensure only the best version was ultimately launched to all Sri Lankan music fans.

Q: How has the audience responded to the music?

A: In my entire experience as a music producer, this was the first track to have achieved such enormous success and response from fans across the country. In just a matter of few days, this song received huge traction on various social media channels and also on radio. A rough approximation of the number of YouTube hits alone on the track is over 1.5 million since launch. It also became one of the biggest hits on several chart shows. To add to this, 'Wen Weela Giyada' was also one of the most requested hits on radio and chart shows.

Q: Who are some of your musical influences?

A: One of my musical inspirations would be Ruwan Hettiarachchi for sure. Some others are Athula Adikari, Shihan Mihiranga, Rookantha Gunatillake, Rohana Weerasinghe and Noel Raj.