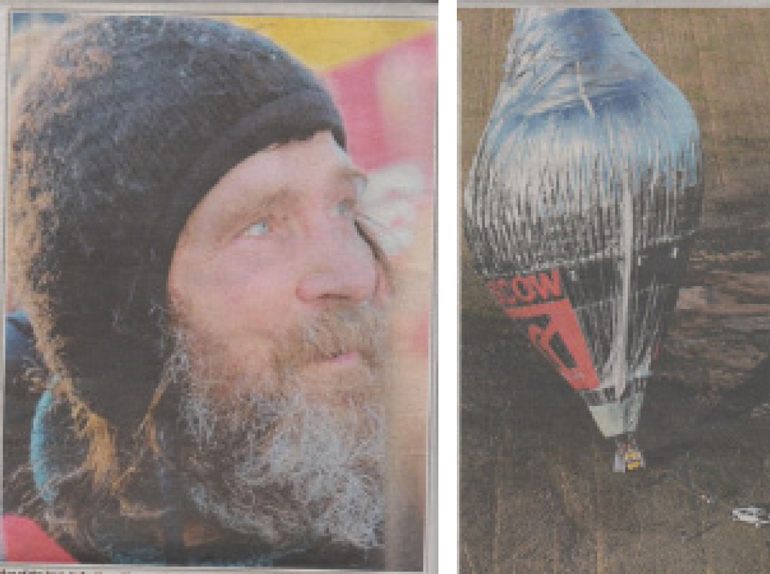 The arrival of the Russian adventurer Fedor Konyukhov, the balloon rider, last Saturday afternoon at Bonnie Rock, 350km north east of Perth, created a lot of excitement. The 64-year old Russian orthodox priest completed the fastest non-stop solo balloon circumnavigation of the planet after eleven days in an icebox. He landed just 270km from where he took off.

"It's great to be back," he said in Russian as he stepped out of the balloon with a slight cut in his cheek sustained during the landing. In spite of the slight mishap, he was in good spirits, media reported. World media crews had spent the day chasing the silver balloon over hundreds of kilometres to capture him stepping on to the soil after a strenuous trip.

According to one of his two sons who were on hand as he landed, the father had commented on the smell of the earth when he first planted his feet on the ground. He was quoted as saying: "This is grass. It smells great. You know guys, it is just great to feel this smell."

The son added: "He smelled life, because up in the air is the death zone – so he was really happy to be back." The two sons had tried to steady the balloon's gondola as it was dragged along a paddock.

This is not the only occasion hat adventurer Konyukhov had tried a daring exercise. Earlier, he had climbed Mount Everest, sailed around the world, walked to the North and South poles and rowed across the Pacific Ocean to Queensland's Sunshine Coast in Australia.

As for the balloon trip, he did better than the previous record-holder, American aviator Steve Fosette by two days. The only other person to have circumnavigated the world in a hot air balloon, Fosette had died in a flying accident in the US in September 2007.

Greeting Konyukhov as he walked down from a helicopter which took him from the landing place, was his wife and other family members. "I was so nervous, I couldn't sleep, I was not eating. I was waiting and preying," she told the media.

According to son Oscar, the father was able to better the earlier world record due to advances in aviation technology, particularly satellite tracking. He had crossed New Zealand, Chile, Argentina and South Africa since he left Northam Airfield at dawn on 12 July.

A columnist in the Sunday Times wrote that he had lived off concentrated food, frozen at -70C and vacuum packed for consumption. His rations, water and oxygen supply were all nestled in his sleeping bench in the gondola. He had to endure temperatures of -56C as he passed through severe electrical storms and fought to escape strong polar jet streams that pushed him perilously close to Antarctica.

He had survived on just four hours sleep a day, broken into 45-minute naps.