Members Fold, pleat, tie, tuck Stride, stroll, gird, squat Wrap, lift, climb, leap Sail, swim, wring, seep In this elegant wrap of colour. Barbara Sansoni
The sarong is a large tube or length of fabric, often wrapped and tied around the body at the waist or arms and worn by both men and women in Southeast Asia and mainly men throughout much of South Asia, the Arabian Peninsula, the Horn of Africa, and on many Pacific islands.



Richard Boyle in his article 'Island Dress' (2016) published in Serendib magazine describes the Sri Lankan sarong perfectly. "The sarong, which is a Malay word – in Sinhala it is called "sarama" – has traditionally been used by all ethnic groups, sometimes with a banyan (a vest). The Sinhalese method of knotting the draped sarong at the front is familiar, but Jaffna Tamils, who call it a verti, wear it like a skirt, and unlike the colourful sarong, it is dyed white or pale pink."

A similar Sri Lankan garment traditionally worn by women is called the "redda" (cloth) which is an unsewn sarong similar to today's beach wrap and worn with a "hatte" (traditional jacket).

During the British period wearing Western dress became necessary to as it was expected under the colonial system. At Government institutions it was compulsory for the clerical grades and upwards to attend work in Western apparel. This led to most urban men whose public attire was trousers to wearing the sarong only as a convenient night garment or only within the confines of the house.

At the turn of the 20th century the Ceylonese art historian Ananda Coomaraswamy and Ceylon's Independence (1948) encouraged a national revival of traditional social customs which included wearing the sarong and sari.

It is against this background that Barefoot, a handloom company, began in the 1950s and its main purpose was to provide women, who had been in the care of the Good Shepherd Order, employment.

Barbara Sansoni, a young Ceylonese artist, was asked to help to improve the weaving with colour and design. Colour, in simple rectilinear proportions, became the unpretentious characteristic of this hand-woven cloth. Inspiration for the highly-individualistic use of colour came from all forms of Sri Lankan nature and cultural influences. Barbara Sansoni and her designer team began to create sarongs woven out of the best cotton and silk mixtures in brilliant colours produced from in-house dyeing.

The young Barbara Sansoni stylishly wore the sarong/"reddha" and "hatte" as part of her daily attire. She encouraged people from all walks of life to wear Barefoot sarongs, declaring: "Whoever you are, whatever you do in Sri Lanka, you would always wear a sarong. Two or three yards long, sewn together to form a tube, in blazing colours or cool village checks, this sophisticated native dress is unisex and contemporary."

Barefoot's 'Nomad 2000' exhibition imaginatively demonstrated how one sarong could be used as a pillowcase, a towel, a scarf, a turban, a shawl, a summer dress, a skirt, a turban and a curtain. Barefoot throughout its history has identified the sarong as a versatile, unisex, timeless garment which can be worn for multiple occasions by all shapes and sizes and in all climates.


Man in a sarong

A sarong is a tube of cloth, worn kilted around the waist by men in hot and humid Asian countries. For active work (like climbing trees or manning a sail boat) it is drawn between the legs and tucked firmly into the waist at the back. Scotsmen in kilts and South Asian men in sarong have no trouble with their masculine identity.

When is a sarong a whole wardrobe for a woman?

When it is a bathing dress,

An evening dress,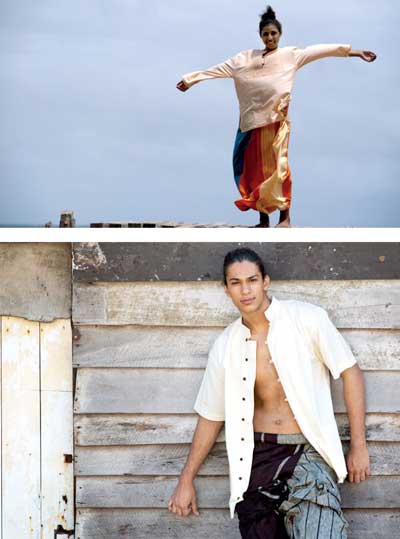 A halter cocktail dress,

A long-skirt and jacket,

A short skirt and bodice,

A Grecian tunic,

A chic figure hugging shift,

And a nightdress.

When is a sarong a Lunghi?

When it is made for the smaller Asian woman.

When it is dazzlingly Barefoot!

Keep long legs moving beautifully.

The most powerful garment is a Sarong,

Whether you call it a lungi, reddha, verti, dhoti, cambaya, somana, kilt or wraparound.

Wear it working, bathing, traveling, dancing, at national dress-ups, home wearing dress-downs and bed!

There is only one problem.

You need a wild life to go with it.

(Press with the Toes in the Grass (2004) by Barbara Sansoni)

Barefoot's revitalisation of the sarong led to it becoming a must buy in the late 1970s and early 1980s. Many a style conscious Sri Lankan expatriate based in London and their friends wore these colourful sarongs to the clubs they frequented like The Wag and Heaven. They wouldn't have known it at the time but they were "in the midst of a creative peak, where London was a melting pot of local and international talent on the verge of fame who we now know as icons. In the 1980s artists, fashion designers and musicians such as Jean-Paul Gaultier, John Galliano and Boy George were promoting the idea of men wearing sarongs."

Barefoot sarongs hand-woven in rectilinear, abstract, minimalist compositions in colour very much influenced the revival of Sri Lanka's standard sarong. The distinct design of a Barefoot sarong is the result of intelligently applying the science of ergonomics to ensure the sarong design flatters any body shape. The focal point of a Barefoot sarong is the "ihe" (the head). It can be worn to the back or the front. Barefoot's sarongs are worn by men, women and children for all occasions.


Barefoot sarong collections

Barefoot continues to design stunningly simple handwoven cotton sarongs and sophisticated special collections. These collections are carefully designed and curated by Marie Gnanaraj – Barefoot's

Weaving Design Director and her team of designers.

Recent popular collections are the Meditation Sarongs created by using magical colours made from unsaturated pastel tones and Natural Dye Sarongs.

Barefoot in 2016 launched the Vintage Collection of sarongs designed by Barbara Sansoni whose vision and work are the very essence of Barefoot. Barefoot's latest collection is Crossing Borders – a classic Barefoot sarong woven in a finer yarn for comfort with a unique woven border.