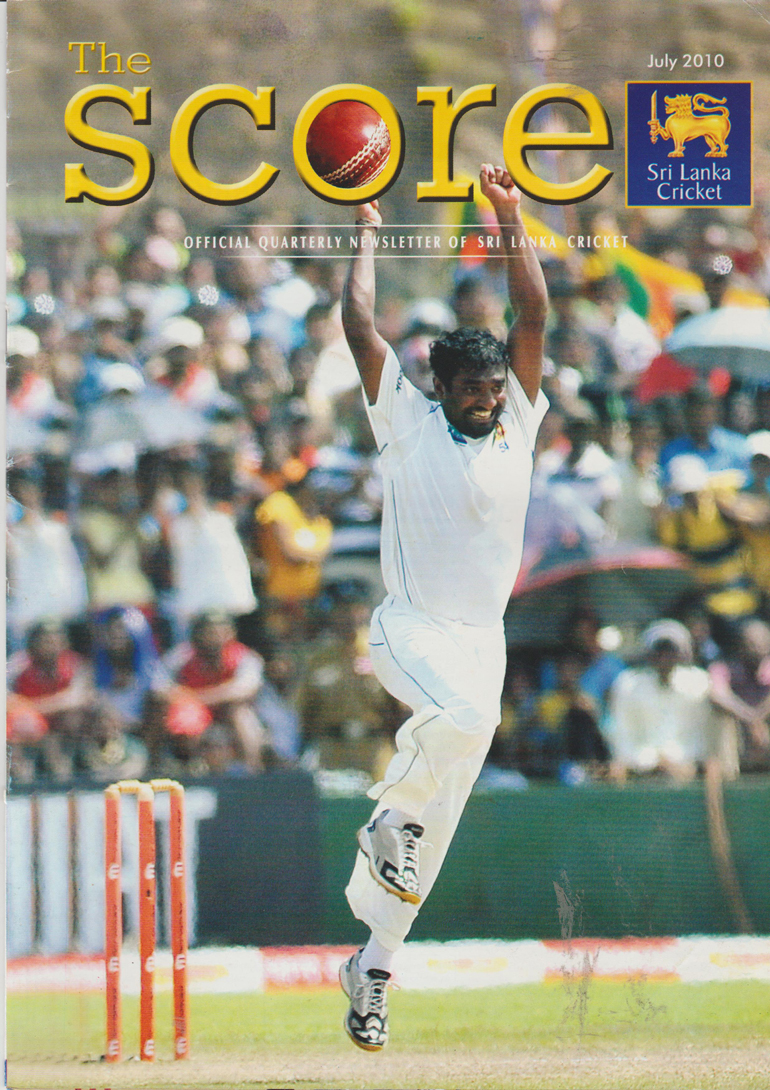 Even in retirement Muttiah Muralidaran (Murali to everyone) makes the news. Amidst the controversy raging about his coaching the Australian team (just for 10 days, Murali claims), he set up yet another record by becoming the first Sri Lankan cricketer to be admitted to the ICC Hall of Fame. Set up in 2009 in ICC's Centenary Year, the Hall of Fame recognises "the achievements of the legends of the game from cricket's long and illustrious history."

Murali whose last international fixture was the final of the ICC Cricket World Cup 2011 in Mumbai finished his career with 800 wickets in Tests, 534 wicket in One-Day Internationals and 13 wickets in 12 T20Is. He grabbed 10 wickets in a match 22 times and five wickets in an innings 67 times to make Sri Lanka a force to reckon with in Test cricket.

ICC Chief Executive David Richardson described Murali as "one of the greats of the modern era. His guile and consistency over the years helped Sri Lanka develop as a very competitive side in both Tests and ODI cricket".

Murali's big day – getting the 800th Test wicket – was also in the month of July – 22 July 2010. It's apt to recap the occasion which brought him fame. Possibly most of us would even have forgotten how it happened.

Being editor of the quarterly official news journal of Sri Lanka Cricket, 'Score' at that time, I have preserved the copy which highlighted Murali's success. It was a special issue dedicated to him.

The match was the First Test – India vs Sri Lanka being played in Galle and the last Test match Murali was playing. He had to get eight wickets to reach 800. He bagged five wickets in the first innings. It was his 67thfive wicket haul. By the following morning he had reached 799 needing one out of the three remaining batsmen to reach the magic number. He tried hard with no results in a 9.3-over spell. A partnership was building up.

Lasith Malinga who was out with some discomfort returned, changed ends and from Murali's end produced a killer yorker off the third ball to bring up his career-best figures of 5 for 50.Two more wickets to go.

In the second over of Murali's spell, Laxman was run out.

As another partnership was building up, Murali changed ends again. The last two partnerships had lasted 17.3 overs and 15.2 overs. Every ball bowled, every run scored, was eating into the time needed to knock the target off.

Malinga was off the field again. In his 27th over of the day, out of 57 bowled by Sri Lanka that day, Murali bowled a sharp off-break to Ojha and his favourite slip catcher Mahela Jayawardene was there to wrap his fingers around an edge off Murali's bowling, for the last time. That was Mahela's 77th catch off Murali – a record. Murali had produced the final breakthrough. He got his 800th Test wicket in his 133rd game.

In a congratulatory message, President Mahinda Rajapaksa called Murali "an ornament in the world of cricket, overcoming the gravest of challenges, spinning his way to success for himself, his team and the country".

Captain Kumar Sangakkara paid him a glowing tribute saying that though there can be other great cricketers, he had never seen someone so dedicated as Murali. "As a reserve he will run faster than any other reserve to the field with drinks. He will bring dinner to a debutante on tour. He will spend hours playing cards and making fun of younger players."

ICC President Shawad Pawar described him as "a modest man, an excellent role model and great ambassador throughout his career – playing the game with not only great skill but also great spirit".

CEO Haroon Logart hailed him as "a living legend".

Cricket columnist Mahinda Wijesinghe ended a tribute by saying: "Not only did Murali create history but the manner in which he achieved it could not have been scripted by a film director such as Alfred Hitchcock or Cecil B de Mille, or by a playwright of the calibre of Shakespeare, right down to Tennessee Williams. It was so gripping and pulsating."

"I don't think anyone will get there" was how Shane Warne reacted. Legendary Sachin Tendulkar referred to Murali's amazing variation and said that his consistent line and length was the key to his success.

Prior to the ICC decision Murali had gained recognition at the Don Bradman Museum in Bowral in New South Wales, Australia. He is among the few top players featured with the best results during the period 1978-2010.

The Wisden Cricketers' Almanack 2002 rated him as the greatest Test match bowler ever.