By D.C. Ranatunga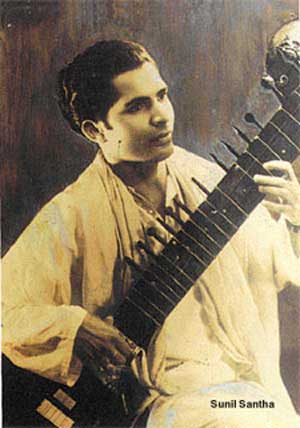 New generation singer Lelum Ratnayake has turned a rarely-heard Sunil Santha song into one that can be listened to and enjoyed over and over again. He gives so much life to renowned lyricist Arisen Ahubudu's creation, 'Hath paatak gevenna' – 'Ran seyak nangvenna' – 'Nan peheyak disvenna – Dedunnak paauyanna', vividly describing the appearance of a rainbow in the sky.

Joining a band of seasoned singers including his father Victor Ratnayake to pay tribute to Sunil Santha on his 100th birth anniversary, Lelum sang this number in a most relaxed and casual fashion to everyone's admiration, reminding listeners of the golden era of the great musician.

It was a rare occasion when such a galaxy of top notch singers sang the great singer's ever popular numbers.

And then there was the imaginative music director Mahesh Denipitiya's creativity giving a totally new look to Sunil Santha songs through the voice of the only 'golaya', Ivor Dennis in one of the Derana Dell Studio musical evenings. Some may still prefer the original versions, but as Sunil Santha himself has commented: "In changing times music too should change and move forward." Having been a 'traditionalist' himself rendering the guru's songs in identical fashion over several decades, Ivor agreeing to the new musical arrangements is in itself an acceptance to move with the times.

Having missed both the commemorative concert and the 'Evening with Ivor,' being thousands of miles away, I have been enjoying them thanks to internet and YouTube. With the availability of the original versions sung by Sunil Santha also on YouTube, one has a choice.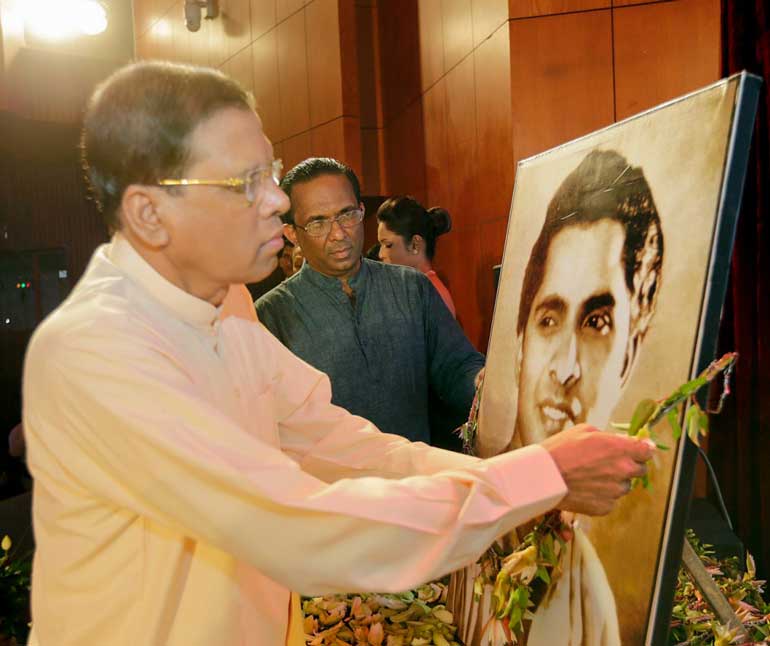 Though the presentation had lot of innovation, Ivor maintained a fine balance without harming the original touch. Mahesh D brought in varied instruments and presentation skills to make the songs more vibrant and exciting.

One example is the presentation of Raipiel Tennekoon's 'Kukulu Hevilla' where a villager appeals to Kataragama deviyo to punish the person who stole his fowl. Starting with a 'kannalauvva' – plea to the 'deviyo', accompanied by traditional drums, midway in the song, 'Dudanoda binda' sung by Ivor, musical instruments used in Tamil music were introduced creating the atmosphere in a 'devalaya'. That music was continued at the end to create a fitting climax.

The instrumental version of 'Olu pipila' was played before Ivor started singing the song. A chorus of children joined Ivor in singing 'Handapane'. The use of drums and the singing of 'goyam kavi' enriched the delivery of 'Tel gaala hisa peeran neno'. Suitable additions were made for other songs too which included 'Mihikatha nalavala', 'Ho gaa rella binde' and 'Emba ganga'.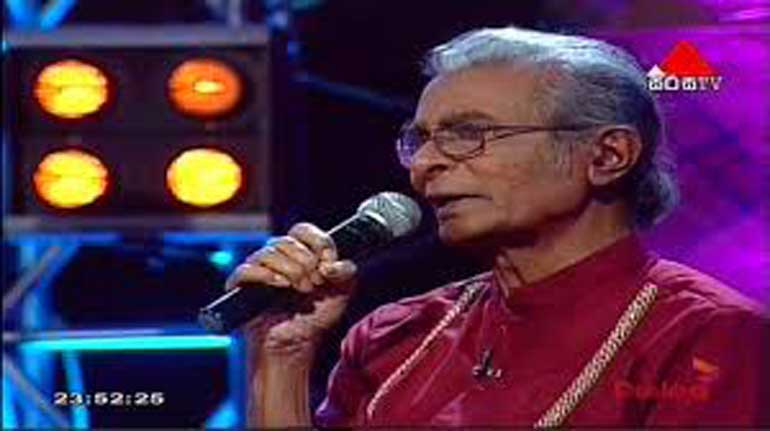 Ivor Dennis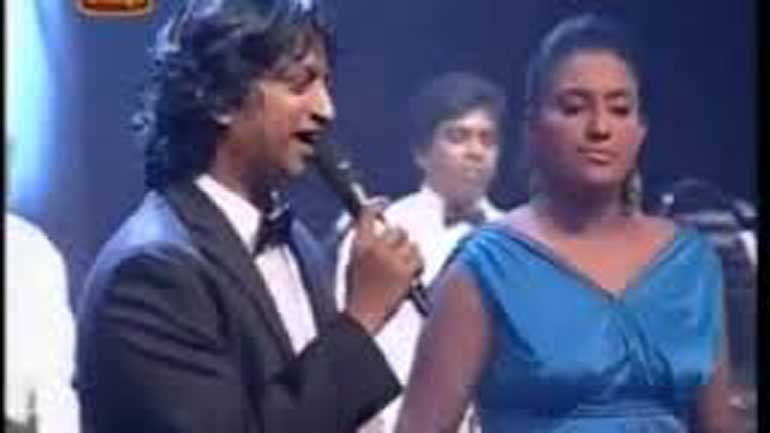 Lelum Ratnayake
The 'guru-gola' meeting

Ivor has been Sunil Santha's 'golaya' from the day they met in 1956. Ivor had sung 'Varen heen sere ridi valave' in an amateur programme over Radio Ceylon. Sunil Santha had heard the song and wondered who was singing his song just the way he did. He was keen to meet the singer and had told music director Patrick Denipitiya, who incidentally was Mahesh's father, to look for the singer. Patrick D knew him and brought him along.

The loyal pupil he was, Ivor never deserted him even when times were pretty hard for the 'guru'.

Ivor was in every single chorus that Sunil Santha had. He remembers many others – Victor Ratnayake, Narada Disasekera, Rohitha Wijesuriya, Amitha Wedisinghe, Nalini Ranasinghe – among them.


Symposium

It's heartening to see that an active group of Sunil Santha admirers is striving to make the 100th birth anniversary year a meaningful one. Next Saturday a full day symposium at the Sri Lanka Foundation will discuss the musician's contribution to Sri Lankan music from several perspectives. Those willing to participate have been requested to sit through the whole programme so that the day becomes fruitful to everyone.

Taking the lead role in the activities is Sunil Santha's son, Lanka who has already fished out archival material and started making use of them.

Having been in the forefront in creating a music that could be called our own, Sunil Santha deserves due recognition. He belonged to the same era as Ananda Samarakoon and Suriyasanker Molligoda, whose contributions were equally valuable.

At the time State radio – Radio Ceylon – was finding its feet, these artistes leant a hand to uplift the quality of the programmes.
Life story at a glance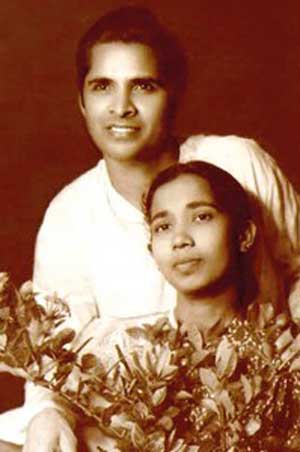 1915: Born on 14 April at Dehiyagatha, Jaela as Baddaliyanage Don Joseph John

1933: Completes the Teachers' Final Examination, Starts teaching at the Mount Calvary School.

1940: Leaves for Shanthiniketan to study Hindustani, Classical and Bengali orchestral/ vocal music

1941: Moves to Bhatkande Sangeeth Vidyapeeth in Allahabad. Passes the final examination becoming the first in the first division in Sitar & Vocals –the first non-Indian Asian to get such results.

1944: Obtains 'Sangeeth Visarad' degree and returns as Sunil Santha

1946: Invited to record musical programmes in Radio Ceylon. 'Olu Pipila' was the first recorded song.

1952: Marries Leela (Bernadette Leelawathi Jayasekara), a trained teacher. Asked to quit Radio Ceylon when he refused to be auditioned by Pandit Ratanjankar.

1956: Invited by Dr. Lester James Pieris to compose melodies for lyrics written by Fr. Marcelline Jayakody for 'Rekhawa'. The songs 'Sigiri Landakage',' Olu Nelum','Vesak Kekulu', 'Sudu Sanda Eliye' and 'Anurapura' become popular.

1960: Composes songs in Lester JP's second film 'Sandeshaya'. 'Prutugeesikaraya' sung by H.R. Jothipala becomes a big hit.

1964: Sings 'Thriloka Natha' by Rapiel Thennakoon in the film 'Ambapali'.

1969: Sings the first English song in a Sinhala film. 'My Dreams are Roses' in G.D.L. Perera's 'Romeo Juliet Kathawak' with lyrics written by Fr. Mercelline Jayakody and music composed by Shelton Premaratna.

Publishes several book including 'Ridi Walawa', 'Hela Mihira', 'Desheeya Sangeethaya' and 'Guvan Thotilla'.

1967: Invited to Ceylon (later Sri Lanka) Broadcasting Corporation. Through 'Madhura Madhu' presents innovative creations like 'Emba ganga' and 'Tel gala hisa peeran neno', and novel versions of 'Ambalame pina' and 'Tikiri liya'.

Serves on the audition panel of radio artistes along with H.W. Rupasinghe and Amaradeva

1977: Produces 'Sunil Gee', the first record.

1981: Breathes his last on 11 April.
A rare interview
"At the time I went to Radio Ceylon in 1946, the station operated from two small rooms at Cotta Road, Borella," Sunil Santha reminisced during an interview with the well-known radio personality, H.M. Gunasekera in 1977. "The announcers, the musicians, the technicians – everyone had to share the small space."

Referring to the difficult days, he described how a singer had to go round and pick up a few instrumentalists for recordings. "There was no station orchestra. This was one of the biggest drawbacks. To go round and look for musicians was not an easy task."

"I was paid ninety rupees for a programme. I had to pay eight to ten members of the orchestra and those who wrote the lyrics. At the end of it, I was hardly left with anything," he recalled.

Recording itself was a tedious operation. "There were no tape-recorders then. The records were cut straightaway. So we had to be careful not to make a mistake. I must say I managed to complete recordings without a single mistake." He also remembers how a recording had to be stopped if a plane was flying past the station – otherwise the noise of the plane would get recorded.

Asked what he felt about patriotic songs, Sunil Santha said he valued Munidasa Cumaratunga's compositions. "I never knew him. I had never met him. But I found his writing very interesting and thought provoking. I picked his verses like 'Idiriyatama yavu' and turned them into songs." In later years he found Arisen Ahubudu writing meaningful patriotic songs. For affectionate songs like 'Aadare nadiye', his pick was Hubert Dissanayake.

"I used to pay as much as fifty rupees a song. It was a quite a substantial amount those days. That was the time a song writer got five rupees a song. I used to pay out of my pocket," he said.

It was not smooth sailing at Radio Ceylon for him. "We needed identity of our own in our music. I wanted to create such an identity. But there were many who didn't like my effort. They wanted to protect the classical Indian music which was being used. They wanted to get rid of me. So they plotted against me," he confided.

The authorities decided to get down Pandit Ratanajankar from India to grade the artistes. Sunil Santha wrote articles criticising the decision and insisting that there was no need for grading. It was announced that those who did not face the interviews would be dismissed. Sunil Santha refused to face an interview and he had to leave.

His stint at Radio Ceylon lasted just six years – from 1946 till 1952. He returned in 1967 on the invitation of the head of the newly-created Ceylon Broadcasting Corporation, Neville Jayaweera.

Summing up his effort in the early years, he felt he was getting the desired results. "We were on the right track. When I came back I wanted to continue from where I had left."

Asked whether he would like his children to take to a musical career, he said a firm 'No'. "I never want my children to turn to music to earn their living. I got beaten enough. I suffered immensely. I don't want them to suffer," was his candid reply.

Amidst all odds he saw to it that the children were educated. The three sons became engineers and the daughter a veterinary surgeon.