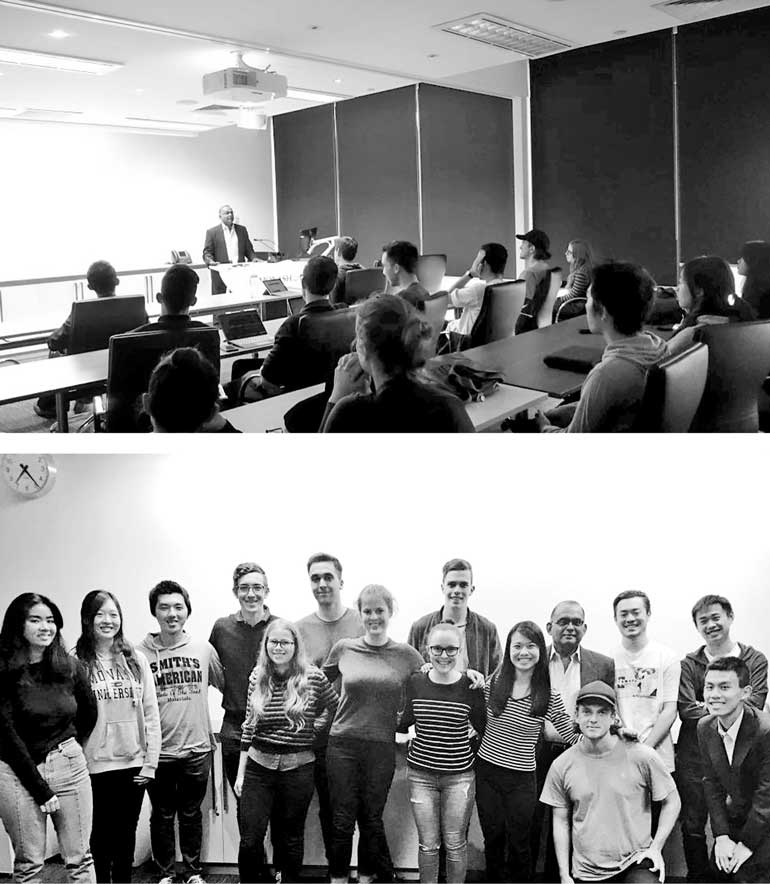 During a recent visit to Australia, Srilal Miththapala, former President of the Tourist Hotels Association of Sri Lanka, made a presentation on Sri Lanka's wildlife, tourism and sustainability to the Leadership Group of the Beta Alpha Psi, Mu Beta Sigma Chapter of Monash University, Melbourne.



Beta Alpha Psi's Mu Beta Sigma Chapter is the flagship leadership program for the Department of Accounting at Monash University. It has the full backing of the department and the Monash Business School, and was established by Monash University in 2017. It is the premier accounting leadership program for the Monash Business School.

In his illustrated presentation, to this very interested group of students and faculty, Srilal explained about the rich biodiversity that Sri Lanka is blessed with, being designated as one of the 31 Biodiversity 'Hot Spots' in the world. He drew attention to the fact that it perhaps is the only place in the world where one can sight both the largest mammal that ever lived on earth, the Blue Whale, and the largest land animal in the world, the elephant, in one and the same place.

In spite of it being a small island, not more than 65,600 sq. km in area, Sri Lanka has diverse ecosystems, with more than 3,300 species of plants, 480 species of birds, 80 species of mammals 66 species of amphibians and 280 species of reptiles.

Srilal outlined the rapid growth of tourism in Sri Lanka in the post conflict period, and the steps being taken to safeguard the environment amidst this spurt of development. He emphasised the need for this development to take place with sustainability, and not at the expense of sustainability.

At the end of the presentation there was a lively Q & A session, after which Srilal was presented with a token of appreciation and a personalised handwritten note of thanks (which impressed him greatly, given the current dependence on 'mass productive' digital communication) from the Beta Alpha Psi group. The evening ended with a warm fellowship.

Since returning back to Sri Lanka, Srilal continues to keep in close touch with this lively group of students and faculty, and hopes to build on the relationship, and explore ways and means of developing more interactive sessions in a mutually-beneficial manner, in the future with them.