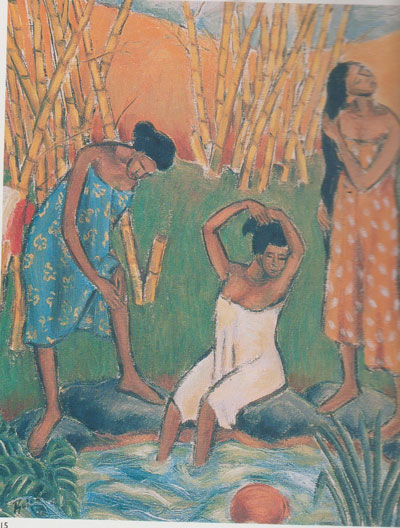 Bathers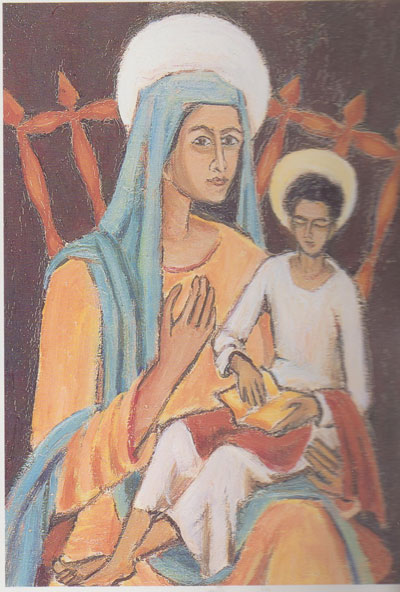 Mother & Child
The only survivor of the '43 Group departed last week. The publicity shy, bearded painter preferred to quietly carry on his work at his Pannipitiya home clad in banian and sarong for many decades. He spent his last years in Melbourne and passed away on his 92nd birthday – 19 February.

Richard Gabriel was a very talented, self-made artist. He displayed his capabilities as a schoolboy, won prizes at art competitions as a student, was a founder member of '43 Group as a young lad of 20 and won international recognition thereafter.

Thanks to Neville Weeraratne, one time student and later himself a '43 Group member, Gabriel's life story and his work has been documented in 'The Art of Richard Gabriel' (1999). He recalls the day Gabriel came to teach art at St. Joseph's College in 1944. Being the World War II days, the College had moved to Borella and the classes were held in cadjan rooms.

"It was a providential meeting that led to a lifelong friendship with a remarkable human being. Gabriel's generosity and his characteristically simple and retiring nature marked him out," says Neville W.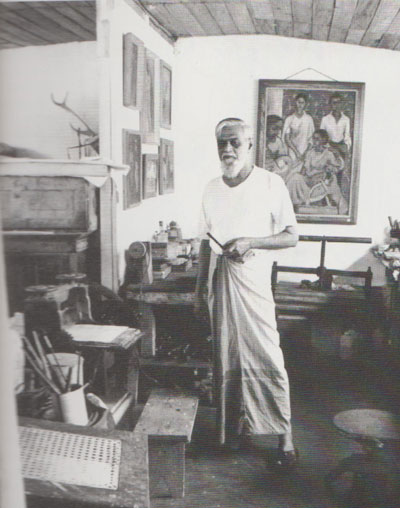 Formal training

In the early part of the 20th century when the country was a British colony those who could afford went abroad for higher studies since there were no facilities in the country (the University College was established in 1921 and the University of Ceylon in 1941). Most of them studied law and after they qualified some joined art schools and continued their studies.

Once they returned, while practising as lawyers they developed a keen interest in local art and culture and started to paint. Many of them were painters. Justin Deraniyalaga, Harry Peris, Ivan Peries were among them. Lionel Wendt with his camera captured the country's beautiful places and people. They were the pioneers who later formed the '43 Group.

Richard Gabriel was born in Matara but after the early death of his father the family moved to Colombo on the advice of an uncle. The three boys were sent to St. Peter's College, Bambalapitiya. Seeing the growing talent of Richard, the elder brother who had made friends with Lester James Peries in school arranged, through Lester, to meet the latter's brother Ivan who was a reputed painter by then. Ivan was impressed with the young man's creations and told him to come for chats whenever he had the time. That's how Richard got a formal training.

Ivan took him along for the first meeting of the '43 Group and though the others were quite senior and had made a name for themselves they decided to have him as a member having seen his capabilities. In addition to Wendt, Justin D, Harry P and Ivan P, there were George Keyt, George Claessen, Aubrey Collette, Geoff Beling and Mnajusri (he was then a Buddhist monk) at the meeting held at Lionel Wendt's house on 29 August 1943.

Prize winner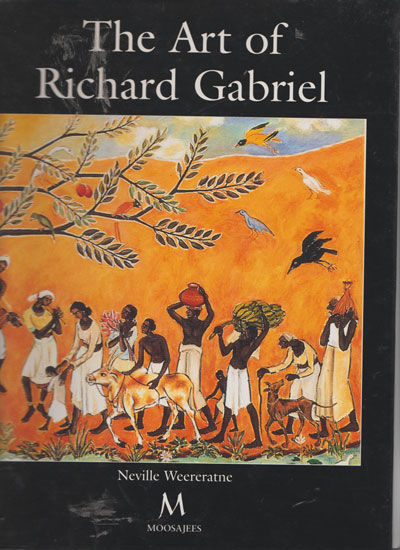 Being wartime the early 1940s were a tough time for the colonies. Ceylon (as Sri Lanka was then known) was no exception. Food was in short supply. So were other essentials. Things became worse after Japan entered the war and when the Japanese bombed Colombo on 5 April 1941 there was panic. Colombo residents started moving out in large numbers seeking safer places. Schools had to be shifted.

Meanwhile, the British administration had started a publicity campaign to build confidence of the public. Publications with pictures of successes in the war front were distributed free. Films depicting the allied forces winning were screened. The Information Department organised an art exhibition titled the 'Ceylon War Effort'. Young Richard sent four entries and all four won prizes – something he never expected. The prize money was two hundred rupees – a princely amount then.

By then Ivan P had spoken to Harry Pieris about taking Richard to his class which he agreed. Here again he was lucky in that Harry P did not charge him though the other pupils had to pay. When Father Peter Pillai took him to St. Joseph's as art teacher, he began a teaching career.

In 1952, he was awarded a scholarship by the British Council when he was able to continue his studies. His work was being exhibited at the '43 Group exhibitions both here and abroad and he gradually got into the international circuit. His work began to be greatly appreciated. Yet the unassuming painter continued the lifestyle he was used to, built a house at Pannipitiya and moved.

Prolific output

He was 75 years old when 'The Art of Richard Gabriel' was written.

To quote author Neville W: "Gabriel continues to work indefatigably in the village of Depanama in Pannipitiya. He is the perfect illustration of Eric Gill's dictum that all a work of art takes is an idea in the mind, materials with which to accomplish it and the will to carry it out.

"Gabriel had proved throughout his 60 years or so work as an artist that he is not lacking in inventiveness when it came to materials, using as he does discarded metal sheets (from his vintage Austin which he himself repairs) for etchings, and pieces of timber for woodcuts when all else has failed.

"His output is prolific. He is never short of an idea nor does he tire of the compulsion to accomplish his artistic tasks."

Gabriel moved to Australia to be with his children after the wife passed away where he led the rest of his life until he breathed his last.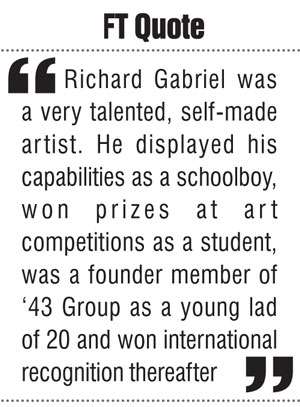 (Source for copy & pics: 'The Art of Richard Gabriel'.)