It's Friday 26 August. Australia's Prime Minister Michael Turnbull carries two toy koala bears on his way to office. He had picked them from a Cancer Council Daffodil Day stall – the day devoted throughout the country to collect funds for cancer research and support services. What a laudable project!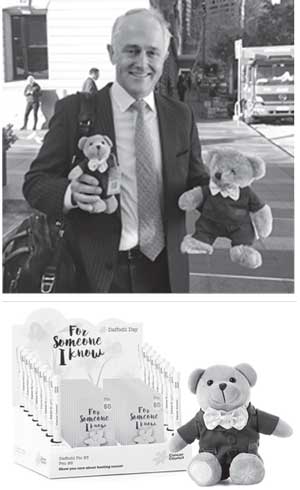 'For someone I know' was the theme of the Daffodil Day this year. There was an array of merchandise which one could buy as his or her contribution to a worthy cause.

This year marked the 30th anniversary of Daffodil Day in Australia. It is considered a national day of hope which encourages everyone to wear a daffodil pin to show support for someone they know who has been affected by cancer.

Australians are encouraged to support Daffodil Day by wearing a daffodil pin or by signing up as a volunteer and by purchasing merchandise either online or at stalls on Daffodil Day.

The yellow daffodil represents hope for a cancer-free future. Funds raised on Daffodil Day are used to continue the work on cancer research, provide patient support programmes and prevention programmes for all Australians. The Day helps grow hope for better treatments and more survivors.

Recognised as one of Australia's best known fund raising events for cancer, merchandise material is made available throughout the country through stalls at convenient locations where people can easily pick up an item or two and be partners of a well-deserving project.

Statistics maintained by the Cancer Council of Australia show that every day in Australia around 350 people are told they have a life-threatening cancer. Though the survival rate for many common cancers increased by 30% in the last two decades, it is accepted fact that there is still a long way to go.

The Council's message is simple and straightforward. "Most of us know someone affected by cancer. Every day, around 350 Australians are diagnosed with cancer. But every day there is more reason for hope than ever before. Cancer research is discovering new and better treatments, cancer prevention campaigns are working, and support for those affected by cancer is improving all the time. Every donation can help take us one step closer to beating cancer."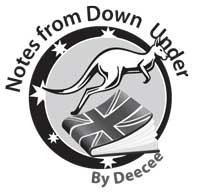 The Council stresses that everyone's support will help make a difference for cancer patients and their families all over Australia.

Apart from the pins and koalas, other items offered included pens, key tags, flowers and paper clips. They were also priced at reasonable rates providing an opportunity for anyone even with a few coins could participate.

The stalls were housed at locations like shopping malls where people gathered. Several well-known corporates lent their support.