Most Sri Lankans, when they fly off to richer pastures, contribute very little to their motherland except by way of remittance. But Bellanwila O. T. Perera, who emigrated to England in 1977, is different. He comes up with a book of his own whenever he comes to Sri Lanka on holiday.

He has previously published five books, all in Sinhala. But this time he came to Sri Lanka to publish a book in English – 'Franz Kafka and His Celebrated Novel The Trial: A Study' is the name of his new book.

Perera's new book contains Kafka's complete life story from birth to death. It is worth mentioning that there are a number of eye-catching photographs in the book, starting with infant Kafka and ending with the last photograph of Kafka taken in 1923 or 1924.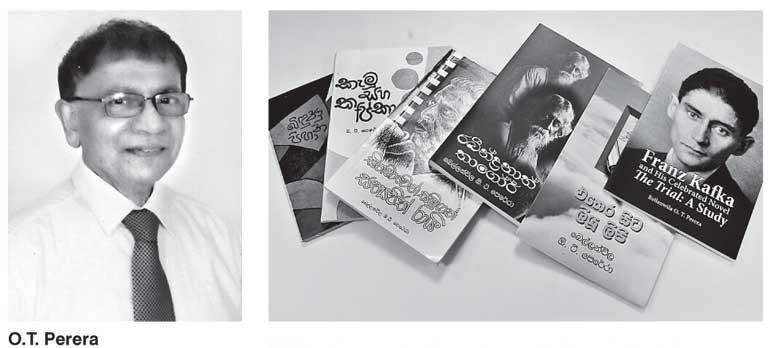 This book also contains a critical assessment of his great novel 'The Trial'. As readers would know, this novel is one of the most difficult novels in world literature to interpret. Hence articles and books claiming that Kafka meant this or that continue to proliferate.

However, in order to help the reader, the author has included a number of interpretations to the novel. Perera has also invited the readers to give their own interpretations. However, he warns, in his 'Foreword' to the book that no one systematic interpretation has been able to pin down all the possible meanings of Kafka's work.

Chapter two of the book is devoted to the story behind 'The Trial,' starting from the famous 'arrest' of the hero Josef K. to his ultimate death at the hands of two thugs sent in by an anonymous authority.

There is also a chapter titled 'The World of Franz Kafka'. In this chapter Perera describes Kafka's religious views and also the religious meaning of 'Kafka's World'.

Author Perera also mentions in his book that it is impossible to convey the impression which this novel leaves with the reader. According to him, it is a fantasy which is partly humorous, partly mad, yet incomparably sane and deadly serious, of fantasy in which rather common place Josef K. plays his baffling role against a backdrop of circumstances which is unsurpassed in literature for its muted terror.

But the novel is more than this, it is a full-length treatment of man's anxiety of guilt and condemnation.

The most illuminating chapter in this book is the last chapter which begins with one of Kafka's famous sayings, ''I am an end or a beginning". In this chapter Perera says that most of the critics have recognised Kafka as one of the greatest writers of the twentieth century, gifted with extraordinary insight and powers of expression.

According to Perera, Kafka's central theme was the gulf between the human and divine words. The majority of the critics though, according to Perera, believe that Kafka was tortured by the absence of God in the post Nietzschean age.