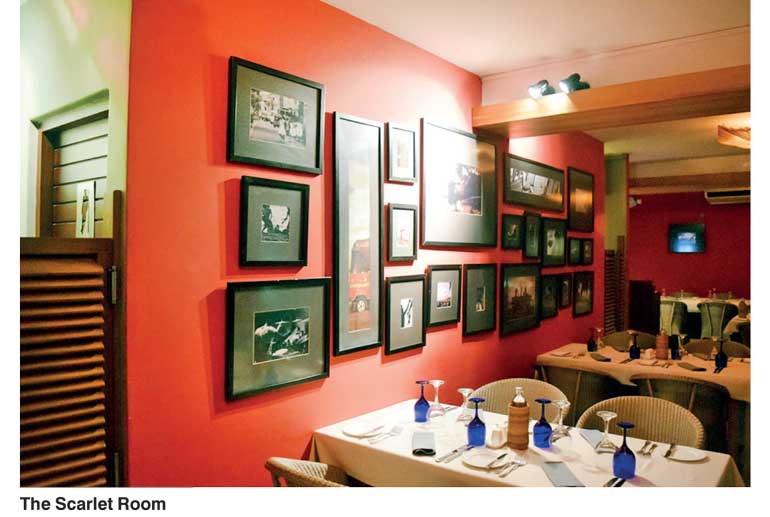 Text and pix by Shiran Illanperuma



The Scarlet Room, now a fixture at the trendy Colombo Courtyard on Duplication Road, has once again mixed things up with a new menu in a bid to attract more diners.

Previously known for its Italian staples, the new menu has ventured into fusion flare though strictly focusing its attention on Western style cuisine.

With a slick one page menu card, the choices on offer seem carefully curated, ranging from the starters to the salads to the mains to the pastas.

However, according to the management, it does appear that Scarlet Room's kitchen is willing to cook up any and every dish a patron can come up with provided the ingredients are in stock. Prices are often made up on the spot by comparing requested dishes to analogous pre-existing ones on the menu.

While this is a welcome and exciting addition to the dining experience, it is regrettable that the vanilla menu offers no desserts. After all, not every diner, particularly a fine diner, wants to spend their time thinking up a suitable dish and would perhaps prefer the ease of selecting from a curated experience from starters to desserts.

That gripe aside, the meal that ensued was a wholesome and satisfying experience. Thinking as diners first and critics second, we inadvertently ordered two of the most popular dishes on the menu – the grilled meat platter and the seafood platter. Before that, to whet our appetite, we ordered a tuna pasta salad and French style boiled eggs stuffed with tuna mayonnaise.

We can't say that we were particularly blown away by the salads and starters. The tuna pasta salad was crafted well enough but felt far too heavy, loaded with a gloopy sauce, starchy chunks of macaroni and punctuated by bursts of sweet green peas. Not very appetising.

The stuffed eggs fared far better however. Carefully stuffed into the concave crevice of a boiled egg with the yellow scooped out, the tune mayonnaise mixture was delightfully balanced and savoury. The mayo provided just the right amount of glue for the cooked tuna which was warmly spiced with pepper.

Strangely, however, the biggest star of our hors d'oeuvres was the complimentary bread. Many veteran dinners choose to forego bread entirely and save their gut space to indulge on mains and desserts. However, Scarlet Room's herb infused bread, which came hot-hot and served with mouth-watering garlic butter, was irresistible. We cleared out two plates.

Moving on to mains, we meticulously picked through our platters of grilled meat and seafood. As mouth-watering as the dishes looked and tasted, we found the plating decidedly uninspired given the ambience and reputation of a restaurant like Scarlet Room. Absent was the feeling of gluttonous awe one usually expects when being presented with a 'platter' of anything.

But plating is only skin deep. We soon forgot about it as the flavours of a plethora of finely-cooked spiced meats saturated our palettes.

The grilled meat platter boasted a juicy chicken sausage, a tender chicken breast grilled to perfection, a cut of flavoursome pork, a slice of heavily spiced beef and a fatty piece of lamb. Each meat had its distinct flavour profile that was undeniably compelling. Better yet, the transition from one to the other felt seamless as each flavour complimented the other. Enough sauce was provided to lift the taste of each meat without drowning out any of the natural flavours. The salad however was, as is often the case in such dishes, unimpressive and didn't add much to the experience in terms of flavour or texture.

The seafood platter was similarly breath-taking. A deep fried soft-shelled sea crab dominated the plate. Its meaty weight and golden brown crust was so inviting that we had to set our cutlery aside and make use of our digits instead. We followed this up with the grilled prawns, generously proportioned and almost creamy in texture. Similarly the grilled fish steaks were perfectly cooked though out shadowed by their crustacean counterparts.

The whole platter excelled but suffered greatly with nary a dollop of sauce to offset the dryness of the grilled seafood. Without even a wedge of lime it felt as if the platter was rushed. The seafood was served on a warm bed of garlic potato mash but we felt it would have better complimented the meat platter. Luckily the strength of the seafood carried it, despite a lack of attention to such details.

Following from our previous reviews of Scarlet Room, it seems the quality of their fare continues to excel. Despite a limited menu, we find ourselves tempted to go back and try many of the dishes on offer, particularly some their pastas and the salmon steak which wasn't available the evening we dined. Hopefully Scarlet Room will continue to evolve its menu, balance its plates better and keep up with the at-times fickle nature of diners.