Twenty years after her first novel took the same award, The Ministry of Utmost Happiness leads a field of 13, ranging from established stars to newcomers
www.theguardian.com: Twenty years after Arundhati Roy won the Man Booker prize for her debut novel The God of Small Things, the Indian author has been longlisted for the £50,000 award for her second, The Ministry of Utmost Happiness.

On a longlist thronged with literary titans, whose combined trophy cabinet would include the Pulitzer, the Costa, the Baileys, the Folio, the Impac and the Goldsmiths prizes, Roy – the only author to have won the Booker before – is listed for her novel about an Indian transgender woman, which judges called a "rich and vital book".

Speaking about why it took her two decades to produce a second novel, Roy told the Guardian earlier this year that "fiction just takes its time. It's no hurry. I can't write it faster or slower than I have; it's like you're a sedimentary rock that's just gathering all these layers, and swimming around."

The Man Booker judging panel, picking from more than 150 titles, also went for four writers who have been shortlisted for the UK's most prestigious literary prize before but not won it. Ali Smith was chosen for the "humane, zany, delightful, optimistic" post-EU referendum novel Autumn; Zadie Smith was picked for her story of the friendship and rivalry between two London girls who meet at a dance class, Swing Time; Sebastian Barry is in the running with Days Without End, about an Irish man who migrates to the US in the lead-up to the civil war; and Mohsin Hamid for Exit West, a love story set in a world where refugees use wormholes to travel from city to city.

The Booker was opened up to US authors in 2014, with Paul Beatty the first American author to win, for The Sellout last year. This year, three of the biggest names in US letters are competing for the prize: Paul Auster with 4321, which explores one man's four simultaneous lives and was deemed "magisterial" by the judges; George Saunders, a short-story writer whose first novel Lincoln in the Bardo follows Abraham Lincoln's visits to the graveyard where his 11-year-old son has been laid to rest in a crypt; and Colson Whitehead for his fantastical novel The Underground Railroad, about a female slave escaping from a Georgia cotton plantation, which has already won the Pulitzer and the National Book Award for fiction in the US.

"Obviously it has been very controversial, opening it up to the US," said chair of judges Baroness Lola Young. "Before the Americans were included, I personally felt it did seem quite strange, to say it was for any book written in English from the UK, or the Commonwealth, and Ireland, and Zimbabwe – it was a slightly odd configuration. So [including America] seemed like a logical step and I don't think readers, writers and publishers should feel too nervous." This year, added Young, around a third of submissions were by American writers – slightly down on last year.

Saunders, Whitehead and Auster will be competing with two new names: 29-year-old Fiona Mozley, from the UK, and 38-year-old American Emily Fridlund, both picked for their debut novels, Elmet and History of Wolves respectively. They are joined by the Impac Dublin award-winning author Jon McGregor and his novel Reservoir 13, about the life of a Peak District village after a 13-year-old girl goes missing on holiday, and Kamila Shamsie's Home Fire, a modern retelling of Sophocles's tragedy Antigone that opens in an interrogation room in Heathrow airport.

The longlist is completed with Irish writer Mike McCormack's Solar Bones, a single-sentence novel that won him the Goldsmiths prize last year. First published in 2016 by tiny Irish publisher Tramp Press, McCormack's novel was ineligible for last year's Booker because Tramp is not based in the UK. After being picked up by Canongate, Solar Bones was made eligible for the award.

With a split of four UK, four US, two Irish, two UK-Pakistani and one Indian writer; seven men to six women; three debuts; and three novels from independent presses, chair of judges Baroness Lola Young insisted that only when the judges surveyed the 13 remaining contenders that they realised the diversity of their list.

"The longlist showcases a diverse spectrum – not only of voices and literary styles but of protagonists too, in their culture, age and gender. Nevertheless we found there was a spirit common to all these novels: though their subject matter might be turbulent, their power and range were life-affirming – a tonic for our times," said Young. "Together their authors – both recognised and new – explore an array of literary forms and techniques, from those working in a traditional vein to those who aim to move the walls of fiction."

With 144 novels submitted for the prize, and 10 books called in by the judges, the selection of Young and her fellow judges literary critic Lila Azam Zanganeh, author Sarah Hall, artist Tom Phillips and travel writer Colin Thubron overlooked new novels by names including former Booker winners Salman Rushdie and Roddy Doyle.

"It's always a struggle [rejecting titles] because one is very aware of the energy and commitment it takes to produce something. You have to bear that in mind," said Young. "Having said that, I wouldn't say we found it incredibly difficult, in terms of having lots of arguments – there was a fair amount of consensus."

Young and her fellow judges will now reread the longlist of 13 titles to come up with a shortlist of six, which will be announced on 13 September. The winner will be unveiled on 17 October, to join a roster of winners dating back to 1969, including Hilary Mantel, Iris Murdoch and Ian McEwan. Last year's winner, The Sellout, has now sold more than 360,000 physical copies, with sales in the week after the prize announcement jumping by 658%.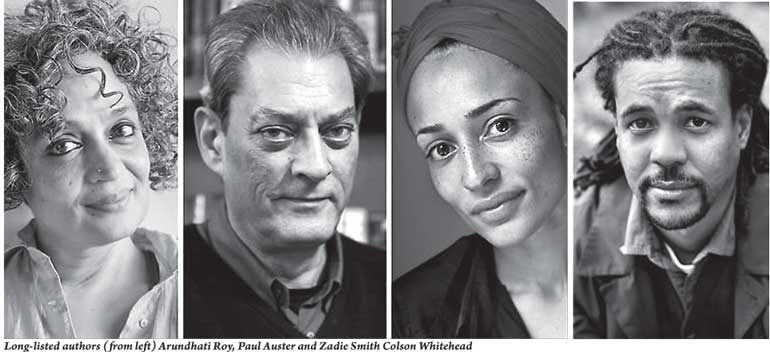 ---
The 2017 Man Booker prize longlist
​4321 by Paul Auster (Faber & Faber)

Days Without End by Sebastian Barry (Faber & Faber)

History of Wolves by Emily Fridlund (Weidenfeld & Nicolson, Orion Books)

Exit West by Mohsin Hamid (Hamish Hamilton, Penguin Random House)

Solar Bones by Mike McCormack (Canongate)

Reservoir 13 by Jon McGregor (4th Estate, HarperCollins)

Elmet by Fiona Mozley (JM Originals, John Murray)

The Ministry of Utmost Happiness by Arundhati Roy (Hamish Hamilton, Penguin Random House)

Lincoln in the Bardo by George Saunders (Bloomsbury)

Home Fire by Kamila Shamsie (Bloomsbury)

Autumn by Ali Smith (Hamish Hamilton, Penguin Random House)

Swing Time by Zadie Smith (Hamish Hamilton, Penguin Random House)

The Underground Railroad by Colson Whitehead (Fleet, Little, Brown)