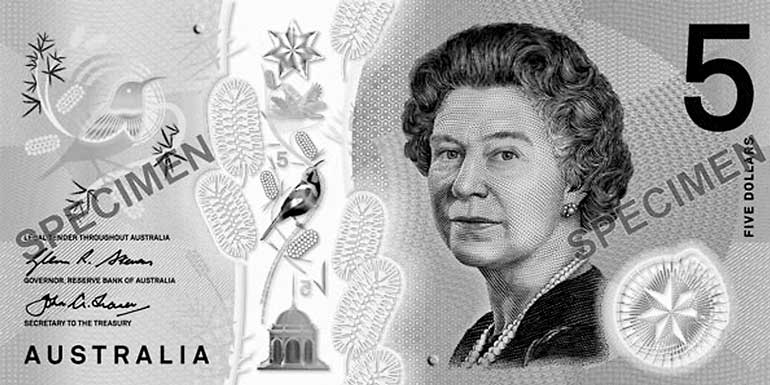 Australia claims that the country's currency notes (referred to as 'banknotes') are among the safest in the world. The banknotes currently in use are being replaced with new ones with a number of innovative features designed to make them even more secure. The new $5 note was issued recently and is now in circulation. The others ($ 10, 20, 50, 100) are to follow within the next few months/years.

The process in developing the new designs has involved integrating artistic designs that reflect Australia's cultural identity with a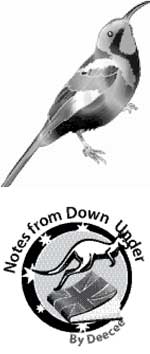 range of complex technical features designed to make the banknotes very difficult to counterfeit, the Reserve Bank of Australia says.

The new banknote has scored a 'first' being the world's first banknote to feature a window that spans from the top to the bottom of the note. Multiple security features are inserted into the top-to-bottom window.

The note also has a number of dynamic features that change as it is tilted.

Since Queen Elizabeth II is also the Queen of Australia (the country is a federal parliamentary constitutional monarchy in the Commonwealth) her portrait is prominently displayed on one side of the note with the other side carrying a picture of the Australian Parliament.

Different indigenous wattles and birds will be used in the series. The $5 banknote features the Prickly Moses wattle and the Eastern Spinebill.

The new series also includes a 'tactile' feature to help the vision-impaired community distinguish between different banknote denominations. The tactile feature on the $5 banknote is one raised bump on each of the long edges of the banknote next to the top-to-bottom window.

When the note is tilted, a rolling colour effect is visible on both sides of the banknote.

Meanwhile, media reported that the distinctive transparent strip is causing major issues across the country with automated note readers at shops, vending machines and pokies spitting out the cash. They fail to recognise the strip and reject the note. Describing it as "a major source of irritation", the National Vending Association says that it has caused headaches across a range of businesses and consumers.

Key design aspects of the existing series of banknotes, such as the colour, size and people portrayed on each denomination, have been maintained in the new series.

According to the Reserve Bank of Australia, its banknotes were the first full series to be printed on polymer (plastic) using a technology developed in Australia, jointly by the Reserve Bank and the Commonwealth Scientific and Industrial Research Organisation. It was done "to keep one step ahead of counterfeiters by making Australia's banknotes more secure". Polymer banknotes have the added benefit of being more durable than paper banknotes which, in turn, makes them more cost-effective.