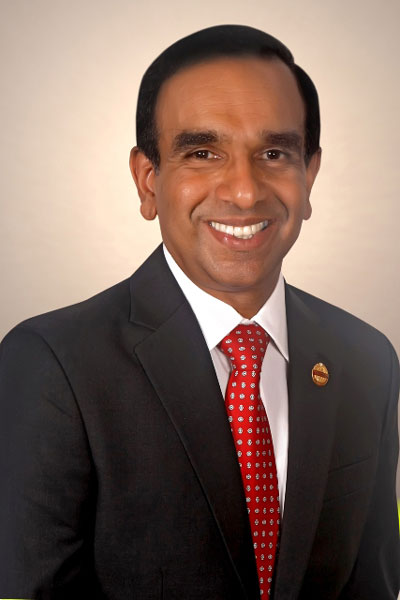 Balraj Arunasalam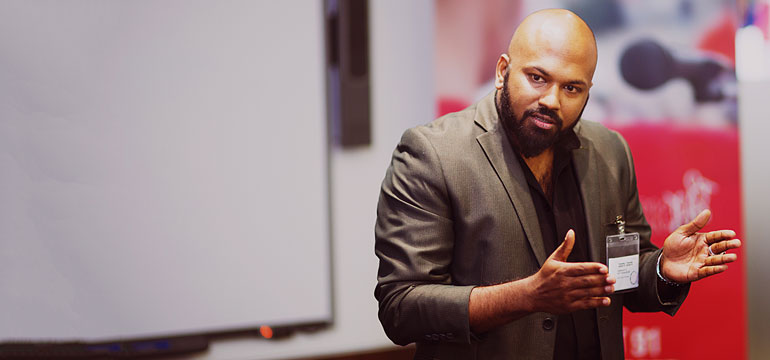 Dananjaya Hettiarachchi
By Sachin Bhandary

Brazil is one of the most exciting countries on the planet. And I am temporarily calling it home. Young Brazilians are heavily influenced by American pop culture. But try speaking English and most of them disappear. Unlike India and Sri Lanka, this country does not have any British legacy. That definitely makes it difficult to expect people here to speak the Queen's language.

Sri Lanka's tryst with English hasn't been an easy one either. The Government imposed Sinhala-only education back in 1958(which was reversed some years ago).

But, here is the interesting story. Sri Lanka is a small country with a miniscule English speaking population. But the islanders are doing exceedingly well in one field – English public speaking.

ArfathSaleem, a young Colombo resident, was one of the semi-final winners at the World Championship of Public Speaking this year. His mentor, DananjayaHettiarachchi, was the undisputed champion of public speaking in the earlier edition.It is a certainty that the country will continue to produce fine public speakers even in the future.

Why are Sri Lankans doing well in public speaking despite being non-native English speakers?This question led me to ZameenSaleem, a distinguished Toastmaster and also one of the past district governors of the island's Toastmasters community.

"I believe both countries produce good speakers. We are known to learn things well and do things with dedication and passion. We can see good examples from both countries in the field of sports, science,engineering and others. The same ability extends to public speaking as well," he said referring to India.

But is the sub-continental ingenuity the only reason for the Sri Lankan success in this field? In my opinion, there is probably more to this.

Behind this Sri Lankan institution are real people without whom Sri Lankan Toastmasters wouldn't be a force to reckon with. One notable name is that of HaleemGhouse, the founder member of Toastmasters in Sri Lanka. Dr. Dilip R. Abeyasekara proved that Sri Lankans could lead such a fabulous organisation internationally. He rose to the post of President of Toastmasters International in 2005-06.

Most Sri Lankan Toastmasters would also agree that the contribution of BalrajArunasalam is more than noteworthy.

"It was he who made it a mission to spread Toastmasters in the country. The Jaffna Toastmasters Club was set up by him, that too in the midst of the civil war. Balraj, PremalalBrahmanage, ChandanaWeerasekara, Chrishanthi Thambiah and Panthea Elangovantravelled to Jaffna at grave risk to their personal lives. That is the kind of commitment people like Balraj and others brought to the movement." adds Saleem.

Balraj who is now the Vice-President of Toastmasters International, is slated to take over as its President in 2017.

There are others like Saleem himself and SudashLiyanage who helped spread the movement to Kurunegala, Panadura, Gampaha, and other non-Colombo clubs.

The story of Toastmasters is not just about a few individuals. Neither is it limited to public speaking. It is a metaphor for the possibility of Sri Lanka.

That people from the sub-continent do well in Western countries is not new knowledge. But many Toastmasters in Sri Lanka have proved that they are world class without living abroad.

There could be two factors at play for this. First, of course,is the Sri Lankan determination. The second probably is the encouraging Toastmasters environment. All its members have but one identity, that they are Toastmasters.

Now let's imagine the possibility of a Sri Lanka where other identities don't matter. A country where it wouldn't matter whether one is Sinhala Buddhist, Tamil, Muslim or Burger. That everyone is only a Sri Lankan, and working towards building a country that is the envy of the world.

For me, asa loving observer of this island nation, this possibility is exciting.

Sri Lankans have proved this in many fields, public speaking just being one of them. The time has come for the world to associate 'leadership' as an essential Sri Lankan trait. And when that happens, like a true Toastmaster, this writer will be enthusiastically applauding.
Pix courtesy Toastmasters' websites and Dananjaya's official website www.iseesomethinginyou.com.
(Sachin quit a successful, decade long career in public relations to pursue 'The 12 Project'. It involves him traveling to 12 countries and taking a monthly challenge in each one. He recently travelled through Sri Lanka to write positive stories about the country. He believes that Sri Lanka has unfortunately been suffering from the war stereotype for way too long.He believes traveling is the best way to learn and wants to encourage more people to take trips with a purpose. When not busy with keeping himself alive, Sachin shares his experiences through on these platforms – website: www.theoddtraveller.in; Facebook: https://www.facebook.com/pages/The-Odd-Traveller /777044725674620; Twitter: @theoddtraveller; Instagram: @theoddtraveller. Follow him, he promises to take us on an interesting ride!)