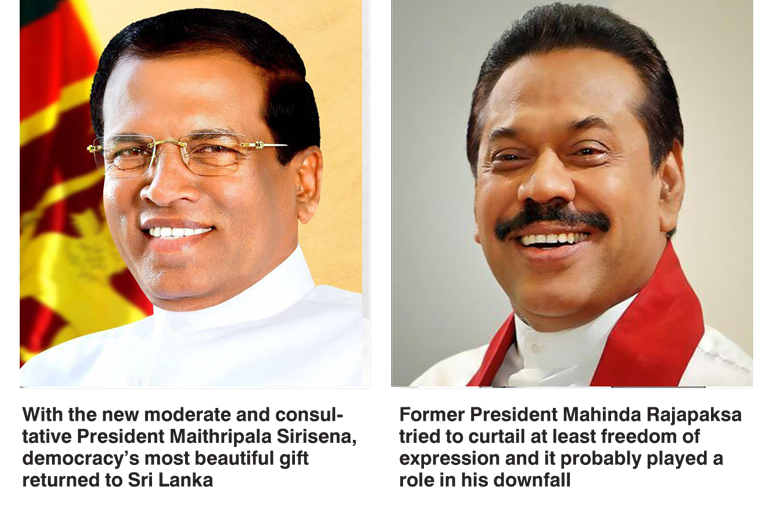 By Sachin Bhandary

Almost two years ago on a beautiful Sunday morning, I was at Hyde Park in London. That was my first and only tryst with the 'Speaker's corner', the Sunday activity at a busy corner of the park. At the time, shock was my only reaction as I watched speakers praise their religion and attack that of others'. It was shocking because these were not political or religious leaders. They were everyday people with a Sunday hobby.

Not everything about the UK is perfect, but it was impressive to witness this tradition of voicing opinion. Of course if it does not offend someone then it is not an opinion in the first place. That is what freedom of speech is all about.

Cut to April 2015. I was preparing to arrive in Sri Lanka. My project in the island country was to search for positive stories. But only difficult questions would take me closer to the positive side of the country.

News reports of journalist deaths in the past and gag on free speech had started making me nervous. Samanth Subramanian repeatedly mentioned feeling nervous in Sri Lanka while researching for his book 'This, Divided Island'. In fact, a couple of weeks before my scheduled arrival, I gave quitting this project a serious thought.

But good sense prevailed and I arrived at the Bandaranaike International Airport in Colombo. It was a Sunday afternoon with a pleasant drizzle for company.



Unfounded worries

In the next few days I was to find out that my worries were unfounded. Rather than being cautious, Sri Lankans seemed to relish the opportunity to share their opinion. From the dining table at my host's house to the noisy cafeteria at Rupavahini (national news channel of Sri Lanka), I was invited to ask questions. It seemed like people were quiet all this while and now had a lot to say.

And that is pretty close to the truth. Earlier freedom came with restrictions. The war and the post-conflict scenario was used as a justification by the previous government to throttle counter views. On the surface it might not have been visible for a visitor. Newspapers did question the government, but there was a line which wasn't meant to be crossed. It was common for editors to be summoned by the powerful in the previous government after a damning article.

Then on 8 January, the people of Sri Lanka delivered a verdict. Accusations of corruption, authoritarian tendencies and inability to reach out to minorities sealed the fate of the charismatic president who had won the war. That, the fragmented opposition got together under an unassuming leader definitely helped.

With the new moderate and consultative President Sirisena, democracy's most beautiful gift returned to Sri Lanka. I also met one of the ex-Army chiefs of Sri Lanka who agreed that 'everyone was not free to do whatever they liked' in the Rajapaksa era. People and journalists were monitored. According to him, the country was still limping back to normalcy and lack of restrictions would have led to separatist ideas taking form again. I will let you decide whether that is a valid argument.


Freedom

In my opinion, at the heart of the Sri Lankan strife is lack of freedom. Be it cultural, economic or of expression. It is a fact that former President Rajapaksa tried to curtail at least the last one and probably it played a role in his downfall.

"If you would have come last year or earlier, I would not have entertained you. How do I know you are not Rajapaksa's man?" said a high-ranking official at the national news network's office in Colombo. That is when I realised this was an important insight.

"Would you have spoken like this had I arrived before January this year (2015)?" I asked this same question over and over again. From Colombo to Kurunegala, then Kataragama in the south and later in the north at Jaffna and Mullaitivu (the town where the final phase of the bloody war was fought).


Striking change

Barring a few people, most agreed that there is unprecedented freedom. They don't feel the need to watch their backs anymore. Even supporters of Rajapaksa hesitatingly admit that 'not like it wasn't there before, but there is some more freedom to express now'. It is even more interesting that city bred supporters of the ex-President also encouraged me to get others' views on board. This, even after realising that others' thoughts would contradict theirs. To me, even this attitude seems refreshing.

In the north, this change becomes even more apparent. Free speech might have called for a celebration here. My host in Jaffna said that he was always vocal. But earlier he would be wary of his thoughts being showcased on any public forum.

Alan Keenan, a senior analyst specialising in Sri Lanka with the International Crisis Group, echoed what I was witnessing in my travels. In his interview on the Crisis Group blog, he is quoted as saying: "The most striking change is that people are no longer afraid to talk. In public places, in cafés, in restaurants, people talk openly about corruption and war crimes, about the need to hold politicians, security forces and armed groups accountable for abuses of power. Academics and activists are publishing and speaking publicly again."

But it was in Mullaitivu, the final battle front, that I heard the strongest statement. The week when I arrived in Sri Lanka, an 18-year-old girl was raped and murdered in the north. Demonstrations and protests followed. According to a project manager of a small retail company, the incident would have been erased by the previous government. It would not have been reported in the news, at least in the south, he said.

This statement might sound a bit outlandish. But, remember this is a country where journalists have been killed or had to flee to safer havens. It does point out to the fact that the former president and his aides went to great lengths twist narratives. Deaths of as many as 25 journalists (the most conservative number) are a testimony to the existence of this sinister trait in Sri Lanka. Not all accusations point to the Rajapaksa regime. LTTE and previous governments have equally contributed to this image the country suffers from.

That other Sri Lanka where fear was used as a currency seems to have disappeared, at least for now. As I travelled and conversed with ordinary Sri Lankans, no one held back their punches. Be it against the Rajapaksas, LTTE, TNA, Army or Ranil Wickremesinghe (the current PM) and President Sirisena.


Beautiful future

But the future is only beautiful, as long as Sri Lankans stay away from guns and fight with arguments. For the bedrock of any great society is the freedom to express one's opinion. However, that too, comes with some responsibility, which the country is learning.

As for me or any traveller seeking a good conversation, there is lots of it to be had in Sri Lanka. Sri Lankans bribed me with many cups of Ceylon tea to say this. Machangs, the good news is that this tea goes really well with a chat.
(This is the third in a series of 10 positive stories on Sri Lanka by Sachin Bhandary. Sachin quit a successful, decade-long career in public relations to pursue 'The 12 Project'. It involves him travelling to 12 countries and taking a monthly challenge in each one. He recently travelled through Sri Lanka to write positive stories about the country and believes that Sri Lanka has unfortunately been suffering from the war stereotype for way too long. He believes travelling is the best way to learn and wants to encourage more people to take trips with a purpose. When not busy with keeping himself alive, Sachin shares his experiences through these platforms: website – www.theoddtraveller.in; Facebook – https://www.facebook.com/pages/The-Odd-Traveller/777044725674620; Twitter – @theoddtraveller; Instagram – @theoddtraveller. Follow him, he promises to take us on an interesting ride!)