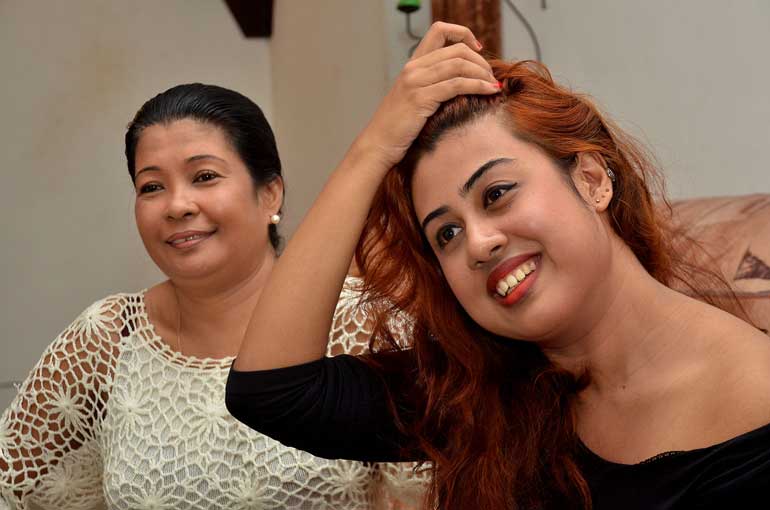 Kraftsy Founder Crystal Koelmeyer (right) and Kanthi Koelmeyer

By Fathima Riznaz Hafi

Kraftsy is an online store that creates innovative hand-made items, its expertise and main theme being crochet. Holding firmly to its tagline 'All things hand-made', it launched the business making crochet slippers and now has plans to explore and expand into a variety of other hand-made products. It has already started making crocheted handbags and is presently experimenting with tie and dye items ranging from sarongs and t-shirts to dresses.

Kraftsy Founder Crystal Koelmeyer and her mother Kanthi Koelmeyer are the people running Kraftsy, with goals to bring crochet back into mainstream and empowering women through their business. The Weekend FT spoke to the duo about what they've been up to.


The duo

Crystal says she does most of the marketing and a bit of designing but her mother Kanthi does most of the crochet work with her. Having started off as a journalist Crystal later worked as a copywriter for an advertising firm and now she's reading for her degree, attending lectures at the university on weekends, leaving ample time for her to indulge in craftwork.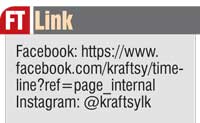 "I've always wanted to do something on my own and I'm really enjoying this. Crochet is not getting the attention it deserves; a lot of kids in my generation don't even know what crochet is – we want to bring the art back to mainstream," she said.

Her mother Kanthi was a handicraft instructor for 25 years in the non-formal education unit, where school leavers receive vocational training. Currently she is working for a charitable organisation that provides vocational training to children of factory workers.

"I come from a convent background and grew up with Catholic nuns. My Godmother is a nun and she is my biggest inspiration when it comes to this work – I learnt crochet from her," she said. Blissfully creating a crocheted bag during the interview with a look of serenity in her face she said, "Crochet is very good exercise for the mind. It makes one feel calm."

"I also enjoy making all sorts of cards – wedding, homecoming, engagement, etc., as it is not only fun but brings me peace," she added as she displayed an assortment of meticulously created cards.


The experiments

"We actually started doing this two years ago – we had been making the slippers but not selling because we were experimenting and only started doing it officially now. We wanted to make sure the slippers were strong and would not break apart. We can now assure that our slippers won't break – they're pretty strong!" assured Crystal.

"One of the reasons Ammi wanted to start making slippers was because when I was working as a journalist I used to do a lot of walking and I'd often come home with broken slippers. She wondered if it was me or the slippers. She then wanted to try and make her own slippers and see if she could make better, stronger ones. We already knew the crochet part but putting the various parts of the slippers together was something we just figured out on our own by trying things out.

"Some say our products are too costly but we put in a lot of effort when making the slippers. It's not the material that's expensive – it's the work that's going into it – we take that into account when pricing this stuff."


Plans to expand

They've been doing crochet slippers for only a month and already the orders are streaming in. "When we started we were thinking of the bohemian crowd because we thought they would appreciate the hand-made stuff but now everyone is interested – even the working crowd," said Crystal.

After successfully introducing their slippers and bags, they are now proceeding further. "We have been experimenting with tie-and-dye stuff lately. We've done some sarongs, t-shirts and other tie-and-dye stuff and whatever they request; even dresses. We've been posting some tie-and-dye pieces on social media and getting a lot of feedback. We have also started experimenting on crochet swim wear; I don't think the swim wear would be popular with the local crowd – it would probably attract the foreign crowd. We haven't gone official with it yet.

"At the moment we are trying to sell our work on eBay. Next year we are hoping to go to major fashion shows like Colombo Fashion Week as that would be a good platform to showcase our work and I don't think there's a footwear brand that's doing this at the moment. From there we are hoping to get the exposure and then go to the international market – that's more of a long-term goal," she said.


Empowering women through Kraftsy

Kanthi has many students living around the coastal areas and she wants to bring them on board and expand to a full-fledged operation. "There are many women in the coastal area who can actually do this but they're not because they can't find suitable market; so we thought if we expand we'd be able to provide a lot of job opportunities. Furthermore, with tie-and-dye we don't need any special kind of expertise; since we are looking at giving job opportunities to women from fisher-folk families, I find this is something they can easily do," Kanthi said.

"We aim to recruit from the fisheries crowd and mostly women because their trade is very seasonal – sometimes when the sea is too rough the men can't go to work. Then they have financial difficulties and if the women are employed and that's throughout the year, they can help support the family. Their lifestyle is such that when their husbands can't go to sea, they have gotten used to borrowing money from other people and when the man brings the money back, all the money goes to paying off the debts. We want to change that – that's our long-term plan, to empower women!" she added.

"We plan to start recruiting next month and in six months we plan to open a physical store. Before we open the physical store we will hire and train them because we need to have some stuff ready before we open the store. At the moment we don't have a stock per se; we post samples of our work on our pages on Facebook and Instagram, people then order and we make and deliver. When we hire more people and have a lot of stuff – enough for a store, that's when we will launch the shop," explained Crystal.
Pix by Shehan Gunasekara
​