Janakaraliya theatre and drama institute initiated by Parakrama Niriella and the late veteran dramatist H.A. Perera in 2003 has completed 13 years. The first mobile theatre was introduced to Sri Lanka in 2005 and erected at the Nomads grounds (presently where Nelum Pokuna is) and started the first Janakaraliya drama festival on 18 March the same year.

During the past 13 years, Janakaraliya theatre group has travelled all over the country performing drama, conducting drama workshops for youth, educational programmes on drama and performing arts for school teachers and students.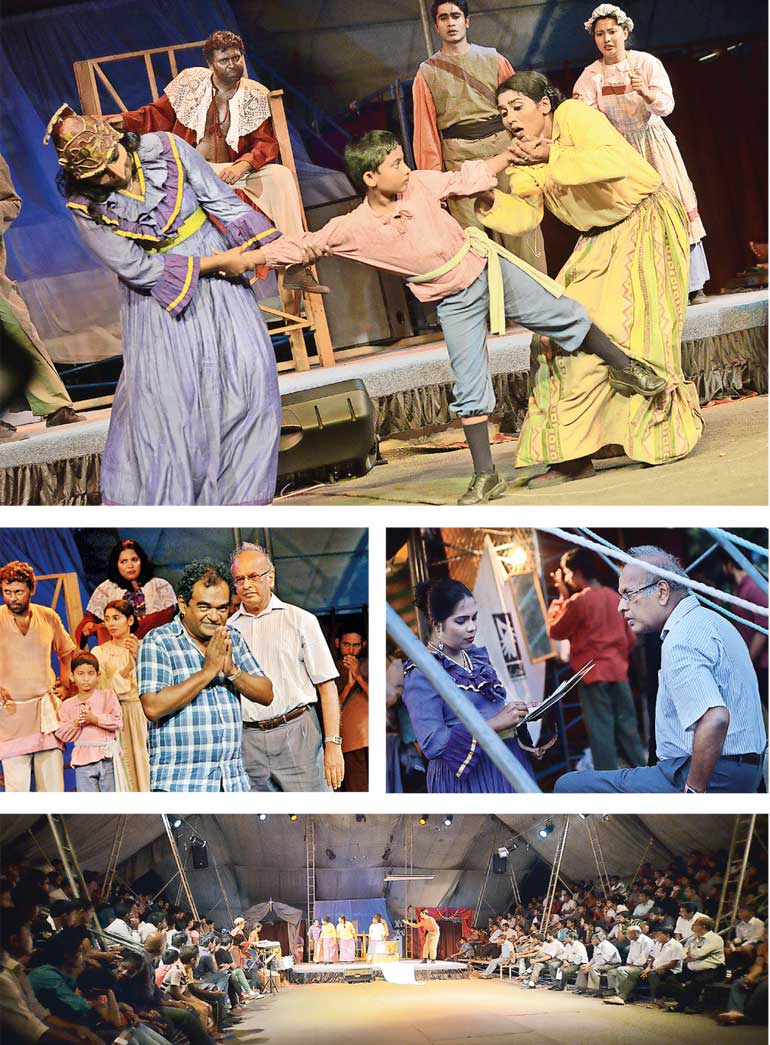 Janakaraliya has produced many dramas during this period, such as Charandas, Sithambarapata, Andaramal, Mayapattadai, Erikkalam Poo, Maraksha, Mati Karaththaya, Mrichchakatiham, Sekkuwa, Porisadaya, Parasthawa, Kalyamakadei, Payanihal, Huniwataya, Watoluwo Saha Uloluwo, Wenkatti Wattam and many more in Sinhala and Tamil languages. Janakaaraliya not only performed all the above in the main theatre venues in Colombo but pioneered to perform for the rural communities too. The above Janakaraliya productions were directed not only by Parakrama Niriella, but by the senior members of the group, Selvaraj Leelawathi, Ronika Chamali, Sumudu Mallawarachchi, Rasaiah Loganathan, Ajantha Shanthakumar. Massive crowds attended to see these performances wherever Janakaraliya erected this mobile theatre and performed.

Janakaraliya was able to successfully hold its first theatre festival for this year for 14 days at Nallur in Jaffna in September. In addition to Janakaraliya productions invited plays from dramatists from the Jaffna area were shown at this festival.

Now, Janakaraliya has scheduled to have the second festival for this year on behalf of the "Wings Festival of Arts" at the Janakaraliya mobile theatre installed at the Colombo University (near the planetarium). The festival commenced with Somalatha Subasinghe's Children's drama "Punchi Apata Dan Therai" at 9.30 am and "Suranganak Bandu Puranganak" of Ranaga Manupriya and Damith Aluthgamage at 6.30 pm on 7 November 2016. This festival will be on till 21 November. Janakaraliya productions Charandas, Sekkuwa, Hunuwataya, Wenkatti Wattam, Payanihal, WatOluwo and Uloluwo, Mrs. Kohila Madhavan, Andura Saha Eliya, Parasthawa and Baasha saha Molly will be perfumed during the festival.

"Suranganak Bandu Puranganak", Professor S. Mounaguru's "Ravanesan", Chilaw free theatre production Nilantha Mahipala's "Kalpanthaya", will perform as guest drama performances and a musical show "Music Matters" will be on 12 November by 'Baliphonics and Transcoastal Collective' music band. A specialty was the performance "White Horse" by Mandela Theatre group from Kathmandu, Nepal on 10 November. Somalatha Subasinghe's children's plays "Punchi Apata Dan Therai", "Rathmali" and "Thoppi Wellenda" was performed on 7, 9 and 11 November respectively at 9.30 am. Koushalya Fernando and Chandana Aluthge of 'Kotte Play House Drama Institute' is conducting a series of workshops on "Creative Activities for Children" on 8, 9 and 12 November.

This festival organised by Janakaraliya Cultural Foundation is sponsored by GIZ, Care International, Europian Unian, National Peace and Reconciliation Bureau, Sri Lanka Arts Council and Arts Council of the Colombo University. The organising activities are coordinates by the theatre activist Dilip Rohana.
-Pix by Shehan Gunasekara