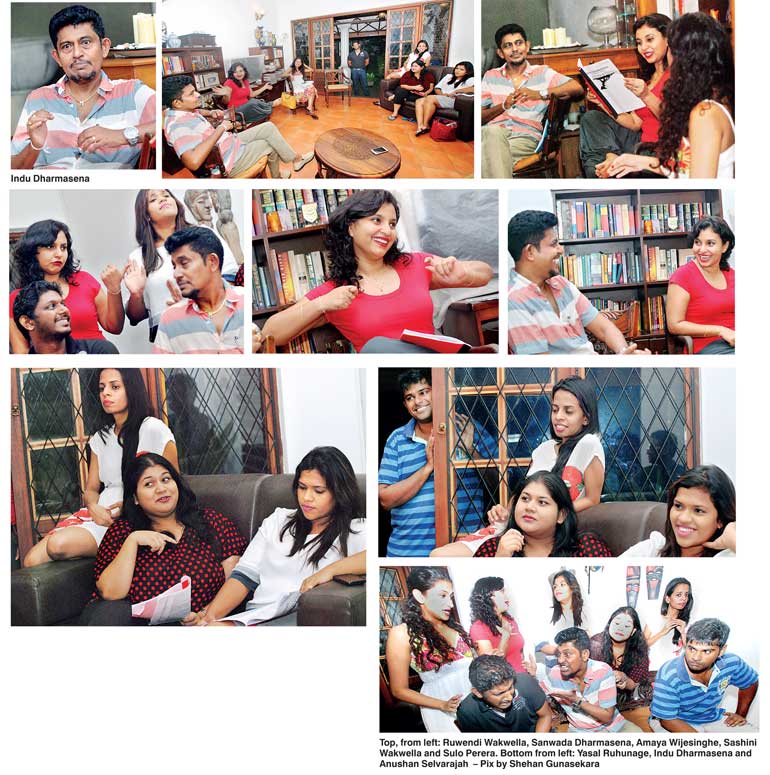 .By Shiran Illanperuma

"It's kind of like Fawlty Towers, but more local, and maybe not as good," jokes Indu Dharmasena, referring to his upcoming play.

Seated on a corner armchair at his airy Battaramulla home, playwright, director and actor Indu Dharmasena's oversees his cast of regulars rehearsing for 'At Your Service'.

'At Your Service' is Indu's latest production and is set in the fictional 'Hillstar Hotel', with a cast of 11 playing the various staff and

guests. Indu himself plays the thick-headed but ambitious Albert who is the hotel's owner and General Manager with dreams of turning Hillstar into a 5-star establishment.

According to Indu, it is the central flaw of Albert that drives the play's plot as well as its message forward.

"Albert is the kind of person who doesn't allow anyone to explain themselves, instead he always comes to his own conclusions – which are usually the wrong ones. If this man actually gave each guest a chance to speak, well then there would be no play," Indu quips.

The action kicks off with the Hillstar staff awaiting the arrival of a VIP guest. Without giving too much away, things get rather knotted when the hotel premises becomes a playground for a game of cat and mouse between an international drug lord, a local dealer and an undercover CID agent.

From Indu's description, the play unfolds at a rather breakneck pace, reminiscent of his recent adaptation of Ray Cooney's 'Run For Your Wife'.

Unfolding in real time with a relatively large cast of characters, Yasal Ruhunage, the actor who plays the bellyboy character Tony says the play, "Starts with chaos and just doesn't let up."

Three weeks into rehearsals, Indu's cast of actors are still fitting into the shoes of their respective characters, with some comically tackling attempts at foreign accents.

Says Indu, "Normally I don't insist on actors putting on accents but here many of our characters are supposedly foreigners, Pamela who is played by Sanwada is supposedly American, Dorothy who is played by Sashini Wakwella is British, Okorie who is played by Amaya Wijesinghe is royalty from the fictional African land of Zamunda and Tom played by George Cooke is European. So we need to throw in some accents to accentuate their differences and capture the feel of a hotel."

'At Your Service' is a play that was dug up and remastered from Indu's considerable archive. "Folks still come up to me and say 'aney that was a nice play,'" says Indu. "We only did a few nights so I thought why not do another round."

Of course the script itself was in serious need of revamping, if only to keep up with certain technological advances and changes in the hotel industry. "I'm fairly certain modern hotels these days use e-mails and not fax machines," says Indu.

While the play itself is emblematic of Indu's trademark slapstick humour, the situations themselves are heightened by an odd sense of realism. Indu attributes this to the fact that the play was based on a number of personal experiences and more specifically tales heard from within the hotel industry.

"Some fellows in the industry told me about the actual boo-boos that they had made and they were much funnier than anything I could come up with," says Indu.

'At Your Service' will go on the boards at the Lionel Wendt Theatre on 29, 30 and 31 July at 7:30 p.m. Tickets range between Rs. 500 to Rs. 1,500 and can be bought at the Wendt or on its website.