Lasith Fernando is a Colombo-based musician, well known in the local pub circuit. Having extensively performed live since 2012, he has fostered a grassroots following. On 21 January, Lasith released his debut studio-recorded single 'Mathaka Mal'. Though primarily known for his work in English, Lasith's 'Mathaka Mal' synthesises Western musical sensibilities with Sinhala lyrics and lyricism. The Daily FT caught up with the budding young artist to discuss his new single and his desire to forge a new path in the contemporary Sri Lankan music scene. Following are excerpts:
By Shiran Illanperuma

Q: Tell us about your new single. How long were you working on it? What is it about and what does it mean to you?

A: So the idea for 'Mathaka Mal' has been with me for nearly a year-and-a-half now. It started with this random idea I had for a melody that I also thought would sound nice if sung in Sinhala. It took me a while to finish the song though, because I had never written or recorded a Sinhala tune before and I wasn't sure if I could pull it off.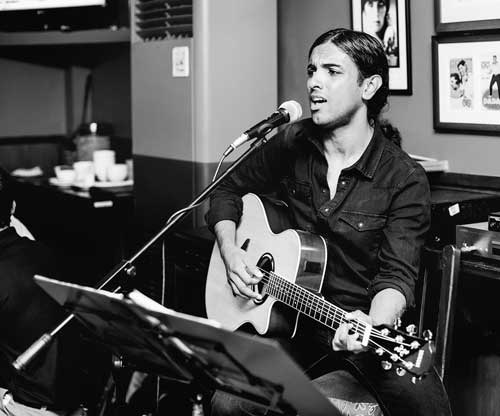 I'd really prefer not to say too much about what the song is about, because I find it way more fun to hear people's emotional reactions to a song when they don't have the full reveal of what the writer meant.


Q: What pushed you to make your first single in Sinhala instead of English?

A: I was debating it for a while; whether I wanted my first release to be in Sinhala or English. Then I realised that all I wanted to do was put out music that was completely honest to whatever I was feeling at the time and right now 'Mathaka Mal' was the only song that I felt satisfied enough with. Over the process, I've also started to toy with the idea that original musicians in Sri Lanka don't necessarily have to categorise themselves as 'English' or 'Sinhala' artists. So in the future I want to just write music, worrying only about how authentic it is to my emotions, rather than thinking if I should write it in English or Sinhala.


Q: The influence of Western pop music is very clear in your newest single. How did you go about synthesising local and foreign sounds? Was it difficult to do without sacrificing authenticity?

A: You know, it was surprisingly easy. I think part of this is because my musical sensibilities and theoretical knowledge is mostly Western rock and pop based. But I also had a childhood where I got to listen to a ton of Sinhala pop musicians like Clarence Wijewardana and Rookantha Goonetileke thanks to my dad, so that feel for Sinhala music was there somewhere deep down inside. Once I switched off my analytical mind when writing 'Mathaka Mal', it all just flowed in sync.


Q: Do you have any more singles in the pipeline? Or plans for an album someday?

A: Well I'm actually in the process of finishing up the writing for my first EP. Hopefully I should be in the studio in around a month to start tracking.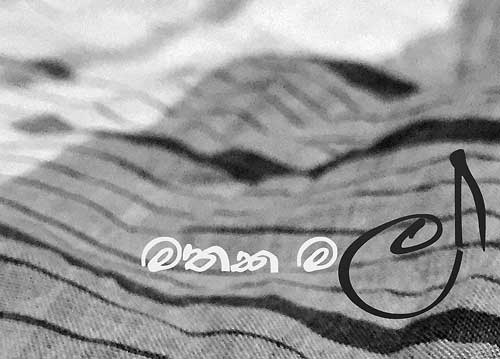 Q: How does recording in a private studio compare to live public performances? Do you prefer one over the other?

A: Well, they're completely different universes in some ways, but also quite similar in others. For example, when you're performing live you have so much energy from the crowd to feed off but when it's in the studio it's just you and your instrument. At the same time, when it comes down to it, the most important thing in both environments is just feeling what the music needs you to do and going with that instinct.


Q: Who are some of your biggest influences in both English and Sinhala? What about their music inspires you?

A: Well two English artists I'm listening to a lot these days are John Mayer and Dire Straits. I've also been tripping on a lot of Pandith Amaradeva's music for the last year. I think the one common denominator in all the music that inspires me is that it feels raw and honest. I like the feeling of listening to a song and going: 'Damn, that dude just spilled his soul out on the page and didn't hold back.'


Q: How long have you been performing in the Colombo pub circuit? What are your experiences with it and what lessons have you learned as a performer?

A: I think I started working as a musician around 2012. My experiences have been a bit of a mixed bag to be honest. One thing that's really bugged me, working in the live music circuit, is that a huge number of venues seem to think of musicians as simple utensil they can hire, like an AC unit or something. They don't seem to understand that performing live music (that can actually move people and make them feel good) is something that takes a lot of time, effort and commitment. They forget that most of the time it's the live music that keeps customers at a venue for longer. So we have a lot of venues that try to hire musicians for dirt-cheap rates, which in the long run is super unhealthy for the industry because it just discourages new talent.


Q: What is your ultimate goal in the music industry? Do you see yourself committing to it full time?

A: Well I've already decided that this is what I want to be doing with my life. And I guess my ultimate goal is to write music that makes people feel something, and to perform it around the world.


Q: Lastly, where can new fans watch you perform and how can they keep track of your shows?

A: Well you can follow me on my Facebook page at www.facebook.com/lasithfernandomusic, I post my gig and music updates there as they happen. You can also listen to my new single by searching for 'Mathaka Mal – Lasith Fernando' on YouTube.