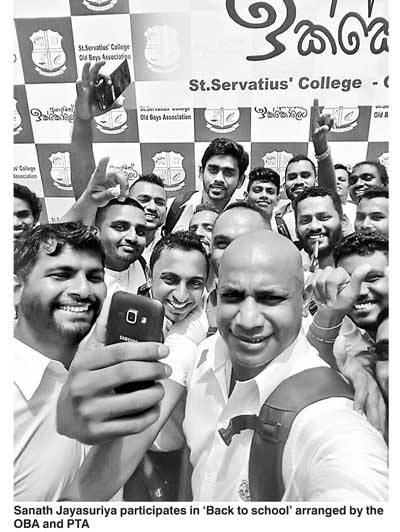 Sanath goes back to school. Kumar walks into Hilton. Mahela is at nearby Galadari. It's Murali Cup time. Dilshan records a song with his wife. We read about all this over the past week or so. All are retired top class national cricketers but they continue to be in the news.

To see Sanath Jayasuriya in a pair of blue shorts and white shirt (school uniform) with a backpack of books walking into his old school – St. Servatius', Matara was an unusual sight but a welcome one from the point of the school. 'Back to school' had been arranged by the OBA and the PTA to provide an opportunity for old boys to come on a school day, meet the teachers and look around the school.

"A wonderful feeling," Sanath told a reporter who asked him how it was to be back in school. "We met after a long time and recalled our days in school. We can see how we can help the school," he said.

Kumar Sangakkara was present at Hilton Hotel to collect the 'Icon of the Year 2016' award at the Ada Derana Sri Lankan of the Year Awards.

"I feel humbled and honoured," was his response when he was asked how he felt. When he was told that the ambition of most kids is 'to become a Kumar Sangakkara', his message to them was "Be yourselves." In an era when there is much talk about reconciliation, Kumar stressed on the need for all Sri Lankans to be together and act like brothers and sisters without harping on caste, creed or religion.

Kumar also won the 'Popular Award' as the most popular person in Sri Lanka.

Alongside the news of winning the coveted awards, media also reported that Kumar has got an extended contract with country Surrey for one more year. How he is in demand at 38!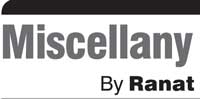 Mahela Jayawardene was chief guest at the annual Observer Schoolboy Cricketer of the Year Awards held at Hotel Galadari. In his keynote address he gave a lesson on how to become a successful cricketer quoting from his cricketing career from the days he played for Nalanda.

"School cricket has given not just me but a lot of other cricketers the confidence to go out there and conquer the world," he said. "There are no limits, no barriers – it's your mind that will hold you back in you don't believe in your ability."

Pointing out that the Schools Cricket Association has a big responsibility, he reminded them that school cricket is the foundation that builds our international cricket.

Sounding a warning note, he said: "Politics aside, it is utmost that we treat each and every individual the same way. Eighty percent of our national team comprises outstation cricketers, same with the under 19 team when I watched them in England four to five weeks ago. The dynamics of Sri Lanka cricket has changed and we need to change with that."

It was also time for Murali Harmony Cup Tournament 2016 in the north. It was Muttiah Muralitharan's brain-child. Along with Kumar and Mahela he planned the Murali Cup as a reconciliation tournament that promotes unity, goodwill, teamwork, the spirit of play and service to disadvantageous rural communities in post-war Sri Lanka.

Matches were played at five grounds in the north. Taking part were 24 teams comprising Under 19 schoolboys and Under 23 women cricketers. Mahinda College, Galle and Nittambuwa Ladies were the winners.

Fans will miss their idol T.M. Dilshan in the cricket field. However, he may be in the limelight in another field – music. You can hear his voice on Youtube – not alone but with his wife, Manjula Thilini. Best of luck!!