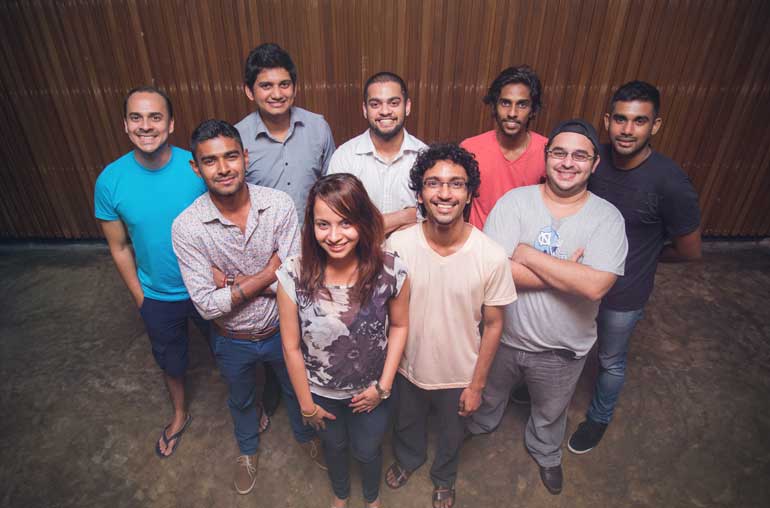 In 2014, local theatre followers were audience to a very different kind of play courtesy an equally unique production company. Titled 'Glengarry Glen Ross,' David Mamet's Pulitzer Prize winning dark comedy was brought to life for the first time in Sri Lanka as the maiden production of new theatre group Identities Inc.

The Broadway play and successful hit movie which included a heavyweight cast of Alec Baldwin, Al Pacino and Jack Lemmon was given a local touch by Identities Inc to positive audience feedback which included sold out performances.

The production team was formed last year and took flight with Glengarry. Identities is all about harnessing the group's in-house talent which furnishes their own productions. A mixed bag of individuals, the group was spearheaded by Gehan Blok and Dominic Keller. Actors, voice artistes, sound engineers, graphic designers, TV and radio personalities add to the gathering of artistic individuals.

Having such an in-house crew means that every production is the result of their own artistic beliefs. From direction to actors, set design and marketing, the group keep pushing the boundaries of the local theatre scene with their arresting and unusual choice of drama, sophisticated trailers and overall appeal.

Identities Inc is back with another gut-wrenching, out-of-the-ordinary production. This August they will take on Martin Casella's 'The Irish Curse'. Set in New York the play revolves around a group of Irish American men who meet in a church basement every Wednesday night at a self-help group for men. They all different ages from different walks of life, but are brought together by a common problem – 'The Irish Curse'.

Directed by Gehan Blok, the cast includes Dominic Keller, Pasan Ranaweera, Andre Perera, Dino Corera and Gehan Blok as they explore the problems around identity, body image and male sexuality.

This time around the people involved in the production consists of Javin Thomas, Shamin De Silva, Anjelo Jones, Anush De Costa, Ruvin De Silva, Miranga Ariyaratne, Yash Suriyapperuma, Malaka Mp, Kirsten Riezebeek, Dinesh Maheswaran, Niren Neydorff, Shaziya Kaleel, Chrys Fernando, Sugiban Sathianmoorthy, Aaron Wickramasekara, Megan Shatrughan, Ruwan Walpola, Wasanthe Purnawansa and Priyantha Dissanayaka.

Tickets are available from 20 July at the Lionel Wendt. The play is for mature adults (18 and above).